14 September, 2015
LENTILS (BELE) & PULSES (KAALU) MASALE DOSA / DOSAY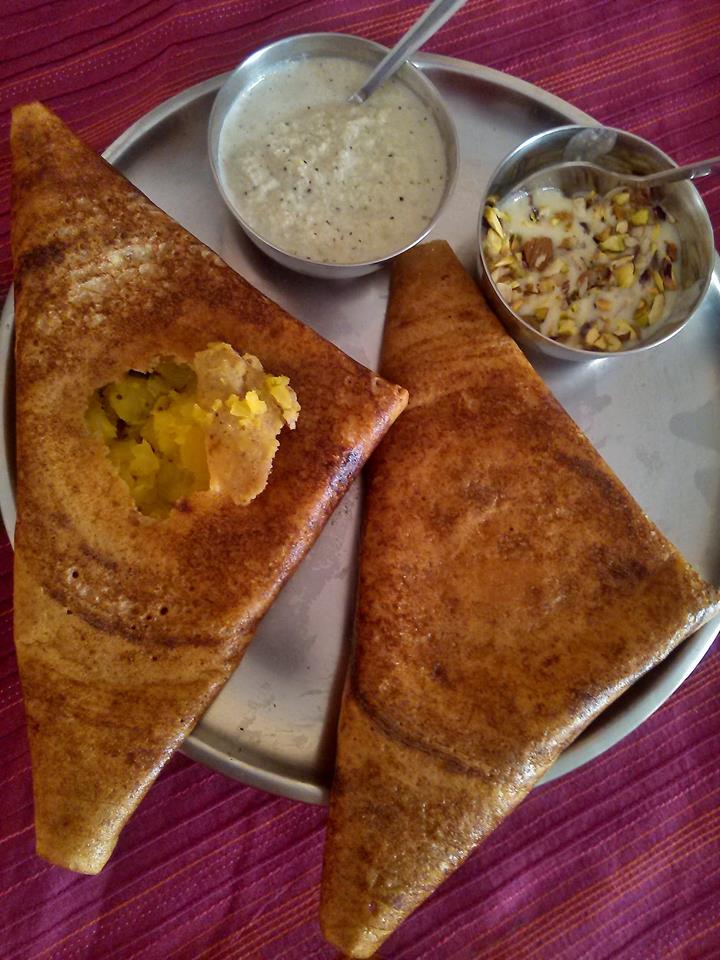 Posted in :
BREAKFAST RECIPES
,
CHUTNEY
,
SWEETS / UNDE/LADDU / BURFI / HOLIGE/POORAN POLI / HALWA
on
by :
Divya Suresh
Tags:
BREAKFAST
A very healthy, easy, protein-rich and winter special, dosa / dosay …..yes….we can say so, because it doesn't need fermenting, it only needs soaking. Soak for 4 to 6 hours or overnight, grind it to a smooth batter and…make dosay/dosa immediately. It turns out soft , crispy, yummy. And also very tasty version of dosa / dosay. Like adai dosay/dosa, we should add whole red chilies while soaking and grind along with rest of ingredients. Actually it tastes entirely different. It is protein rich food and very filling and no need to say that healthy too. Though not fully diabetic friendly recipe, but they can also consume once in a while as it has got more amount of lentils and pulses and very less amount of rice. We can also make it using red rice, and then it will be still more suitable for diabetic people as red rice contains more fiber.
This time I replaced certain pulses with other different kind of pulses and this time I served dosa with authentic kaayi chutney & banana-walnut semolina bath(sugarless)
Please do check here for more dosay recipes ⇒ ragi masale dosay, Kakatiya special dosay, menthya soppina dosay, dalia/broken wheat dosay, Rave dosay, chakuli/sponge dosay, ragi dosay, healthy dosay, Potato dosay, chocolate dosay, semolina-lentil adai dosay, masale dosay, set dosay, traditional Uttapa, vermicelli/shavige Uttapa
Do check other chutney recipes  ⇒    authentic kaayi chutney (with rice) , fresh coconut chutney (for Idly,dosa,rotti),  raw mango chutney , nellikayi mosaru chutney , menthya soppu chutney , nellikayi-pudina chutney , nellikayi-kottambari chutney , bettada nellikayi chutney , Guava chutney , hagalakayi chutney , mango-sprouted methi chutney , mint/Pudina chutney , almond/badami chutney , winter carrot chutney , carrot chutney , kadalebele chutney , Anjoora/anjeer chutney , sweet & green chutney , Pineapple chutney
     Ingredients :
Toor Dal – 2 tbsp
Black gram (whole) – 2 tbsp (replaced it with rajma/Kidney beans)
Split black gram – 2 tbsp
Bengal gram – 2 tbsp
Green gram – 2 tbsp
Yellow gram – 2 tbsp
Red gram (Masoor ) whole – 2 tbsp (replaced it with 3 tbsp of chickpeas/chole)
Red gram (masoor)  Split – 2 tbsp
Lobia/ Black eyed Pea – 3 tbsp (addition)
Rice (sona masoori) – 1 cup
Sago (sabbakki) – 1/2 cup
Beaten rice (avalakki, poha) – 1/4 cup
Fenugreek seeds -1 tbsp
Red chilli – 8 nos., ( 5 byadigi (color) & 3 Guntur (spicy))
Salt to taste
Oil/ghee to smear
    PROCEDURE :
Gather everything in a container/big bowl
Wash and soak everything together for 4 to 6 hours or overnight
Drain all the water, by adding salt grind into smooth batter
Heat the griddle and pour a laddle full of batter and spread it in circular shape
Smear oil/ghee on it, flip n cook the other side also and stuff inside the onion-potato subji/palya here or Potato- fresh green peas subji/palya
Fold it like masala dosa (I have folded it in triangular shape)
Serve hot with coconut chutney.
Old Pic                                                                                         New Pic