3 October, 2015
MYSORE PAK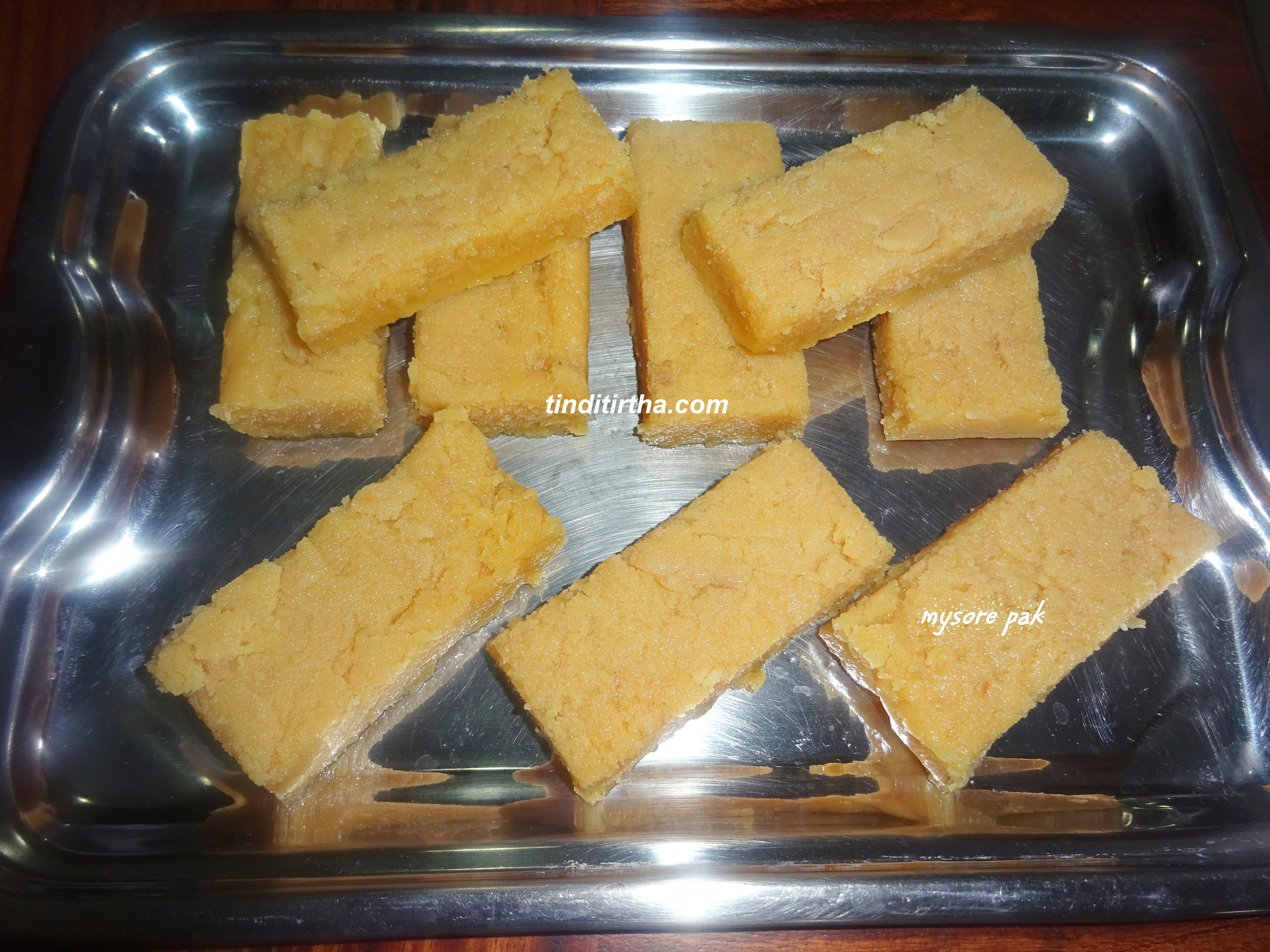 Posted in :
SWEETS / UNDE/LADDU / BURFI / HOLIGE/POORAN POLI / HALWA
on
by :
Divya Suresh
This is one of the traditional sweets made on special occasions. It's origin is from old Mysore state. With little more experience, it is an easy & simple dish to prepare with a very few ingredients. It includes lot of continuous stirring, so my mother whenever she used to prepare would allow me to stir it, so with this experience I'm doing it since years.  Different brands of ghee & Besan does makes difference in  getting the right consistency & texture of Mysore Pak. Some brands of besan needs less quantity of ghee than mentioned below where as some brands need it all. So Pour ghee up to 2 cups without any doubt irrespective of the brand of besan you are using, after that watch it carefully and add in the ghee only if needed (many brands of besan needs only 2&1/4 to 2&1/2 cup of ghee)
I always use home made ghee, and for 1 cup of besan, I use only 2 cups of ghee, out of which it absorbs little less than 1&3/4 cup and…. releases the remaining ghee. So I can say, totally I use only 1&3/4 cup of ghee. Measure the ghee and keep it in a bowl,  add in small quantity.. in parts , at regular intervals using a laddle.
Some more sweet recipes → Kobbari mithai, anarasa/apoopa,  mathura Peda, Gulkand,  Badam laddoo, rave unde, Instant khova,  Pineapple Khova halwa,  Kashi halwa
Below is the step by step explanation for How to make Mysore Pak
     Ingredients:
Bengal gram flour/ Besan/ Kadale hittu – 1 cup
Sugar – 1&1/2 cups ( you can use up to 1/2 cup more, but I use this much)
Ghee –  3 cups ( measure and keep it in a bowl) ( I use only 1&3/4 cup)
Water – 1/2 cup
     PROCEDURE:
Boil water in a pan and add sugar to it and stir well till sugar dissolves completely
When the sugar syrup starts bubbling, keep the flame on low medium
Meanwhile measure the ghee and keep it in a bowl/vessel and also keep ready the greased plate
Now add 2 laddle full of ghee to the boiling sugar syrup & stir again
Add Besan slowly by stirring continuously (while stirring, don't forget to scrape the sides and bottom of the pan)
Keep stirring till all the ghee mixes up with the besan
Keep adding the ghee, up to 2 cups and keep stirring continuously ( all the ghee will be absorbed first)
Once the consistency becomes thick, start adding remaining ghee little only, in parts at this stage and keep stirring continuously
Now you will see a lot of bubbles and frothing in the besan mixture and also the ghee is released
It is very important to keep on scraping the sides and bottom of the pan while stirring continuously, if you do not scrape then it gets sticked and gets browned and burnt
When finally you see many small holes in the mixture and it starts puffing, switch off the flame immediately, don't cook further for it will become hard
Immediately transfer it to the greased (with ghee) tray, Pat it smoothly to get it settled, and cut it into pieces of desired shape and size
I have also made mysore pak using, de-skinned & sliced Almonds, Just sprinkled the almonds on the top at the end before patting it to get settled, and….it enhanced the taste… heavenly.. I must say