6 October, 2015
PINEAPPLE SAARU / RASAM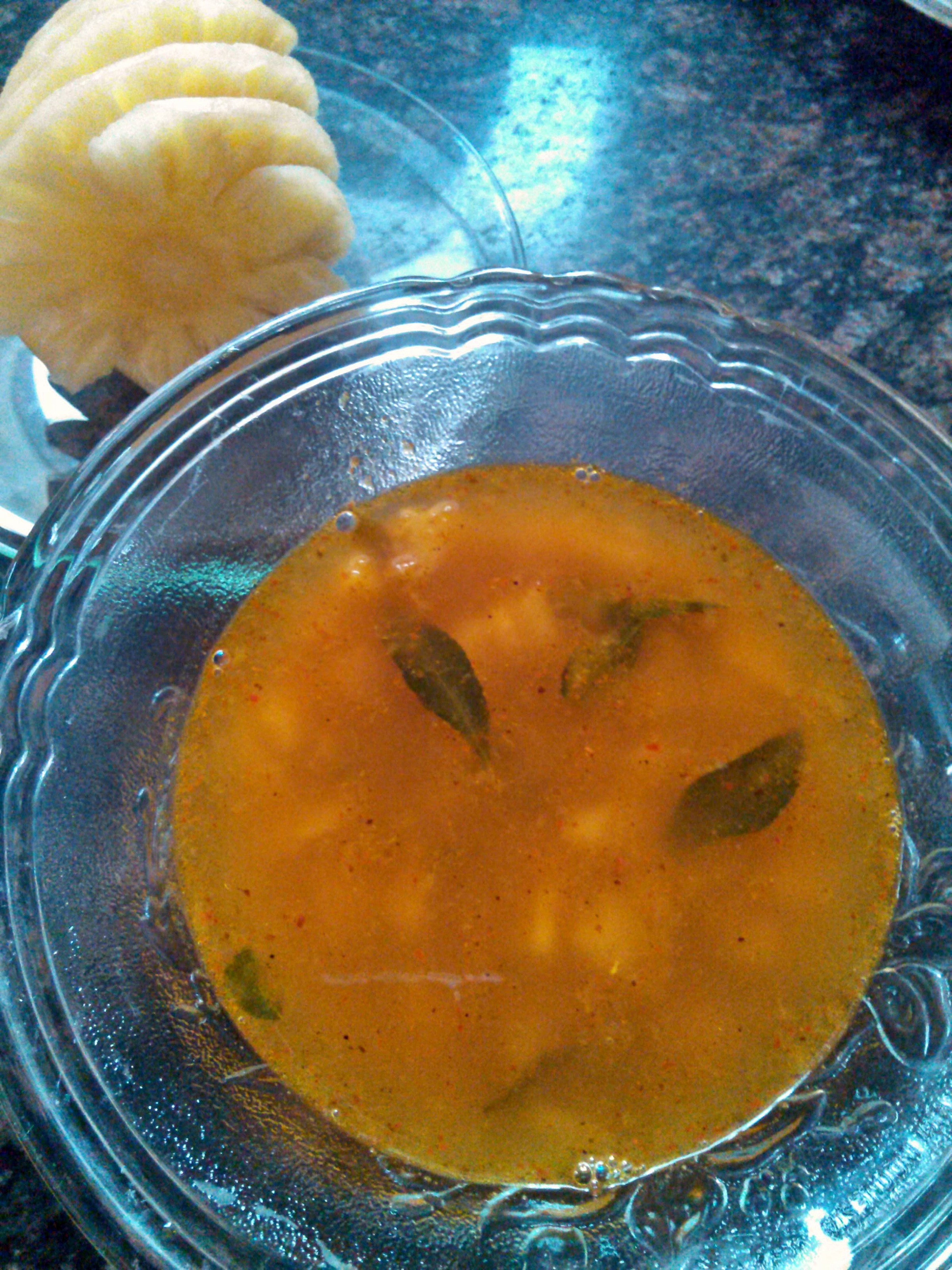 Posted in :
SAARU/ RASAM
on
by :
Divya Suresh
Tags:
PINEAPPLE
Spiny on the outside & sweet on the inside… pineapple is a fantastic fruit. Saaru/ rasam made using pineapple is a kind of saaru with different taste and aroma. If you find the pineapple is sour which you bought, then definitely you can go for this recipe, so that pineapple is also not wasted. Pineapple is a fruit with important dietary fiber.Pineapples contain high amount of Vitamin C & Manganese. It contains high amount of Thiamin & vitamin B which is involved in energy production.
Some more Pineapple recipe in my blog  ⇒  Pineapple Halwa , Pineapple raita , Pineapple poha-moong bath , Pineapple poha , Pineapple fried rice , Pineapple soup , Pineapple Kesari , Pineapple holige , Pineapple chutney  , Pineapple+Kadlebele chutney
Ingredients:
Pineapple chopped – 1/4 cup
Pineapple paste – 1/2 cup
Chopped tomato – 1 big
Cooked & mashed Toor dal – 1/2 cup
Rasam powder – 1 tbsp or according to the spice level
Turmeric – 1/2 tsp
Jaggery – 1/2 tbsp
Salt to taste
For tempering:
Ghee – 1 tsp
Mustard seeds – 1/2 tsp
Whole red chillies – 2 to 4
Curry leaves – few
PROCEDURE:
Boil water & add chopped tomatoes & cook till it becomes soft
Add turmeric powder, Rasam powder, cooked dal and salt & let it boil well
Mean while heat ghee add mustard seeds,red chillies, curry leaves, pineapple paste & chopped pineapple, fry for only 1/2 to 1 minute (not more than that otherwise pineapple will become bitter & rasam won't taste good)
Pour the tempered pineapple to the boiling rasam & add jaggery & immediately take out from the fire.