26 October, 2015
BISIBELEBATH PUDI/POWDER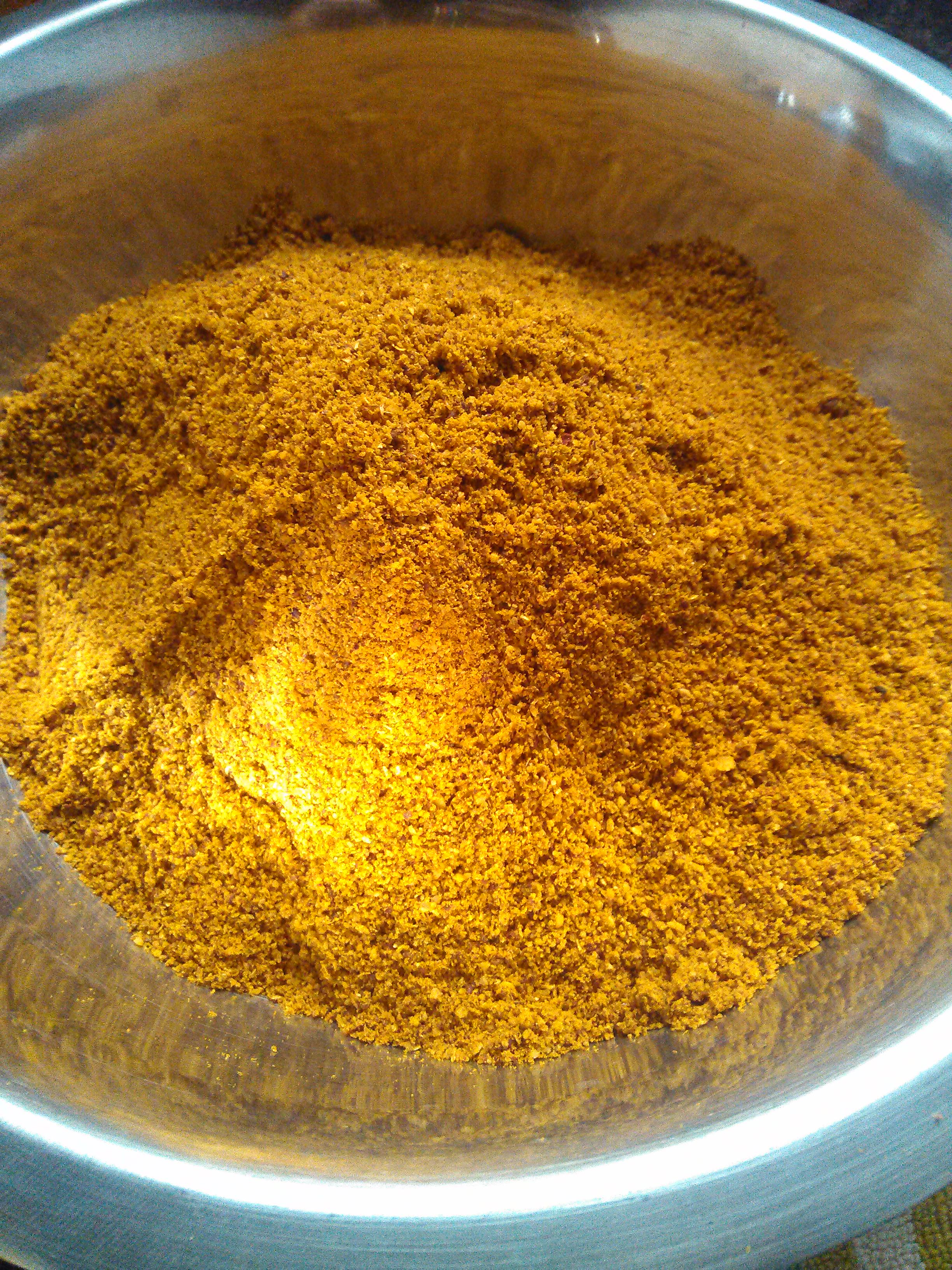 Posted in :
PUDIGALU/HOME MADE SPICE POWDER/MASALA POWDER/KARNATAKA (BENGALURU) STYLE
on
by :
Divya Suresh
Tags:
BISIBELEBATH
Bisi bele bath (Hot lentil rice bath) is one of the most popular rice-lentil-vegetable-spices mixture rice dish of Karnataka cuisine. It's an old authentic one pot meal cooked in OPOS (one pot one shot) method. Bisibelebath tastes awesome/yummy/tasty when you make the required masala powder at home freshly.  If you know to prepare the bisi bele bath powder (masala powder) at home , then half the work is done. Below is the recipe for making fresh and aromatic bisi bele bath masala powder.
Also please do check         Palyada Pudi , Gojjina pudi/tangy curry masala powder , authentic chutney powder , Huruli chutney powder , curry leaves chutney powder , black sesame chutney powder , kharabath powder , saarina pudi , menthyada hittu , Huli Pudi/Sambar Powder
         Ingredients : 
Coriander seeds – 2 ½ tbsp
Bengal gram – 2 tbsp
Black gram – 1 ½ tbsp.
Cinnamon – 1 ½ inches piece
Black Pepper corns – ½ tbsp
Fenugreek seeds – ½ tsp
Red chilies – Byadigi (for color) – 6 to 8, Guntur(spicy)– 2 to 3
Grated dry coconut – 1/3 cup
Saffron strands – 1/4 tsp
Curry leaves – 1 string
Asafoetida – ¼ tsp
Turmeric – ½ tsp
Dry roast all the ingredients…. n powder it
These ⇑ are the basic ingredients required. But you can also add many more spices (which I have mentioned below in batches) along with the above mentioned ingredients. So I have mentioned it in combinations. You can combine any combination with the above basic ingredients or it can be made using only the basic ingredients. Each combination tastes different and  can be done combining all the spices (use only 1 tbsp of poppy seeds, if you are combining all the spices) .
OR
Cloves – 4 to 6
Rock/Stone flower (kallu hoovu) – 2 nos.,
OR
Cloves – 4 to 6
Moggu – 6 or 7 nos.,
Poppy seeds – 1 tbsp
OR
Star anise – 1 small
Poppy seeds – 1 tbsp