3 December, 2015
PEAS-CASHEW / MATAR-KAJU / BATANI GODAMBI YAKHANI PULAV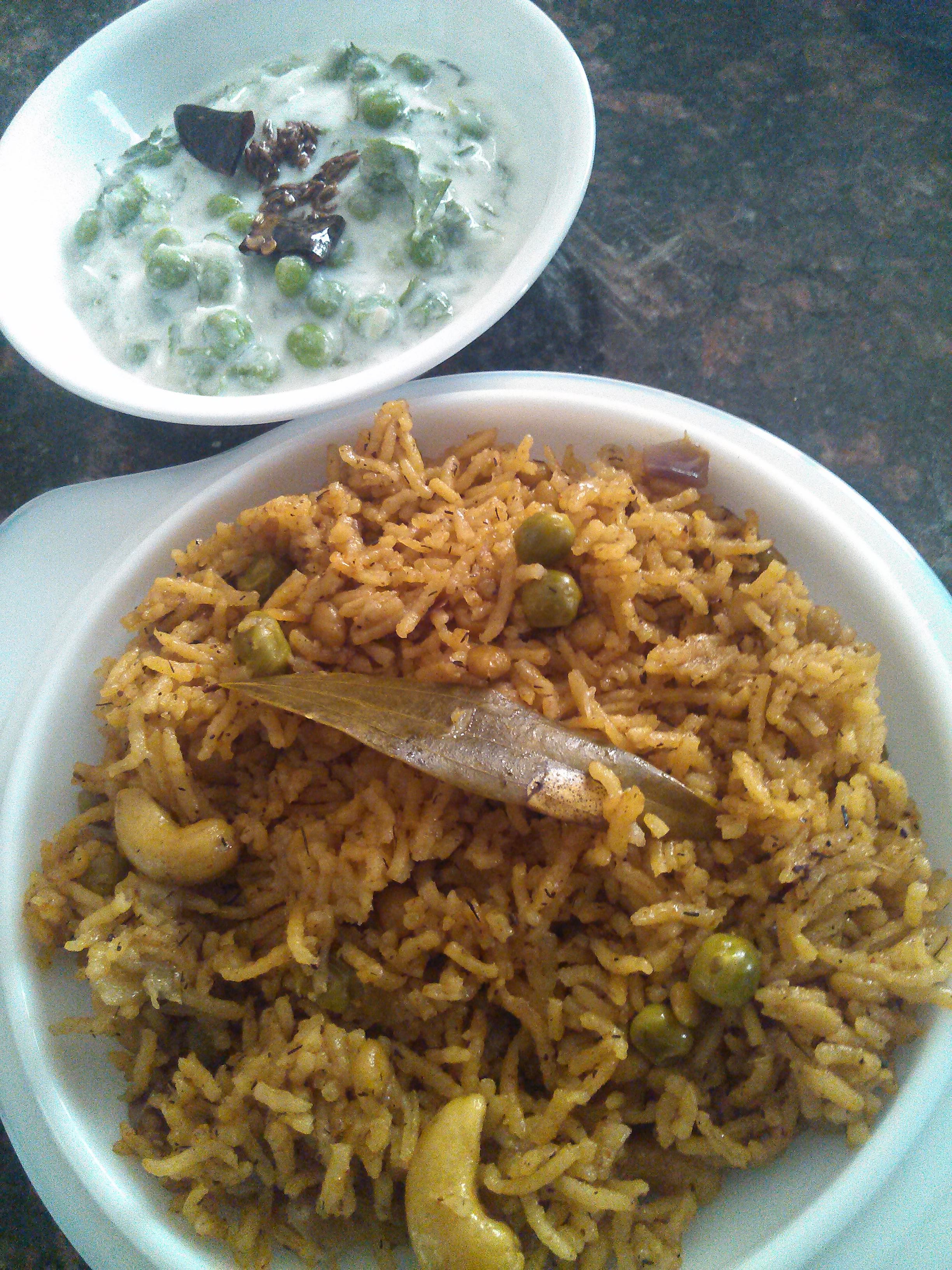 Posted in :
KADI-PAKODI / MAJJIGE HULI / RAITA / MOSARU SAASIVE
,
RICE ITEMS - PULAV / MASALA BATH / BISIBELE BATH / CHITRANNA
on
by :
Divya Suresh
When I was searching for some rare recipe in my old books this recipe caught my attention. The Raita made as accompaniment with this pulav is also a rare dish. So what next… I definitely wanted to try this pulav-raita combo and gladly wished to share with you all. So here we go…….
        Ingredients:
Basmati rice – 1&1/2 cups
Green Peas – 1/2 cup
Onion – 1 big
Bengal gram – 1/2 cup
Cashew nuts – 12 to 15
Bay leaf – 1 big or 2-3 small
Salt to taste
Ghee – 1 tbsp
Water – 3 cups
         For masala powder:
Cloves – 6 nos.,
Green Cardamom – 2 nos.,
Cinnamon – 1/2 " stick
Shahjeera/ucchellu – 1/2 tbsp
Red chilli powder – 1&1/2 tsp
Turmeric powder – 1 tsp
Black pepper – 6 nos.,
         PROCEDURE:
Wash Basmati rice, drain the water and keep aside
Soak Bengal gram in 3 cups of water
Powder together all the ingredients under the heading "Masala powder"
Heat ghee in a cooker, add chopped onion fry till transparent
Add powdered masala & rice …fry for a minute
Now add bay leaf, cashew nuts & Green Peas and fry again for a minute
Next add Bengal gram along with water (in which it is being soaked)
Add salt and close the lid and give it one whistle
Let it cool and serve
         GREEN PEAS RAITA:
         Ingredients:
Green Peas – 1/2 cup
Curds – 1 cup
Coriander leaves (chopped) – 1 tbsp
Ghee – 1/2 tsp
Mustard seeds _1/4 tsp
Cumin seeds – 1/2 tsp
Dry red chillies – 3 nos.,
Black pepper powder – 1/4 tsp
Salt to taste
         PROCEDURE:
Boil Green peas and let it cool
Add cooled Green peas, coriander leaves & salt to 1 cup curd
Heat ghee add mustard seeds, cumin seeds,red chillies, black pepper powder & add this to the curd mix
Serve green peas raita with pulav