3 December, 2015
PEAS-CASHEW / MATAR-KAJU / BATANI GODAMBI YAKHNI PULAV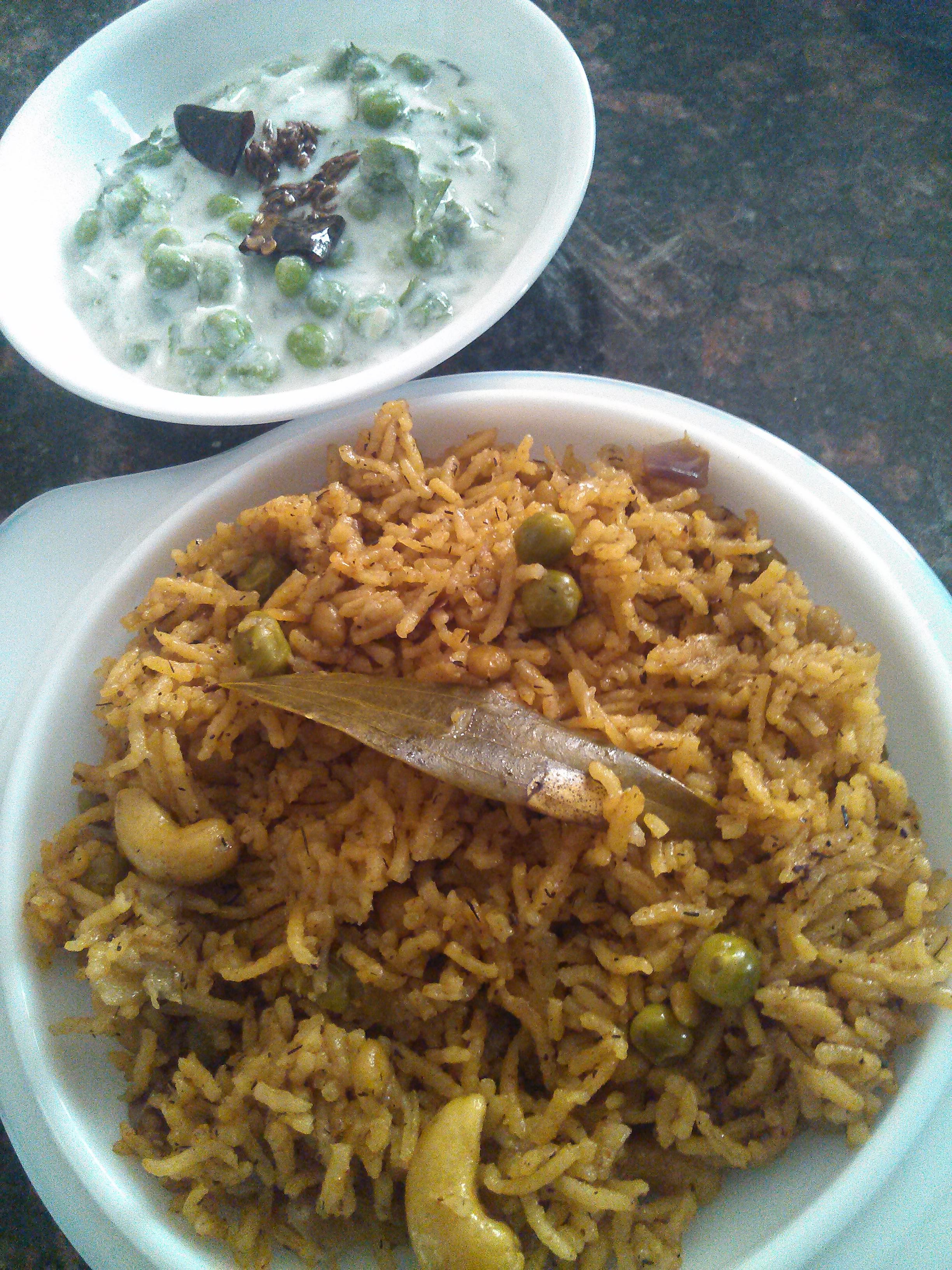 Posted in :
KADI-PAKODI / MAJJIGE HULI / RAITA / MOSARU SAASIVE
,
RICE ITEMS - PULAV / MASALA BATH / BISIBELE BATH / CHITRANNA
on
by :
Divya Suresh
Tags:
YAKHNI
Yakhni means stock or soup. As this is a veg recipe, here I have taken the stock obtained from soaked bengal gram. When I was searching for some rare recipe in my old books this recipe caught my attention. The Raita made as accompaniment with this pulav is also a rare dish. So what next… I definitely wanted to try this pulav-raita combo and gladly wished to share with you all. So here we go…….
        Ingredients:
Basmati rice – 1&1/2 cups
Green Peas – 1/2 cup
Onion – 1 big
Bengal gram – 1/2 cup
Cashew nuts – 12 to 15
Bay leaf – 1 big or 2-3 small
Salt to taste
Ghee – 1 tbsp
Water – 3 cups
         For masala powder:
Cloves – 6 nos.,
Green Cardamom – 2 nos.,
Cinnamon – 1/2 " stick
Shahjeera/ucchellu – 1/2 tbsp
Red chilli powder – 1&1/2 tsp
Turmeric powder – 1 tsp
Black pepper – 6 nos.,
         PROCEDURE:
Wash Basmati rice, drain the water and keep aside
Soak Bengal gram in 2 cups of water
Powder together all the ingredients under the heading "Masala powder"
Heat ghee in a cooker, add chopped onion fry till transparent
Add powdered masala & rice …fry for a minute
Now add bay leaf & cashew nuts and fry again for a minute
Next add green peas & Bengal gram along with water (in which it is being soaked)
Add salt and close the lid and give it one whistle
Let it cool and serve
         GREEN PEAS RAITA:
         Ingredients:
Green Peas – 1/2 cup
Curds – 1 cup
Coriander leaves (chopped) – 1 tbsp
Ghee – 1/2 tsp
Mustard seeds _1/4 tsp
Cumin seeds – 1/2 tsp
Dry red chillies – 3 nos.,
Black pepper powder – 1/4 tsp
Salt to taste
         PROCEDURE:
Boil Green peas and let it cool
Add cooled Green peas, coriander leaves & salt to 1 cup curd
Heat ghee add mustard seeds, cumin seeds,red chillies, black pepper powder & add this to the curd mix
Serve green peas raita with pulav