23 December, 2015
HUGGI – GOJJU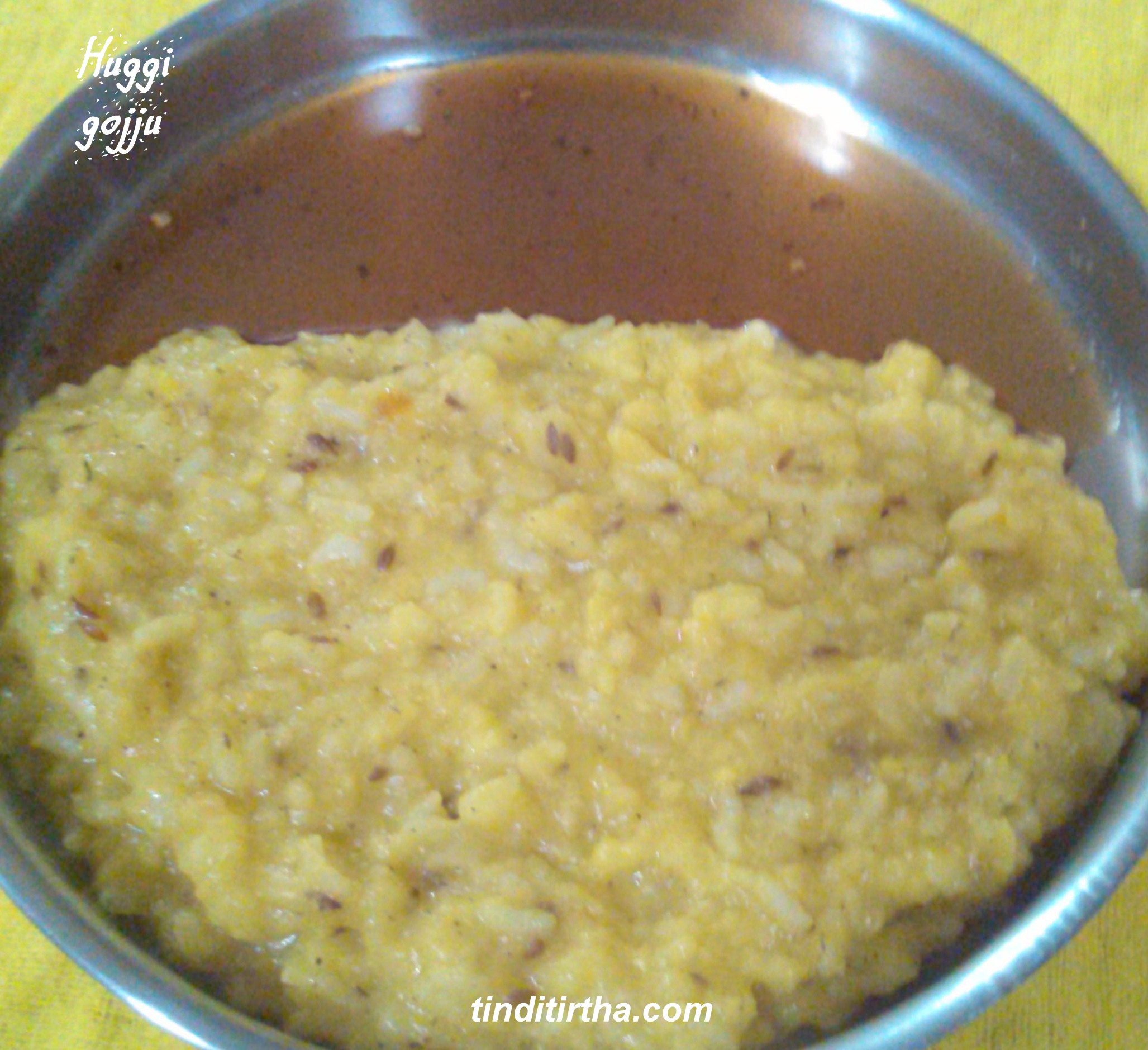 Posted in :
RICE ITEMS - PULAV / MASALA BATH / BISIBELE BATH / CHITRANNA
on
by :
Divya Suresh
This is the authentic method of making Huggi – gojju. This is a regular dish during winter, that too during Dhanur masa. I learnt this particular recipe from my Grand Mother (Paternal) at a very young age. She used to make the preparation so simple and easy yet very yummy. She was an expert !! So sharing the recipe of the same. This dish is prepared with a very few ingredients. The basic ingredients are same as the Khichdi of Northern India, but the tempering method is little different though more or less with the same ingredients.
Ingredients :
Yellow lentils/ Moong dal – 1/2 cup
Rice (sona masoori) – 1/2 cup
Water – 5 cups
Salt to taste
For tempering :
Ghee – 2 tbsp ( one can use little more or less according to their requirement)
Cumin seeds – 1/2 tbsp
Black pepper corns – 1/4 tsp
Black pepper powder – 1/4 tsp
Grated dry coconut – 1/3 cup or little more or less
Turmeric powder – 1/2 tsp
Jaggery -1 or 2  tsp
PROCEDURE :
Cook both lentil and rice together with 5 cups of water in a cooker or vessel
Heat ghee in a pan add all the other ingredients under the heading "for tempering"
Don't overheat the ghee, otherwise it gives a different smell and the spices will also get burnt
Add Salt and prepared tempering to  the cooked rice-lentil mixture
Combine everything well n give it one boil
Huggi is ready to serve.
For GOJJU ( sweet chutney ) :
 Tamarind pulp – 2 tbsp
Jaggery – 3 tbsp
Water – 1/4 cup or little less
Salt as required
For tempering :
Ghee – 1/4 tsp
Mustard seeds – 1/4 tsp
Whole red chillies – 2 nos., OR red chilli flakes – 2or3 pinches
PROCEDURE :
Heat 1/4 cup of water and add in jaggery, once it dissolves fully strain the jaggery water
Now boil tamarind pulp, jaggery and salt together well, add some more water if needed
Prepare tempering using the ingredients listed under the heading 'for tempering' and add it to the boiled mixture.
 NOTE: This is the authentic basic preparation, you can add cashew nuts, curry leaves and vegetables to this.