22 January, 2016
POTATO-GRAPES / ALOO-ANGOOR SUBJI / ALOOGEDDE-HASI DRAKSHI PALYA & MILK CHAPATI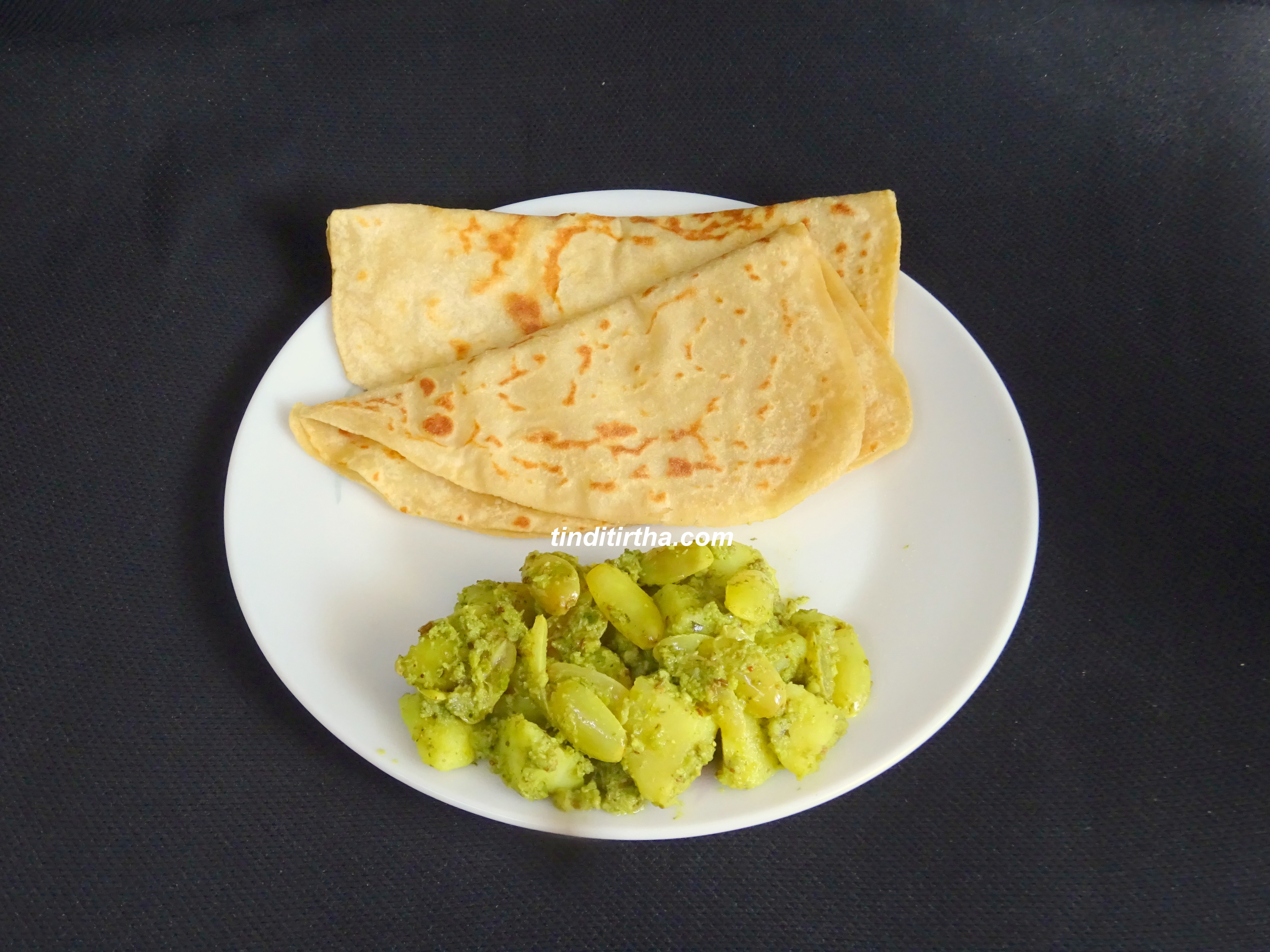 Posted in :
PALYA / SOOKHA SUBJI / USLI / SALAD
on
by :
Divya Suresh
Aloo – Angoor subji… the name attracted me. I learnt this recipe from Chef.Sanjeev Kapoor's post, made some changes and tried it. The procedure and the ingredients are very much like south india's subji recipes. If we ( people of south India ) use ground paste of Mustard seeds, fresh coconut and green chilli in any preparation, we call it as ' sasive '. This recipe also include these ingredients. We all liked it very much. During winter eating fresh fruits here in Gurgaon is little difficult thing to do, so… I try and use fruits in cooking subjis, gravys etc. This particular subji goes very well with Poori and chapati or roti / Phulka etc.
I call it as milk chapati…as I have knead the chapati dough using only milk no water at all. Just add little ghee and required amount of salt to the whole wheat flour and knead the dough using milk at room temperature. Chapati turns out tasty and with different aroma & flavor.
        Ingredients:
Potatoes – 2 big
Green grapes – 1 cup ( slit lengthwise into two)  plus 10 to 12 nos., of grapes extra for grinding
Ginger – 1/2 inch
Green chillies – 4 to 6 or  according to taste
Coriander leaves – 1/2 cup
Scraped fresh coconut – 1/4 cup
Mustard seeds – 3/4 tsp
Oil – 1/2 tbsp
Cumin seeds – 1 tsp
Curry leaves – 10 to 12
Turmeric powder – 1/2 tsp
Salt to taste
       PROCEDURE :
Boil , peel potatoes and cut into cubes ( you can use baby potatoes also)
Grind together coconut,  mustard seeds, ginger, Green chilli, coriander leaves and 10 to 12 grapes coarsely
Heat oil in a pan, add cumin seeds, curry leaves, turmeric powder and ground paste
Saute for 2 – 3 minutes and add potato cubes, Slit grapes and salt , mix properly
Remove from the fire and serve
 NOTE : Refer in my blog for Bedmi Poori recipe