28 July, 2016
PINEAPPLE FRIED RICE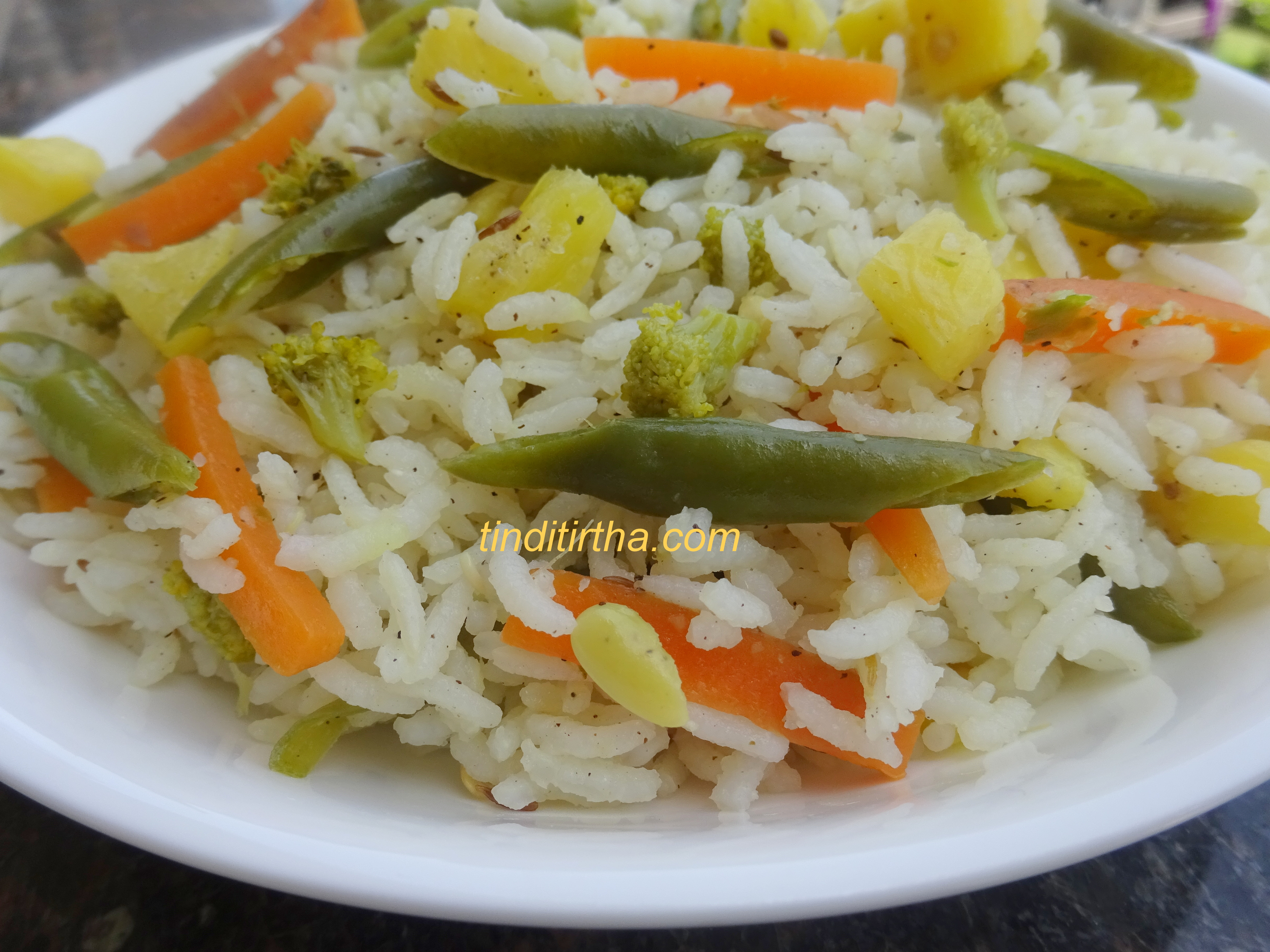 Posted in :
RICE ITEMS - PULAV / MASALA BATH / BISIBELE BATH / CHITRANNA
on
by :
Divya Suresh
One more yummy , simple, healthy recipe from my book, In which I have noted many yummy recipes since years. Since many days I wanted to try this rice recipe which uses pineapple.. and finally it happened. You can serve this rice without any accompaniment , as it is full of flavour and contains all types of tastes in it. But can also be served with any raita or curry if one wish.
        Ingredients :
Cooked Rice – 2 cups
Vegetables cut into long
French beans – 1/4 cup
Carrot – 1/4 cup
Broccoli florets – 1/4 cup
Pineapple ( chopped ) – 1/2 cup
        Other Ingredients : 
Ghee – 1 tbsp
Cumin seeds – 1 tsp
Pepper Powder – 1/2 tsp
Green chilli paste – 1 tsp
Ginger paste – 1/2 tbsp
Salt to taste
       PROCEDURE :
Blanch French beans, Carrot & broccoli ( Briefly boil ) and keep it ready
Heat ghee in a pan, add cumin seeds… when it splutter, add Pepper powder, green chilli paste, ginger paste… stir it
Add blanched french beans, carrot, Broccoli and chopped Pineapple… stir once
Add salt required for vegetables and saute for a minute
Now add cooked rice, again add salt required for rice and mix everything well by stirring
Remove from the fire and serve hot.