24 August, 2016
OM PUDI / KHARA SEV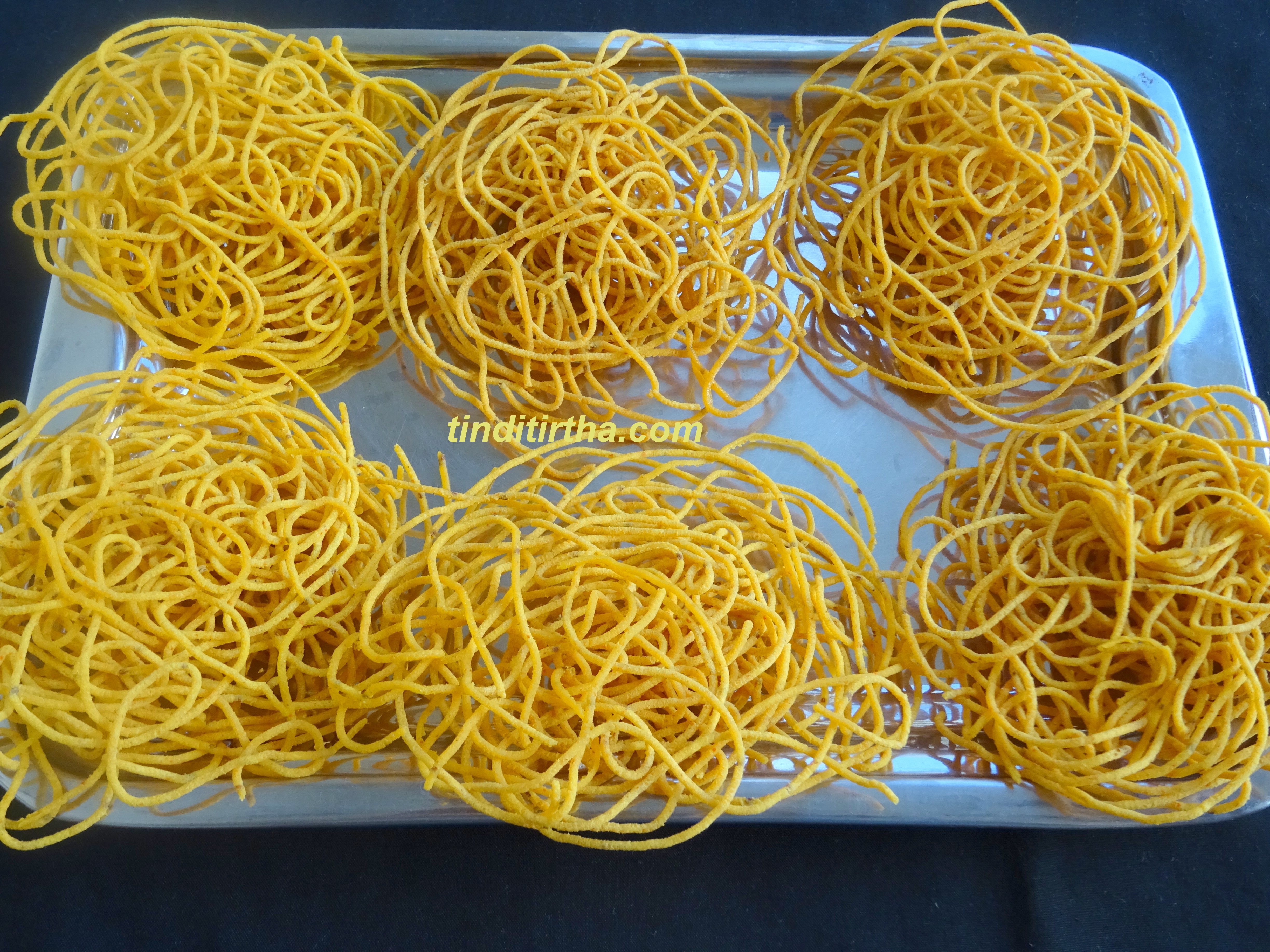 Posted in :
SNACKS / BAKED / DEEP FRIED / STEAMED
on
by :
Divya Suresh
Tags:
SEV
This is one of the Oldest & easiest snack made during Janmashtami, Diwali etc. As the name itself says it is made using Om kalu / Ajwain / Carom seeds. It gives the fragrance & taste and also called by its name only. It is a famous tea/coffee time snack also. In South India we make this Om Pudi to prepare a snack called Mixture. But it can also be eaten as such. And also can be used to sprinkle on Chats, It enhances the chat taste as it is fresh & homemade. in my opinion this is also an easy preparation with few ingredients. So sharing with you all my method of making it.
Please also do check  ⇒  mixture , Shankranthi trail mix , Kodubale , thengolu , chakkuli , authentic muchhore , Sorghum/Jolada mixture
        Ingredients : 
Bengal gram flour / Kadale Hittu / Besan – 1 cup ( tightly packed )
Rice flour – 1/2 cup ( tightly packed )
Ajwain / Om kalu / Carom seeds – 3/4 tsp
Red chilli Powder – 1&1/4 tsp
Turmeric Powder – 1/2 tsp
Ghee – 1&1/2 tbsp
Salt – 1&1/4 tsp or as per taste
Water to knead the dough
Oil for deep frying
        PROCEDURE : 
Sieve together bengal gram flour & rice flour
In a small mixie jar Powder together Carom seeds, red chilli powder, turmeric powder & salt and add it to the sieved flour
Heat ghee and pour it over the flour & spice mix, and combine everything well
Now add water little at a time and knead the dough ( it should not be too smooth or too stiff )
Meanwhile heat the oil for deep frying
Grease your hands and knead the dough so that when you put it into the squeezer, it won't get stick to the squeezer
Now take a portion of the dough and Put it in the squeezer and close the lid properly
Simmer the flame and now squeeze it directly into the oil
After squeezing increase the flame to medium low
Fry on both sides and drain in tissue paper
Serve.