6 September, 2016
RUSHI PANCHAMI PLATTER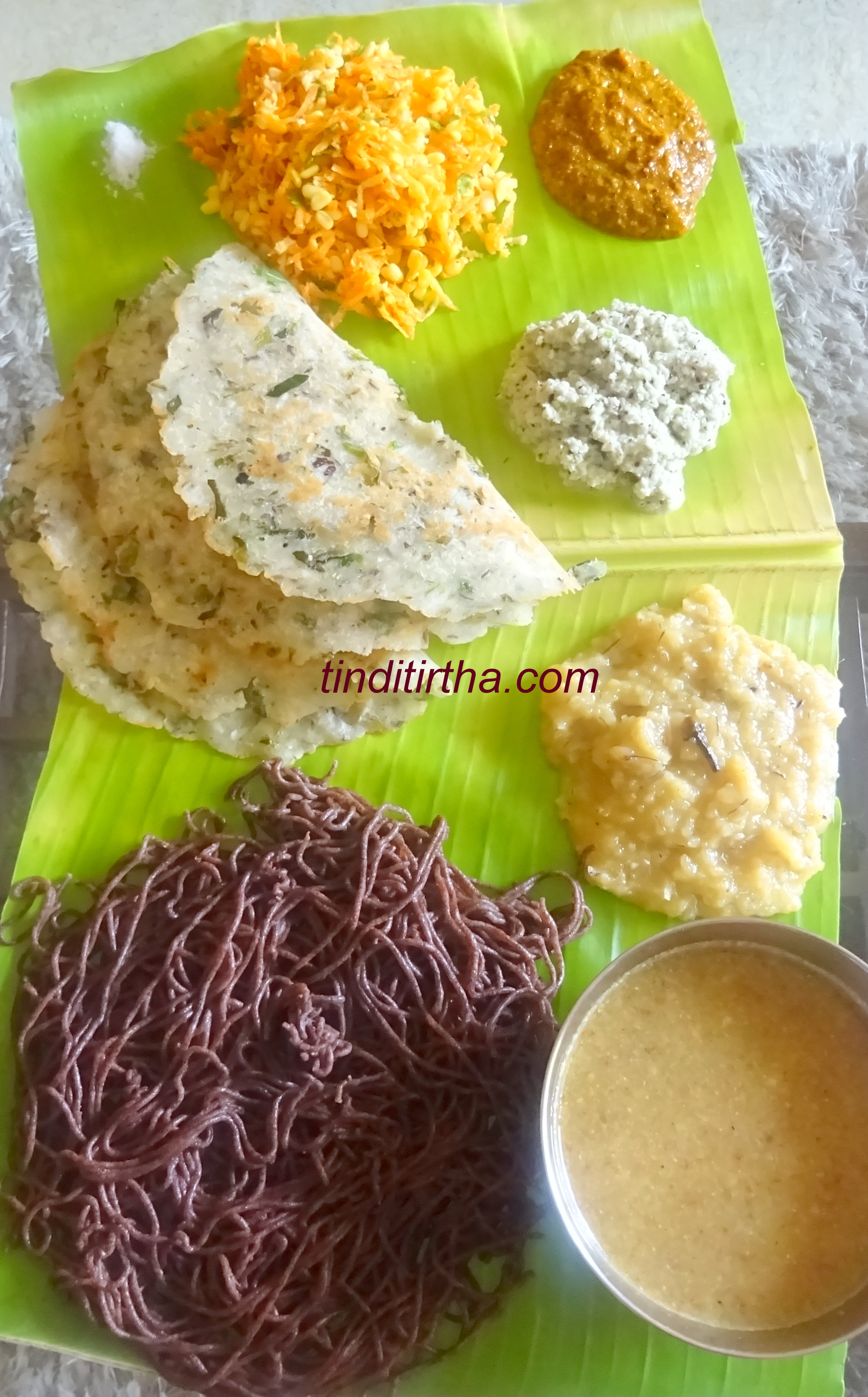 Posted in :
PLATTER
on
by :
Divya Suresh
I have heard these details about Rushi Panchami many a times from my yelders since childhood & I have even seen my grandmother observing the Vrata. Still I don't know how far this information is right !!
The Rushi Panchami falls on the next day to Ganesha Chaturthi…..ie…fifth day of Bhadrapada maasa (month). The tradition of observing this Vrata,is to express respect,gratitude and remembrance of the great deeds of those ancient Rushis/Munis, who devoted their life for the welfare of the society.However, the real worship of the Rushis and Munis lies in obeying and complying with their commandments.
The four vedas which is the rich tradition of Hindu culture are- Rigveda, Yajurveda, Samveda and Atharva veda. They were written by the rushis and the work was in progress for almost 500 years. The Rushis like – Atri,Kashyapa, Bharadwaja, Gautama.Vishwamitra,Jamadagni and Vashishta. Near the North Pole there are seven 'Nakshatras (stars) which are popularly known as Sapta Rushi / Saptarshi Mandala. They are called so…… to remember permanently the names of the Rushis.
This fast is to be observed by women.It is believed that any ill deeds which the women might have committed and the mistakes done, can be pardoned by doing this Vrata. Any woman who has violated the rules ordained by the scriptures in regards to the days of menstruation or unknowingly had darshan of a Rushi during menstrual periods, thereby committing an act of sacrilege, should observe this fast for washing away of that sin….. seeking forgiveness. 
This Vratha is of a long procedure & there are many stirict rituals to follow. Hence women who observe this Vrata used to eat only those fruits,which grow below the ground and avoided the food,prepared from the grains grown from the toiling of bullocks
It is said that…. on this day,  women who are not observing this Vrata yet,  are also not supposed to eat rice directly, but we can use it in other forms like… Rice flour or beaten rice or rice rava etc. So dishes are made using rice flour, beaten rice etc. Thus… below is the platter which I made today.
        Ingredients & Procedure :
       Clock wise name of the dishes:
Carrot+Split green gram salad (hesaru bele Kosambari)  – Soak split green gram for 1 to 2 hours, add grated carrot, salt, lemon juice, chopped coriander leaves and grated fresh coconut. Add tempering made with little oil, mustard seeds, hing and green chilli. Mix everything well.
Karibevina gojju (curry leaves curry) – will Post it separately soon
Coconut Chutney – Grind together grated fresh coconut, green chilli, tamarind & salt. Prepare tempering with Oil, mustard seeds & hing, pour it on the chutney … mix well
Broken wheat (dalia) Payasa – Combine together cooked dalia, Jaggery syrup, cloves, grated dry coconut, cardamom powder and bring it boil, remove from the fire and add little milk
Gasagase + kayi halu (Poppy seeds + coconut Milk) – Roast 1/2 tbsp Poppy seeds, grind it along with 1/2 cup of grated fresh coconut, 1/4 cup powdered jaggery, 6 almonds & cardamom using water.
Ragi (finger millet) Ottu Shavige (semiya) – Boil 3/4 cup of water, add salt a pinch, turn the flame to sim … now add 1/2 cup of ragi flour all at once in the centre, let it cook for 2 to 3 minutes in the sim flame, then stir it well with a spatula, let it cool for a while, knead it well , Put it into the squeezer and squeeze on a plate, steam it for 12 to 15 minutes.
Coconut Akki Rotti (rice rotti) – Combine together 1/2 cup rice flour, 1 cup grated fresh coconut, chopped green chilli, coriander leaves, curry leaves and salt. Knead the dough using required amount of water, take a portion of the dough, spread evenly on a greased paper with your finger, heat the tawa and cook the rotti on both the sides.