22 September, 2016
PALAK – MATAR CHAT / SPINACH – PEAS CHAT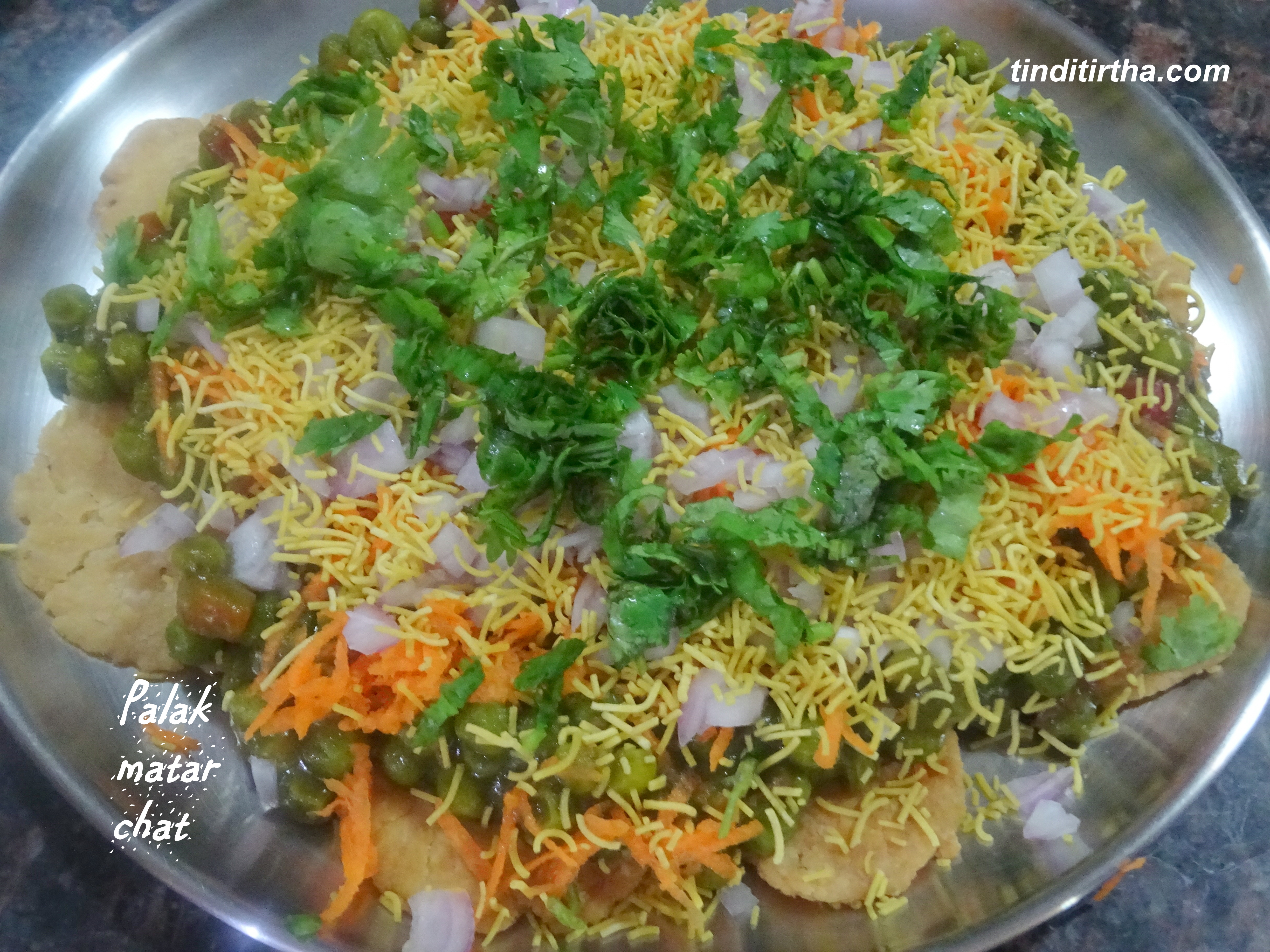 Posted in :
CHATS
on
by :
Divya Suresh
This is one of our most favourite chat among many chat items, which almost tastes like Bengaluru's Masal Puri ! I consider it as a healthy chat. And this time I tried making it more healthy using spinach/Palak in the gravy. Taste doesn't differ instead it was more yummy. We can use any Peas ie…. dried or fresh. (If you are using dried Peas, soak it overnight and then proceed). So Gladly sharing the recipe with you all…. recipe explained in detail with step wise pics.
Boil four cups of Green Peas in enough water
In the mean while Grind together all these ingredients to a fine paste – 1) 2 tbsp rice flour, 2) 1/4 tsp turmeric powder, 3) 4 to 6 Cloves, 4) 1″ piece of cinnamon, 5) 4 to 6 green chillies, 6) Salt, 7) 1/4 tsp Cumin seeds, 8) 1/2 tsp Carom seeds and……1) A bunch (2 cups) of Palak leaves, 2) 1 cup of coriander leaves, 3) 8 to 10 curry leaves, 4)1/4 cup Mint leaves
Add this Ground Paste into the cooked peas and stir well to combine everything well, Keep stirring till it becomes thick.
Add chopped tomatoes (2 big) , 2 tbsp thick tamarind Juice and a big piece of Jaggery….. combine everything well, add little more water if needed to get desired consistency, check for salt…… add if needed, boil again….. Palak gravy is ready… remove it from the fire.
Now arrange few papdis in a plate, Crush them a little with your Palm, Pour Palak gravy on it
Sprinkle generously Grated Carrot, finely chopped onion, chopped Coriander leaves & little Sev
 Yay…….SPINACH – PEAS CHAT or PALAK – MATAR CHAT is ready to serve