8 October, 2016
AMARANTH/RAMDANA/RAJGIRA LADDU – RAJGIRI UNDE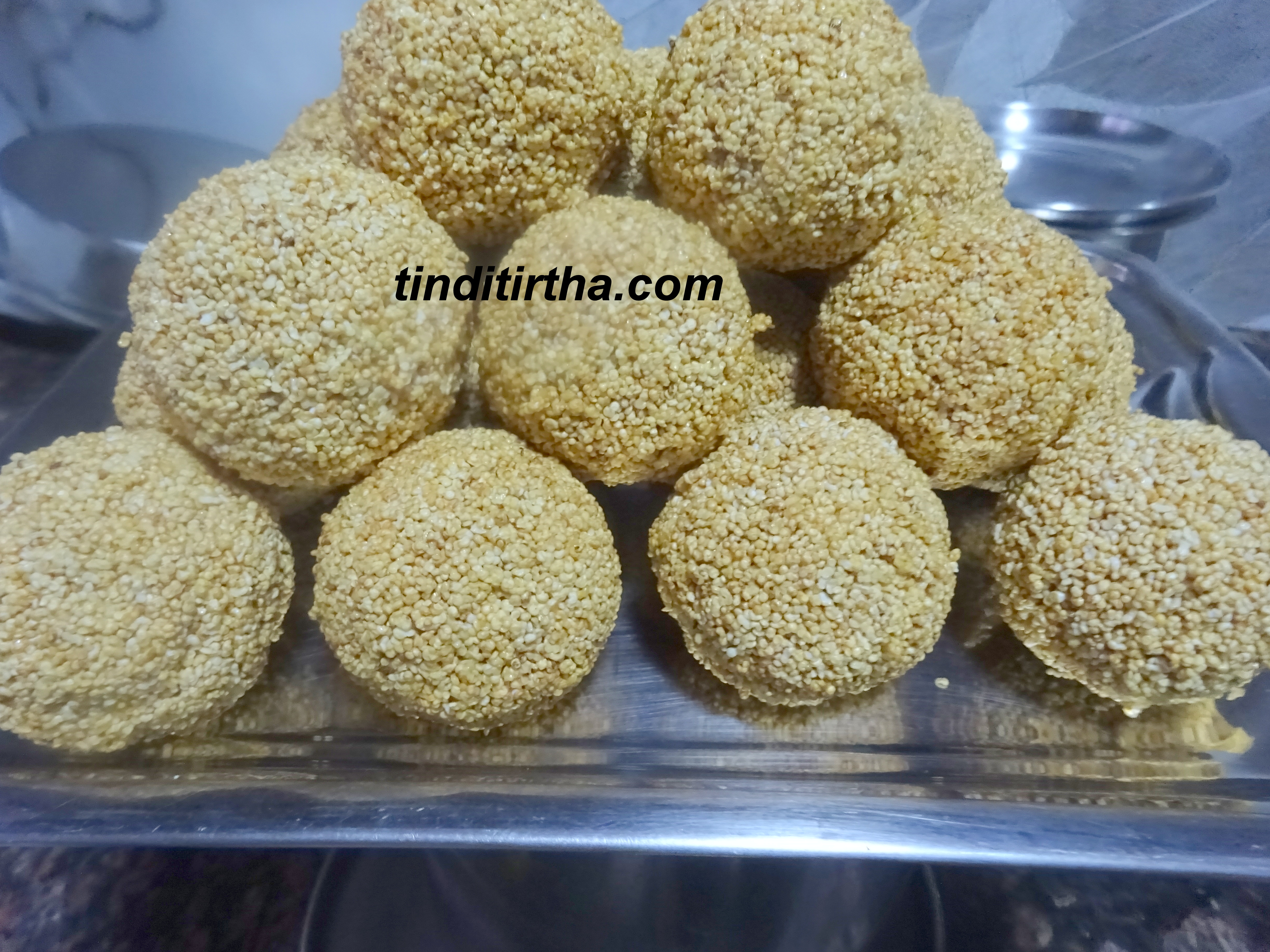 Posted in :
NAVRATRI VRAT RECIPES
,
SWEETS / UNDE/LADDU / BURFI / HOLIGE/POORAN POLI / HALWA
on
by :
Divya Suresh
Amaranthus Amaranth in English or Rajagiri in Kannada or Rajgira/Ramdana in Hindi …. is a tiny grain which is gluten free. The origin of the word amaranth is Sanskrit. But amaranth isn't technically a grain like oats, wheat, or rice. It's sometimes referred to as a "pseudo-cereal" because its nutritional profile is very similar. One of the most important aspects of this tiny grain is that it's gluten-free. We have to cook amaranth in the same procedure of cooking Pasta or rice, boil plenty of water and measure the grain into it, cook and stir for 15 to 18 minutes, drain and rinse … cooked amaranth is ready. It can also be used as an exceptional thickener for sauces, soups, stews etc. Amaranth is remarkably nutritious than its true-grain couterparts, so amaranth is emerging into the forefront among grains. It is rich in minerals like calcium, iron, phosphorous & carotenoids than most vegetables. It has high protein contents compared to the Oats or rice.  It is said that one cup of raw amaranth contains 18 milligrams of fiber; in comparison with white rice which contains 2.4 grams. We Karnataka people use and very fond of  "Dantina soppu" (green leafy vegetable similar to choulai ka saag) and amaranth is "Dantina beeja"
Today I'm going to share Amaranth Unde / laddoo which looks similar to our own "Aralina Unde".
       Ingredients :
Amaranth/ rajgira/ ramdana – 6 to 7 cups (roasted)
Jaggery – 1 cup (powdered)
Water to make jaggery syrup
        PROCEDURE :
Make jaggery syrup using water of one string consistency
Mix the syrup with ramdana , combine everything well
Wet your hands with water and make laddoos of any size of your choice.