20 October, 2016
MIXTURE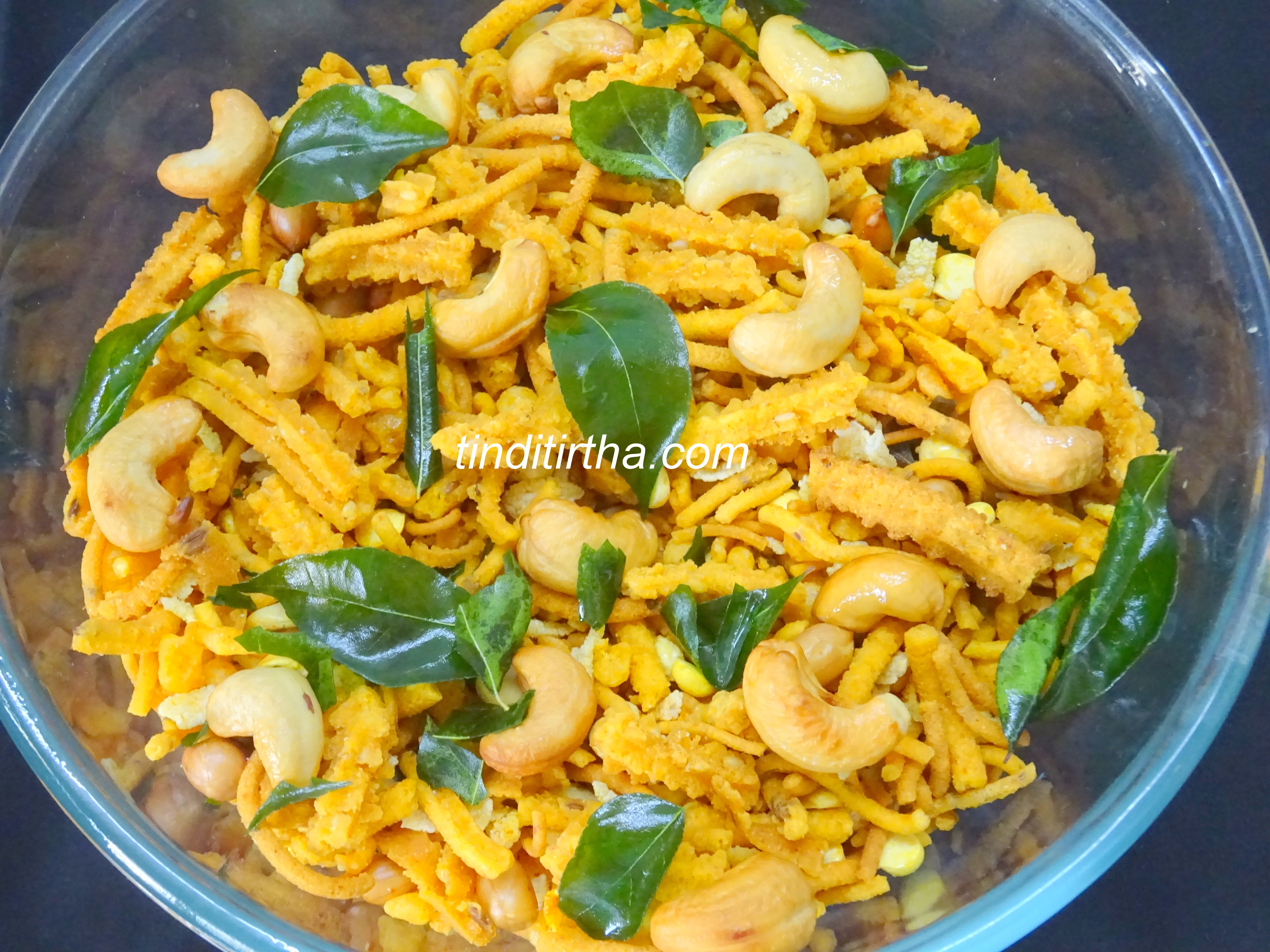 Posted in :
SNACKS / BAKED / DEEP FRIED / STEAMED
on
by :
Divya Suresh
Tags:
BESAN MIXTURE
This is one of the must do savoury snack of Karnataka, prepared during Deepavali/Diwali. So thought of sharing the recipe of the same with you all. The basic ingredients used in this snack is Chickpea flour & Rice flour. My mother was an expert in this. I can never forget that taste. Different condiments are used in the same mix of chickpea + Rice flour and the final taste we get is awesome. I don't make it very often as this is deep fried dish, but it is a definite thing during Diwali. Below is the recipe method in my way
You may also like to check  ⇒  Shankranthi trail mix , Kodubale , thengolu , chakkuli , authentic muchhore , om pudi/khara sev , Sorghum/Jolada mixture
      Ingredients :
Chickpea flour/Besan/Kadale hittu – 1 cup
Rice flour/Chawal ka atta/Akki hittu – 1 cup
Red chilli Powder – 3 tsp
Turmeric Powder – 1 tsp
Salt to taste
Combine everything well, then pour 2 to 3 tbsp of hot (smoking) oil on it, mix everything again and divide the flours mix into four equal parts.
Add 1 tsp sesame seeds to one part to make chakli /chakkuli
1/2 tsp carom seeds to second part to make thin Sev & Tape
1 tsp cumin seeds to third part to make thengolu or thick Sev
And keep the fourth part Plain (without adding any condiment) for making Boondi kalu
        Other Ingredients :
Oil – to deep fry everything
Beaten rice / Poha – 1/2 cup
Ground nut – 1/4 cup
Cashew nuts – 1/4 cup
Curry leaves – 1/4 cup
Roasted chana / Hurigadale – 2 tbsp
       PROCEDURE :
Knead the dough using water, and squeeze to make Chakli, Tengolu, thin Sev & tape… one by one, using relevant shape of the plates in the squeezer, deep fry and keep it aside
Now add little water to the remaining fourth part of the dough and stir it into a thick batter and make boondi kalu using Perforated spoon (a big round spoon with multiple small holes in it)
Now deep fry Poha, ground nut, cashew nuts, Curry leaves, one by one… in the same oil, take out on a tissue paper
Now take one big container and break all the deep fried chakli, thengolu, thin sev, tape and add boondi kalu , cashew nuts, ground nut, curry leaves and beaten rice into it
Add roasted chana / hurigadale … check for salt
Mixture is ready to relish.