4 November, 2016
MATWADI PALYA/LENTIL-VEGETABLE SUBJI ….. steamed method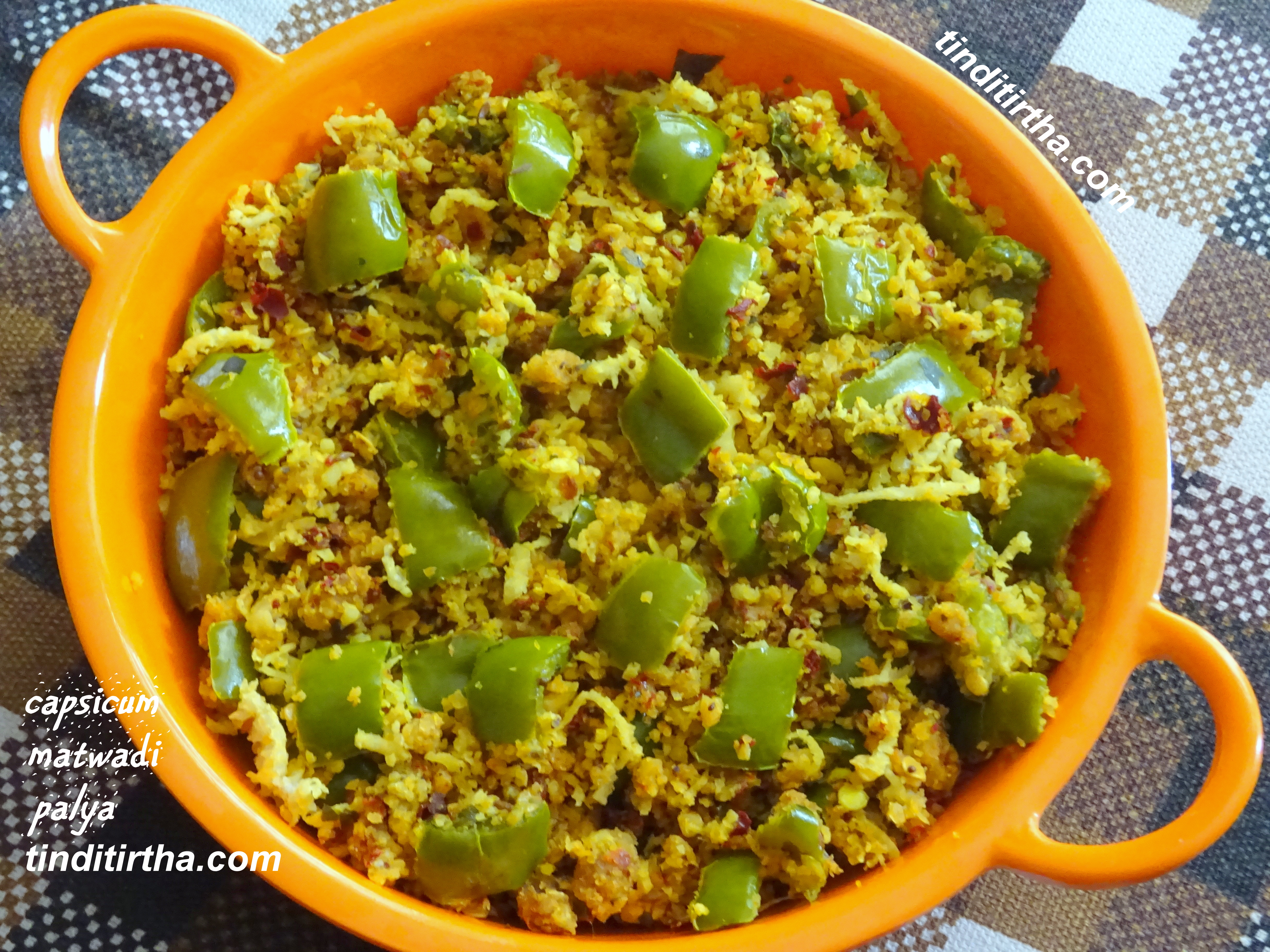 Posted in :
PALYA / SOOKHA SUBJI / USLI / SALAD
on
by :
Divya Suresh
There are again different variations in making this dish, some use bengal gram and some pigeon pea and some people use both. I always make it using only Pigeon Pea. We can also make the same dish using cluster beans, french beans, Raw banana. " Matawadi Palya " as it is called in Kannada is made dry / crumbli, therefore for making it so… necessarily lot of oil is used. That is Lentil – spice mixture is ground first and then sauteed in liberal amount of oil so that it gets cooked fully in the oil itself. Its an accompaniment which tastes and smells heavenly and its my favourite (almost everybody's) but I was always against using more amount of oil, so used to make it very rarely. After thinking for long… in different ways…. I came up with this steaming method , where we need to use only minimum oil and it turned out more tasty, yummy, easy and, healthy… and most importantly …. quick !!  so since last two three years I'm making it in this method.
I Prepare matawadi palya using the below mentioned vegetables using the same method and shall post the pics of all of them
Fenugreek leaves/methi/menthya soppu
Capsicum/shimla mirch/dappa menasinakayi
French beans/huralikayi
Cluster beans/gwar phali/gorikayi
Raw banana/kachha kela/balekayi
This can be eaten mixed with rice, used as an accompaniment with almost everything. But It tastes best with Rice and Poori or when eaten as such
NOTE : If you don't like to make it totally dry, then add little (about 1/4 cup) water while grinding toor dal
Ingredients : 
Chopped Fenugreek Leaves / Methi – 4 to 5 cups Or 2 big Capsicum (chopped) Or French beans  Or Cluster beans Or Raw banana/kachha kela/balekayi
Grated fresh coconut – 1/4 to 1/2 cup (the more you add the more tasty it turns out)
For grinding:
Toor dal / Pigeon Pea – 1 cup
Red chilli – 6 guntur chilli (hot) 8 to 10 byadigi chilli (for colour)  – adjust
Coriander leaves – 1/2 cup
Asafoetida – 1/8 tsp
salt to taste
 For tempering :
Oil – 2 tbsp
Mustard seeds – 1/4 tsp
Cumin seeds – 1/2 tsp
Curry leaves – few
Turmeric powder – 1/4 tsp
   PROCEDURE :
Soak Pigeon Pea in enough water for 2 hours OR soak it in the boiled water for 1 hour
After that drain all the water completely and add all the ingredients under the heading " for griding ", and grind it coarsely
Transfer it to a bowl or plate or idly moulds and steam it for 10 to 12 minutes, once done crumble it
Meanwhile heat 2 tbsp oil, add mustard seeds, cumin seeds, curry leaves, turmeric powder and chopped methi/fenugreek leaves
Fry the methi leaves till done… add salt and mix well
Now add steamed & crumbled dal/lentil mixture and fry for 2-3 minutes, sprinkle fresh coconut, then remove from fire
Matwadi Palya / subji is ready to serve.
If water is added at the time of grinding or later, then the consistency of the subji will become like this
Below is the pic of Matawadi palya using Capsicum , You need to follow the same above given recipe, just you have to replace menthya soppu/methi leaves/fenugreek leaves with capsicum/dappa menasinakayi/shimla mirch