17 November, 2016
RAGI MASALA DOSAY/DOSA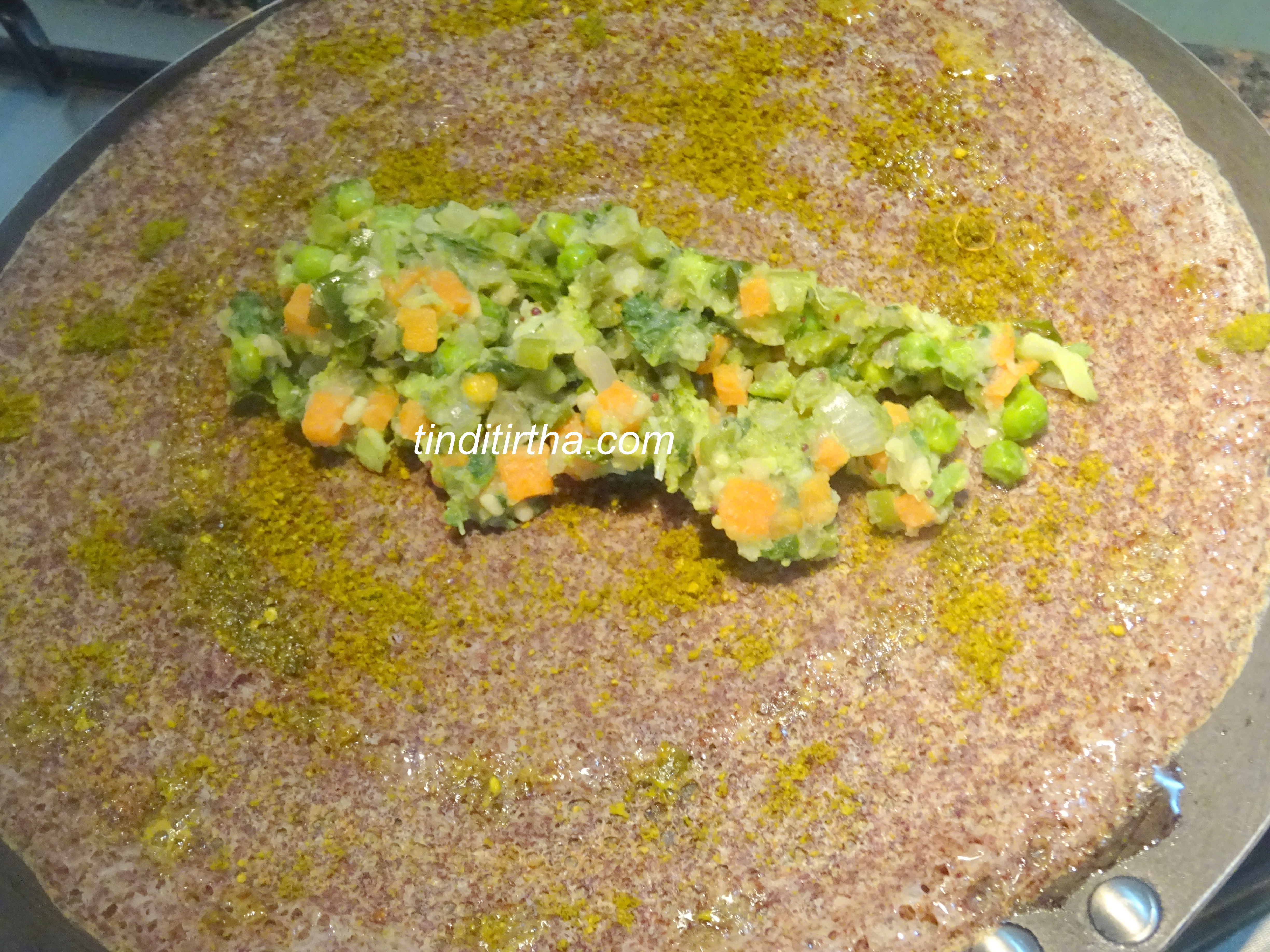 Posted in :
BREAKFAST RECIPES
,
MILLETS PREPARATIONS
on
by :
Divya Suresh
One more recipe using whole Ragi / Finger millet. This time I tried varying the proportions of ingredients, change in making procedure, used different stuffing and….. its a huge hit ! The dosay/dosa turned out crispy & of course yummy. And also I made mixed vegetable Palya/subji in place of that regular onion-aloo Palya/subji. And also the red chutney spread inside dosay/dosa is replaced with curry leaves chutney powder. So the outcome is…. totally new…. yummy…delicious Ragi masala dosay/dosa.
This time ie on 10/02/18, I made potato + Peas + Sweet potato + onion palya for stuffing, it was just perfect to go with this dosay, I have taken equal quantity of potato and sweet potato, rest followed the same method.
Ingredients : 
For Dosay/Dosa :
Whole ragi / Finger millet – 2 cups
Black gram / Urad dal – 1 cup
Beaten rice/Poha – 1/4 cup
Fenugreek seeds – 1/2 tbsp
Bengal gram lentil – 1/4 cup (optional)
Salt to taste
For Batter :
Wash & soak everything, except salt for 6 to 8 hours
Grind everything together by adding salt & required amount of water, keep it covered for fermentation for 8 to 10 hours
For Palya / Subji :
Chopped….
Onion – 1 big
Spinach – 1/2 cup
French beans – 1/4 cup
Carrot – 1/4 cup
Broccoli – 1/4 cup
Cabbage – 1/4 cup
Green Peas – 1/4 cup………..Steam all the vegetables together except onion
Heat
1/2 tbsp oil,
add 1/4 tsp mustard seeds,
1 tbsp chana dal (bengal gram),
1 tsp black gram (urad dal),
1 tbsp green chilli paste
and few curry leaves
Now add Chopped onion and fry till translucent, add steamed vegetables, add salt to taste, Mix everything well, remove from the fire
 PROCEDURE :
Heat tawa and pour a laddle full of batter and spread it circularly, smear little oil
When it gets roasted a little, then sprinkle curry leaves chutney powder overall on dosay/dosa
Now stuff a portion of Subji / Palya
Fold both the sides of the dosay / dosa
Mixed vegetable Ragi dosay/dosa is ready to serve…. serve with any chutney
Curry leaves chutney pudi