11 January, 2017
SAKKARE ACHHU / SUGAR FIGURINES (MOULD)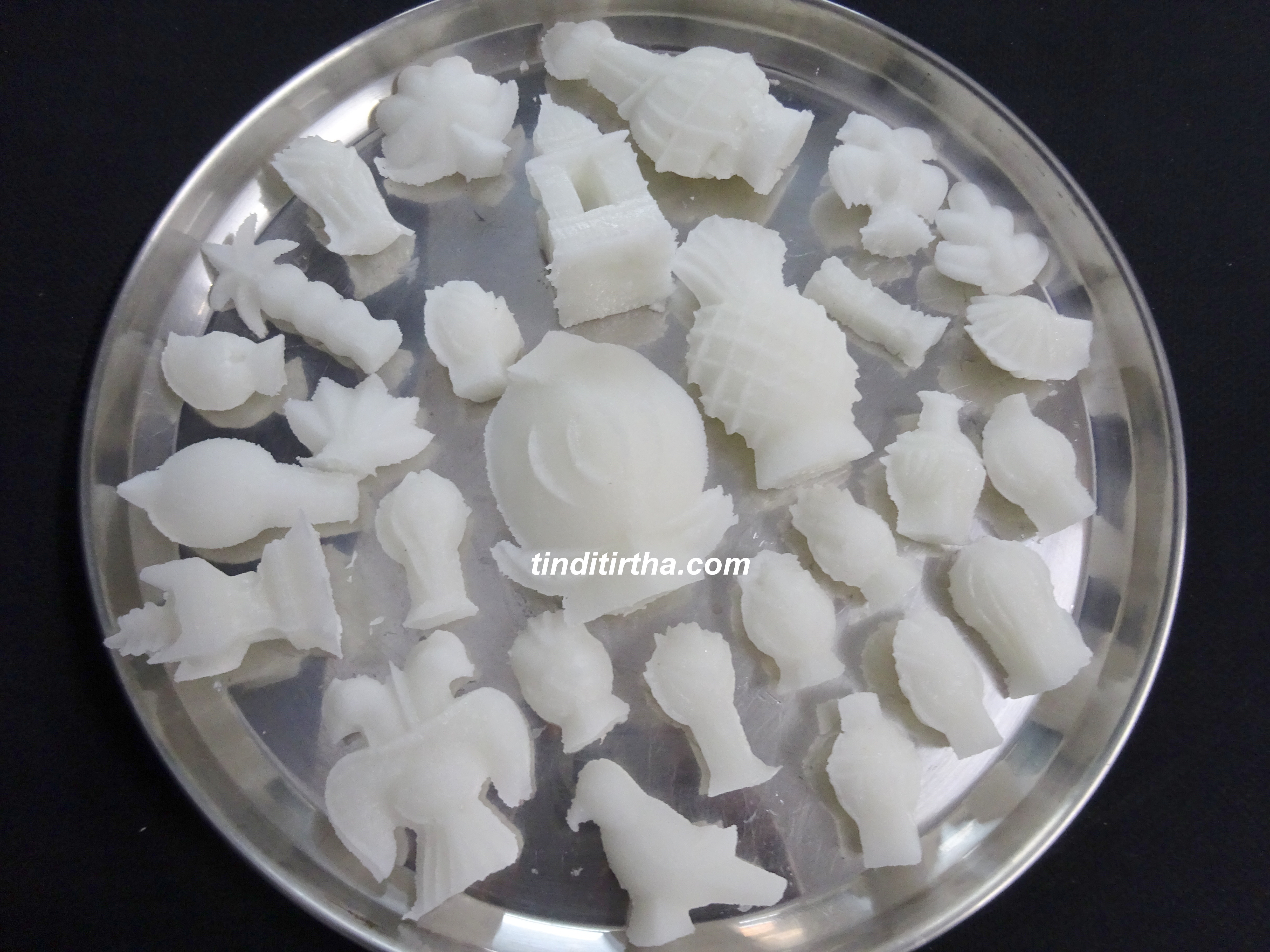 Posted in :
SAKKARE ACHHU/SUGAR FIGURINES(MOULD)
,
SWEETS / UNDE/LADDU / BURFI / HOLIGE/POORAN POLI / HALWA
on
by :
Divya Suresh
Shankranthi is a harvest festival of Karnataka. Sakkare  (sugar) Achhu (moulded figurines) is a traditional, artistic thing made during Shankranthi festival in Karnataka. Without sakkare achhu & yellu-bella (Till- Gur mixture) Shankranthi festival can not be celebrated. We exchange achhu,  yellu-bella, banana, a piece of sugar cane etc with all the relatives, friends and neighbour…. this is the main attraction of this festival.
Sakkare achhu is nothing but the  sugar figurines made out of purified sugar syrup in a wooden or aluminium or silicon moulds. Anybody can make this with little more patience and practice…. And of course it is a time consuming recipe. But when you make it by yourself and when you see the final outcome… you will definitely feel like dancing out of joy and its definitely an achievement ! (Its an achievement at least for me… every year after making sakkare-acchu I feel like I have achieved something great…though making it since years)
Sugar is soaked for few hours…...( it is not mandatory, but soaking does make the sugar dissolve faster) say for about 1 to 2 hours in enough water and the sugar would dissolve almost fully when we soak & stir it, then we have to keep it on the fire and boil it gently… once it starts boiling we need to add little quantity of Milk and Curd to the syrup one by one at a time… so that the impurities in the sugar syrup can be removed. My grand mother, my mother & my mother in law used to say that we have to use only little quantity of milk and curd to the syrup to remove the scum, and if we add more of milk and curd the achhu would become very soft. So I use only two spoons of each.  Now let us see my method of making acchu recipe explained in step by step method.
Please click here for ⇒        shankranthi yellu/shankranthi trail mix
Please click here for ⇒        sakkare achhu/sugar figurines using raw cane-sugar
       Ingredients :
Sugar – I have used 2&1/2 cups (If you are making it for the first time, then you can start with one cup)
Water – enough to soak the sugar… I have used 1  cup
Milk – 2 spoons
Curd – 2 spoons
Other things :
Two – thick bottomed vessels/container/pans
Thick medium sized laddle
wooden or silicon or metallic moulds
A white cloth for straining the syrup
    PROCEDURE :
Soak the sugar in water for 1 to 2 hours, simultaneously soak wooden moulds in the water ( new wooden moulds would need more hours of  soaking…ie… for overnight)
By now sugar would be dissolved completely, otherwise stir for a while and put it on the heat and bring it to a gentle boil, meanwhile line the second vessel with the cloth and keep aside
Take out the moulds from water, just pat dry to wipe the water, Put rubber bands to the mould and keep it ready to pour the thick syrup
Add 2 spoons of milk while it is boiling, stir well and when you see the scum floating, take the syrup off the heat and pour it to the cloth lined vessel and strain the scum
Now again put it on the heat immediately and add 2 spoons of curd, let it boil.. and meanwhile wash that first vessel and line it up with the cloth and keep it ready to strain the syrup again
Again you will see the scum floating, remove the syrup from the heat and strain it again.
We should make achhu by taking small portions of strained syrup at a time.  so take a small portion of syrup and bring it to boil on low flame by rubbing (beating) the syrup to the bottom of the vessel with a laddle continuously… after every two minutes, take it off the heat and beat vigorously for few seconds.. and repeat this for a while
After a while the syrup turns to white… thick consistency…
Take the syrup off the heat and immediately spoon the syrup into the prepared moulds……Here you should act very very fast as the syrup solidifies very quickly ( that's why we take small portions of strained sugar syrup)
After two minutes you can open the moulds and remove the sugar figurines carefully and arrange them on a clean plate or tray
Store it in a air tight container once it is fully cooled
Repeat the procedure with the remaining strained syrup
NOTES : 
The colour of the sugar figurines depends also on the colour of the sugar used, so choose it properly
If the figurines breaks or not comes out fully… then do not waste them or no need to worry, put them back in a little quantity of strained syrup and heat it and repeat the procedure
A drop of lemon juice can be added to get whitish & shining figurines, but even a drop more can spoil the whole syrup, so we should do it carefully
By adding edible food colours,  coloured sugar figurines can also be made ( now a days even chocolate flavoured sugar figurines are made)