12 January, 2017
SHANKRANTHI YELLU / SHANKRANTHI TRAIL MIX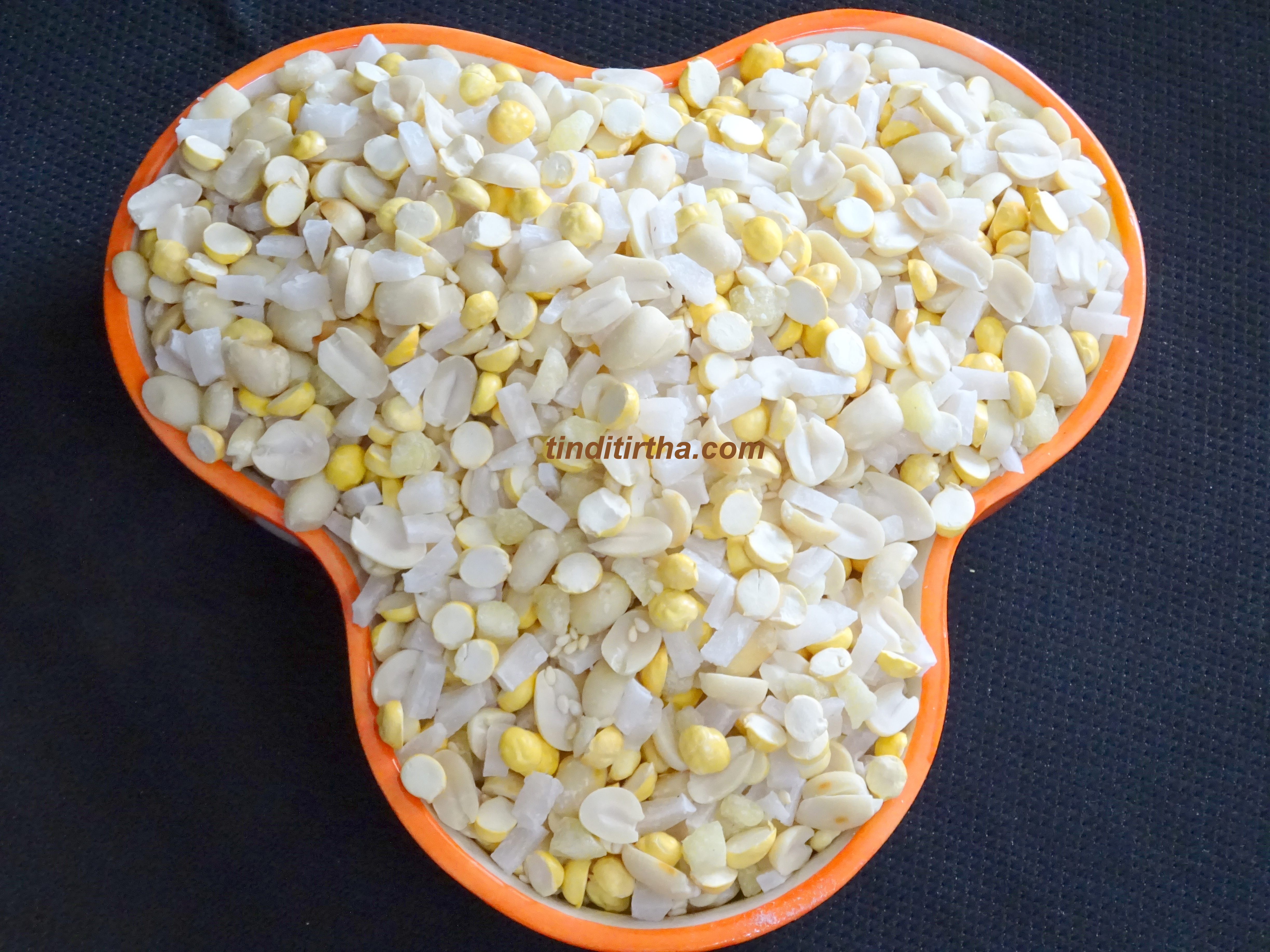 Posted in :
SHANKRANTHI YELLU (SANKRANTH TRAIL MIX)
,
SNACKS / BAKED / DEEP FRIED / STEAMED
,
SWEETS / UNDE/LADDU / BURFI / HOLIGE/POORAN POLI / HALWA
on
by :
Divya Suresh
Makara Shankranthi is a festival celebrated all across India, in different forms.  Shankranthi is a harvest festival which signifies the beginning of Spring. In Karnataka … on this occasion… for this day , it is mandatory to prepare a trail mix consisting of wholesome ingredients like…. sesame seeds, Jaggery, dry coconut, roasted gram and Peanuts…. which are very beneficial to our health in this cold weather.  In Kannada it is called as Shankranthi Yellu (sesame seeds) Or Yellu-Bella (sesame seeds-jaggery).
It is not much of a recipe but it is a medley of simple…nutritious,,, healthy… easily available ingredients which are very essential to eat during winter. It is prepared by gently grating (I peel it with the peeler) the brown skin of dry coconut and dice it into small equal sized pieces, chopped Jaggery, Roasted gram, roasted and de-skinned Peanuts and ,,, roasted white sesame seeds. Finally mix everything together, to use it on the festival day.
The Ritual is… after offering this trail mix to God on Shankranthi day… we exchange this….along with sakkare achhu (sugar mould figurines), Fresh sugar cane and banana…. with relatives & friends. This ritual is called as "Yellu Beerodu" which means distributing this mixture.
This mixture is made in very large quantity (almost 1 to 1&1/2 kilo of each of the ingredients are used and accordingly 1/4 kilo of sesame seeds are used)  .. but just to keep it simple , Here I'm going to mention the measurements of ingredients in Cup (measuring cup…ie.. less quantity)
Please click here ⇒    sakkare achhu/sugar figurines (mould)
Please click here for ⇒        sakkare achhu/sugar figurines using raw cane-sugar
Ingredients : 
Peanuts – 3 cups
Dry coconut – 3 cups
Roasted gram (hurigadale) – 2 to 2&1/2 cups
Jaggery – 1 & 1/2 cup
White sesame seeds – 1/2 cup
PROCEDURE :
Roast the peanuts, remove the skin and clean up the impurities
Peel or grate gently the brown skin of dry coconut and dice it into small equal sized pieces
Clean the roasted chana ….. remove any unwanted things and broken ones
Cut Jaggery into big pieces first and then cut it into small cubes with the help of Knife or Scissor (Preferably take acchu (Square) bella for this
Roast the sesame seeds , do not burn and let it cool completely
Now gather everything together and toss them well
Store it in a airtight container
NOTES :
You can adjust the quantities of ingredients according to your taste while mixing ( but this is an ideal proportion)
Do not burn anything… roast everything on low medium flame by stirring almost continuously
Sun dry roasted gram, chopped coconut and chopped Jaggery for couple of hours
This year's ie…. 11/01/18 yellu preparation ⇓