2 February, 2017
BOODUKUMBALAKAYI SAASIVE/ASHGOURD/SAFED PETHA/MUSTARD SEEDS+CURD CURRY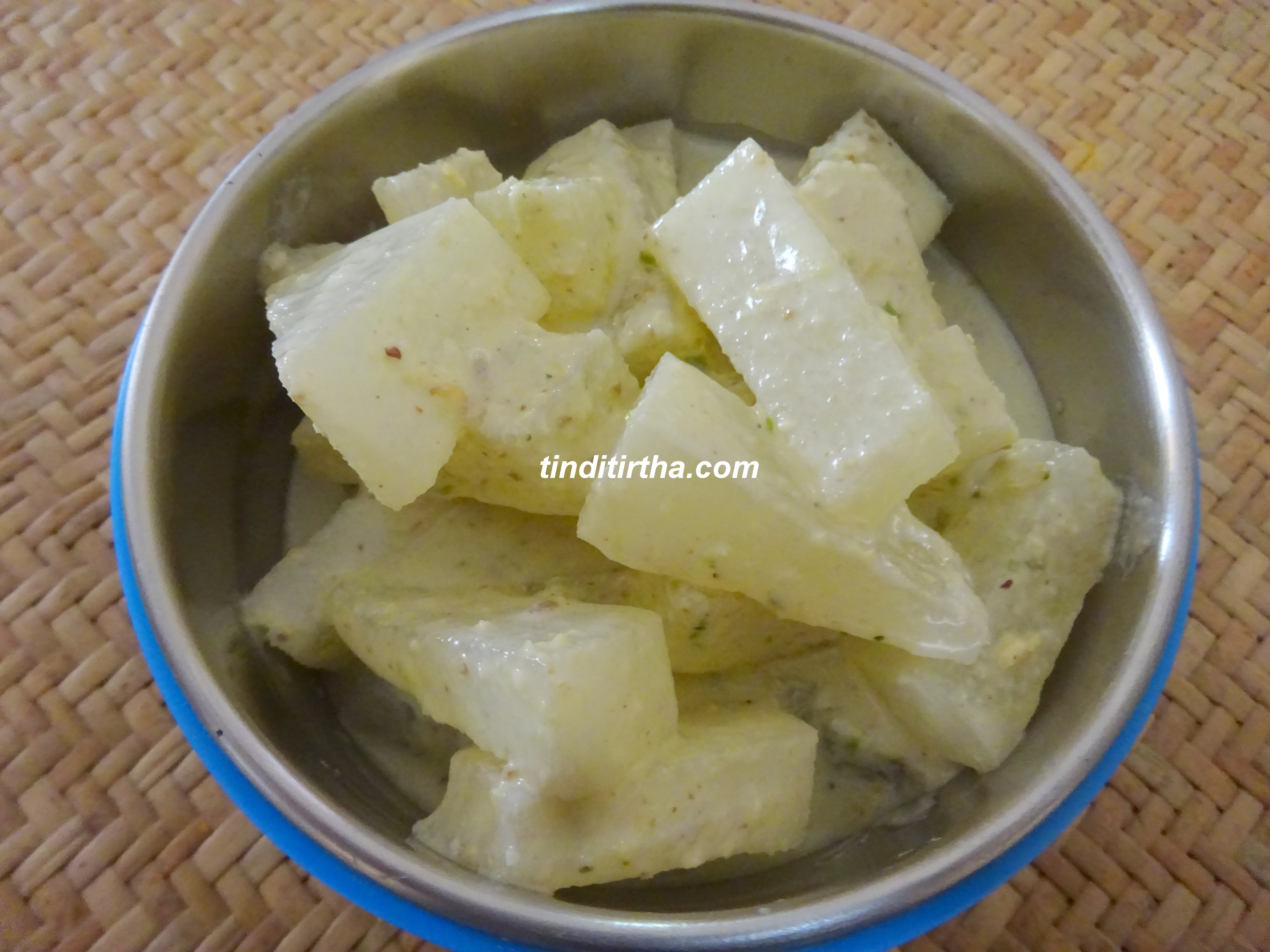 Posted in :
KADI-PAKODI / MAJJIGE HULI / RAITA / MOSARU SAASIVE
on
by :
Divya Suresh
This vegetable is known by different names, such as …. Ash gourd, Winter melon, White pumpkin and Boodukumbala kaayi in Kannada & Petha or Safed Petha in Hindi. A very famous sweet from Agra called " Petha" is made using this vegetable. Ash gourd has many therapeutic properties. As the name itself says  ash gourd is grey or ash in color and is a Oval shaped big and heavy vegetable in size. It is usually cultivated for its medicinal and nourishing properties. It has several vitamins and minerals like phosphorus, calcium, riboflavin, iron, thiamine, niacin and Vitamin C.  It has lot of water content in it, there by useful in flushing out toxins from the body. It has cooling effect on our body, it increases the urine output and is beneficial in reducing inflammation. It is definitely beneficial for diabetic people, obese people, its juice induces relief in acidity and peptic ulcer etc.
We make sasive (mustard seeds & curd based curry, also called as hasi paldya), Majjige Paldya (kadi), Huli (sambar) and is necessarily used in the preparation of Karnataka's famous one pot meal …Bisibelebath.
     Ingredients : 
Ash gourd (cut into pieces) – 2 cups
Curds – 1 cup  or (less or more according to desired consistency)
To grind :
Roasted chana/ Hurigadale – 1/4 cup
Grated fresh coconut – 1/3 cup
Green chilli – 4 to 6 or as needed
Cumin seeds – 1 tsp
Hing – a generous pinch
Salt to taste
For Tempering :
Ghee – 1/2 tsp
Mustard seeds – 1/4 tsp
Turmeric Powder – 1/4 tsp
Curry leaves – few
     PROCEDURE :
Cook ash gourd in enough water till soft (keep it crunchy), adding salt and let it cool completely
Grind all the ingredients under the heading "to grind" using very little water into a fine paste
Add the ground paste & curds to the cooked ash gourd
Prepare tempering and add it to the ash gourd mixture and combine everything well
Serve with rice, roti, paratha or chapati and goes very well with rice flour-rotti & bisibelebath