26 February, 2017
MENTHYA SOPPU+KADALEBEEJA UPPITTU/FENUGREEK LEAVES+PEANUT UPMA/METHI+MOONGPHALI UPMA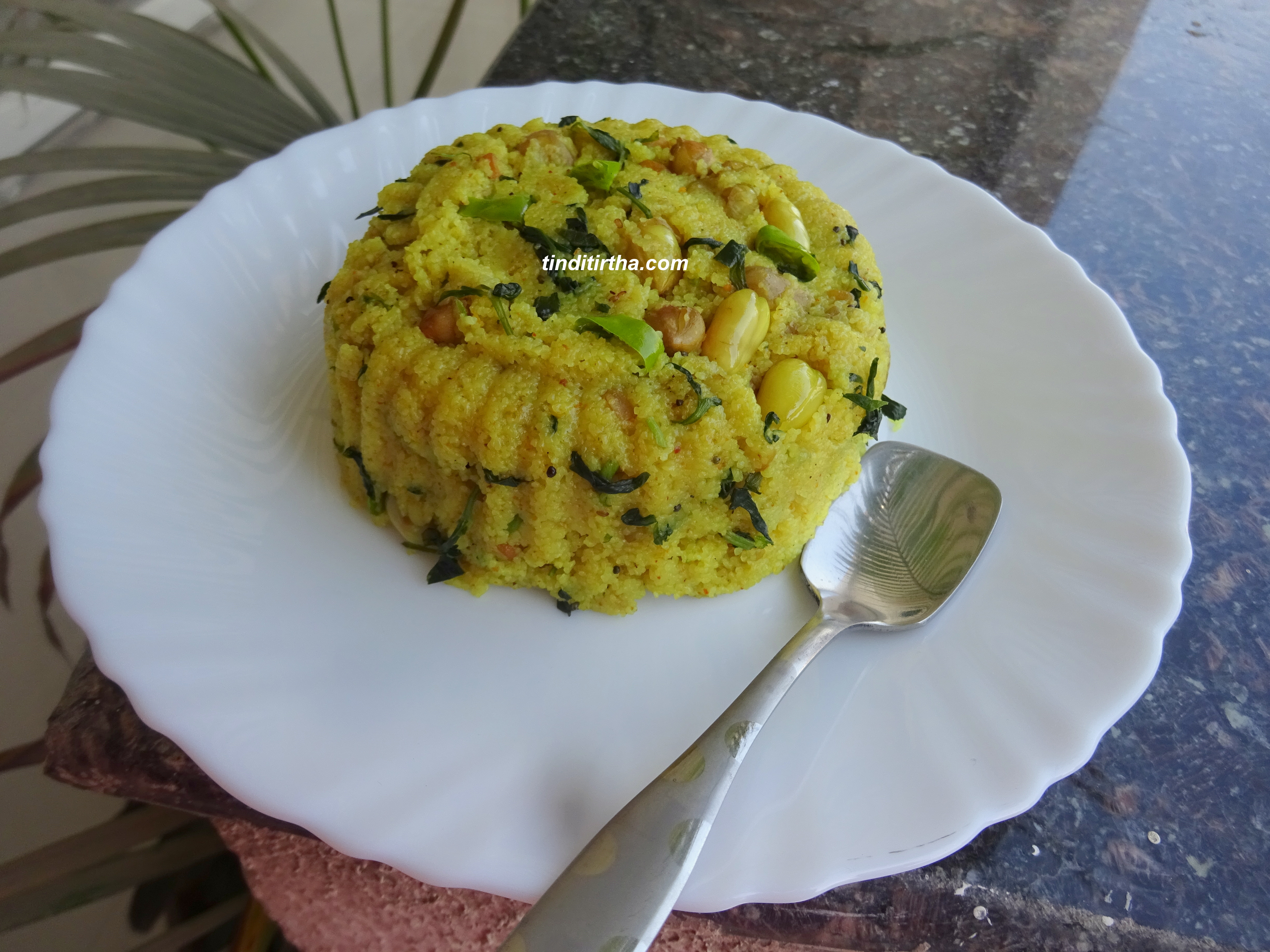 Posted in :
BREAKFAST RECIPES
on
by :
Divya Suresh
I learnt this recipe (adding peanuts to Upma) from my Sis-in-law Ms. Sandhya Jagannath and I guess….she learnt this recipe from one of her friend Ms. Vijaya. And since this winter has started I was planning to make Uppittu/Upma  by adding fenugreek leaves/Menthya  soppu  and decided to put both the things together… So finally I made it and the outcome is WOW!! So…. happily sharing the recipe with you all, explained with step wise pictures.
     NOTE : 
You can add about 1/2 cup of grated fresh coconut, but it is optional.
You can use red chilli powder in place of Vangi bath powder (palyada Pudi)
By adding ghee into the boiling water, upma cooks softly and gets nice aroma
Don't forget to keep the flame on low while semolina/sooji/rave is getting cooked.
You can search for the recipe of Vangibath powder/Palyada Pudi in my blog.
     Ingredients :
Semolina/Rave – 1 cup
Fenugreek leaves – 1 cup (chopped)
Peanuts – 1/3 cup
Oil – 1 tbsp
Mustard seeds- 1/4 tsp
Bengal gram – 1 tbsp
Black gram – 1/2 tbsp
Green chilli – 2 to 4  OR as per taste
Curry leaves – few
Coriander leaves – 2 tbsp
Vangibath powder (palyada pudi) – 1 or 2 tsp (adjust)
Turmeric powder – 1/2 tsp
Ghee – 1/2 tbsp
Salt to taste
Water – 2&1/2 to 3 cups
    PROCEDURE :
Roast semolina/sooji/rave till golden and nice aroma comes, on low flame and keep it aside
Heat Oil in a pan, add mustard seeds, Bengal gram, Black gram, Peanuts and saute till it becomes crisp
Add curry leaves, Chopped green chillies, coriander leaves and chopped methi, fry till raw smell goes……Now add water and salt and let it come to boil
Now add turmeric powder, vangibath powder (Palyada Pudi) and ghee and now turn the flame to slow
Now slowly add roasted semolina while stirring continuously
Cover the pan and allow it to cook on slow flame till all the water evaporates and Rava gets cooked well  (see the pic below)
Stir everything well, turn off the flame, cover it and let it sit for 5 minutes
Fenugreek leaves+peanut Uppittu/Upma is ready to serve