2 March, 2017
PINEAPPLE KESARI/PINEAPPLE-SOOJI HALWA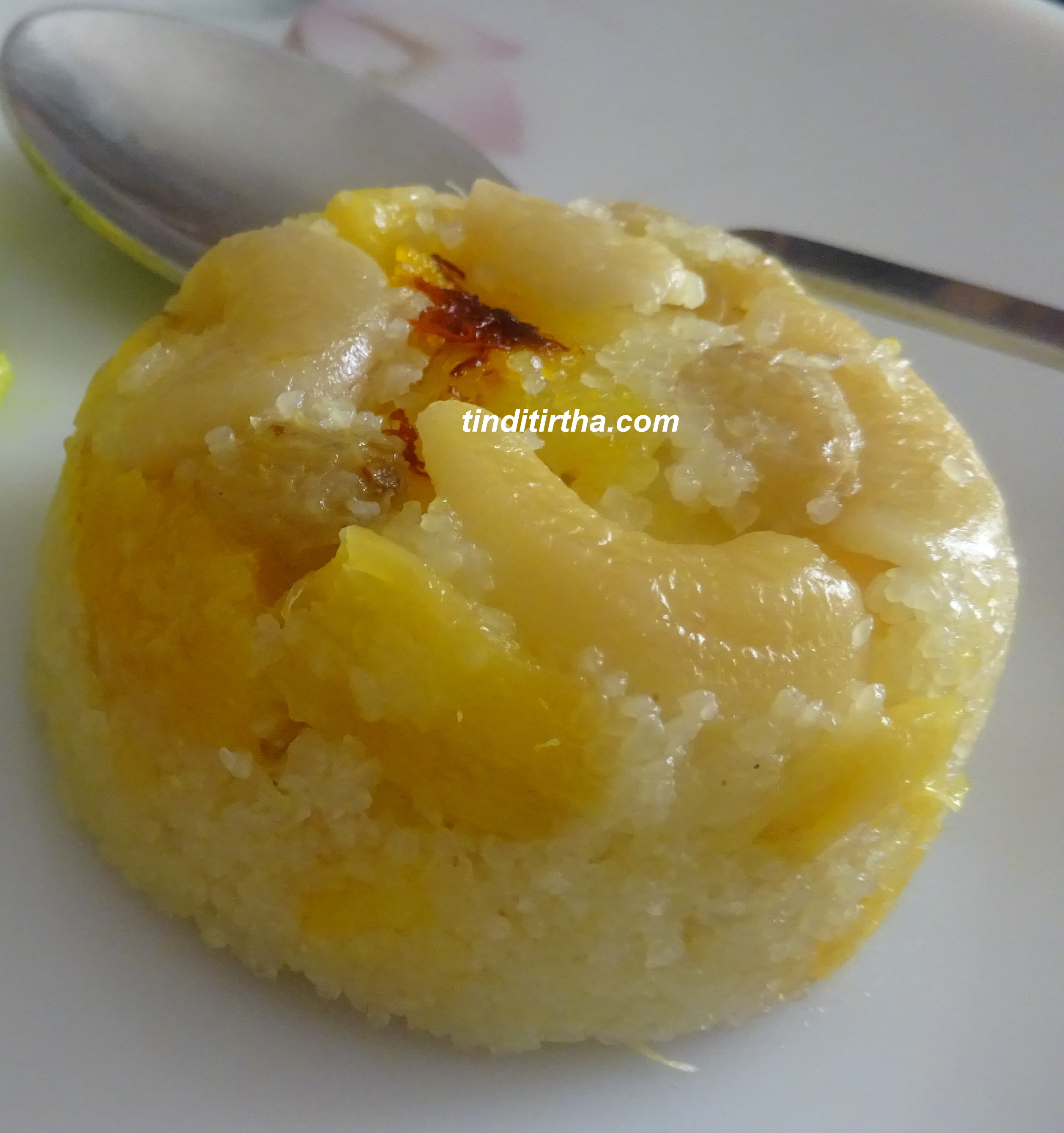 Posted in :
BREAKFAST RECIPES
,
SWEETS / UNDE/LADDU / BURFI / HOLIGE/POORAN POLI / HALWA
on
by :
Divya Suresh
Occasionally we can make this yummy and healthy sweet dish, though we add sugar in it……It also has all the goodness of semolina, Pineapple, Saffron strands and all. We should choose sweeter pineapple to make this dish or else we should add a pinch of salt if the pineapple is little sour. It is very quick and easy recipe, which can be made using wheat semolina, rice semolina and millets as well.  I forgot to take step wise procedure pics, shall add it soon here!
     Ingredients : 
Semolina – 1/2 cup
Pineapple (chopped) – 1/2 cup
Sugar – 1/3 cup or more or less , depending on the sweetness of pineapple
ghee – 2 tbsp (adjust according to taste)
cashew nuts, almonds, raisins – 1 tbsp each
Saffron strands – 1/4 tsp  Soaked in 1 tbsp warm water
Cardamom powder – one fat pinch
Edible Camphor – one smallest pinch (optional)
Water – 1&1/2 cup
     PROCEDURE :
Roast semolina well till raw smell goes and keep it aside
Heat 1&1/2 tbsp ghee add all the nuts and raisins, fry for a minute and add water and sugar into it
Let it boil till the sugar dissolves, now add soaked Saffron strands, camphor (if using), chopped pineapple and roasted semolina slowly, turn the heat to low, cover it and let it cook
Now add cardamom powder,  mix well and turn off the heat
Pineapple Kesari is ready to serve.