11 March, 2017
ANANAS HOLIGE / PINEAPPLE POORAN POLI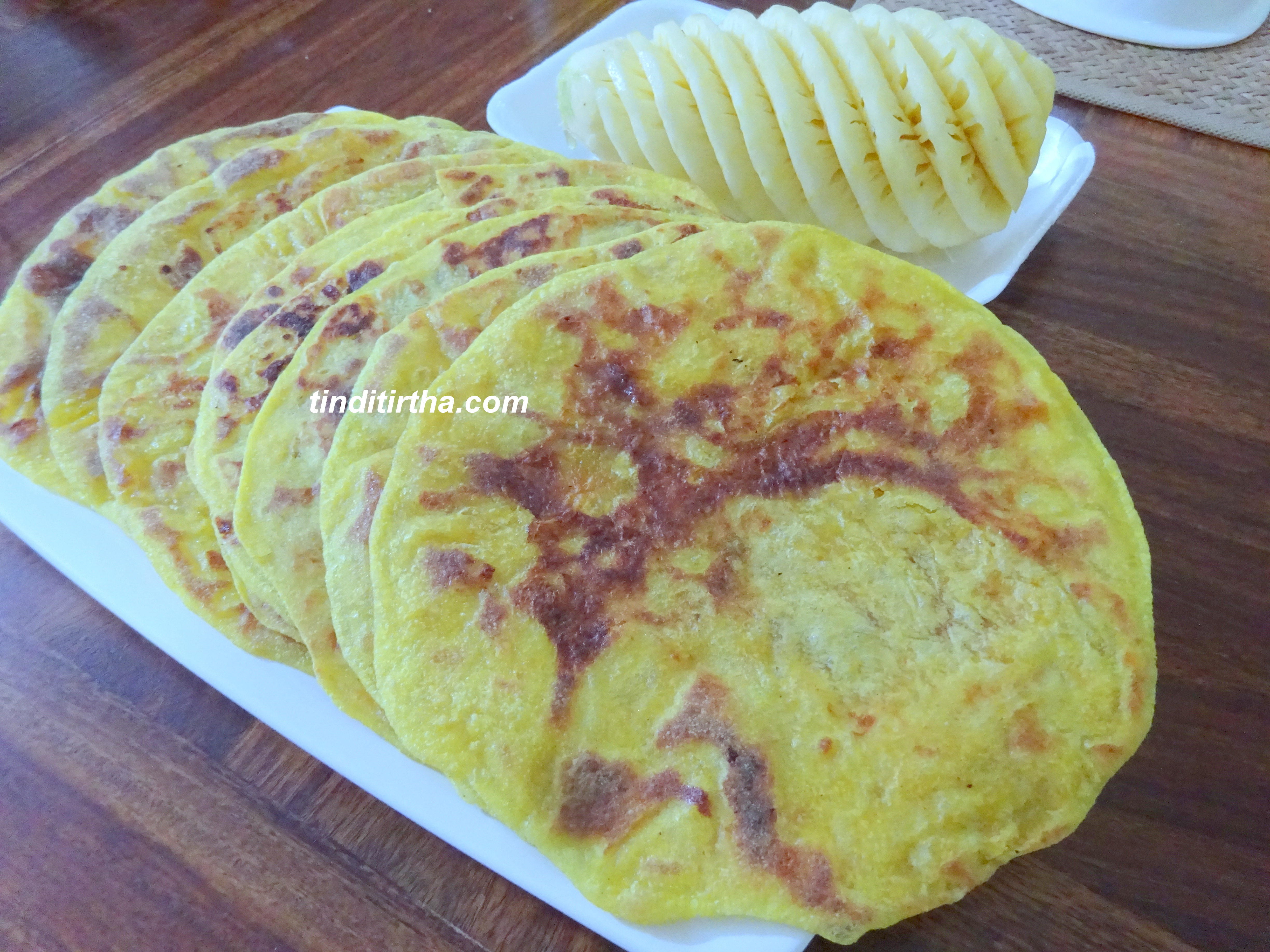 Posted in :
SWEETS / UNDE/LADDU / BURFI / HOLIGE/POORAN POLI / HALWA
on
by :
Divya Suresh
During my recent visit to Bangalore, I came across a different kind of Holige/Pooran poli name in the menu card of a holige/Pooran Poli selling store " Mane Holige " (they make varieties of Holige using many kinds of fruits and dry fruits apart from the regular Bele holige (dal pooran poli), Kayi holige (coconut pooran poli) etc…. ) which attracted me and instantly I wanted to try making it in my own way, since then. So Just tried it in my own method and it turned out to be the yummiest ! So gladly sharing the same with you all the recipe of making Ananas holige or Pineapple pooran poli.
Choose the pineapple carefully for it may spoil the taste if it is too sour !
This recipe yields 12 Holige /Pooran poli of the showed size
     Ingredients :
     For stuffing : 
Bengal gram/Kadle bele/Chana dal – 3/4 cup
Pineapple – 2 cups (finely chopped)
Jaggery – 1&1/4 cup
Salt – a fat pinch
L J E powder – 1/8 tsp (Roast and grind together equal quantity of Laung, Jaiphal and Elaichi)
     For the outer cover : 
Chiroti rave/Fine sooji – 1&1/4 cup
Turmeric powder – 1/2 tsp
Water to knead the dough
Oil to soak & roast the Holige
     PROCEDURE :
Mix Chiroti rave and turmeric powder and knead into a soft dough ( you have to knead it really well) using enough water, and soak it in enough oil for 2 to 3 hours
Cook Bengal gram until soft with enough water, Once cooked drain all the water and this water can be used to make Pineapple saaru/rasam or regular saaru/rasam (I made Pineapple saaru)
Grind chopped pineapple into smooth paste
Put together Cooked dal, jaggery and pineapple paste in a Pan and cook it on medium flame, keep stirring it in between until all the water evaporates and becomes a mass
Now add salt and L J E powder combine well and remove from the fire and let it cool
Then grind it into a smooth paste
Now Pinch a portion of the dough, flatten it a little, keep the stuffing inside, cover it with all the sides and roll it with applying oil on a butter paper or holige paper or banana leaf
Heat tawa/griddle and cook the Holige on both the sides by smearing little oil
Serve hot Pineapple holige  with ghee