15 March, 2017
RAISIN/KISHMISH/ONA DRAKSHI GOJJU / TANGY CURRY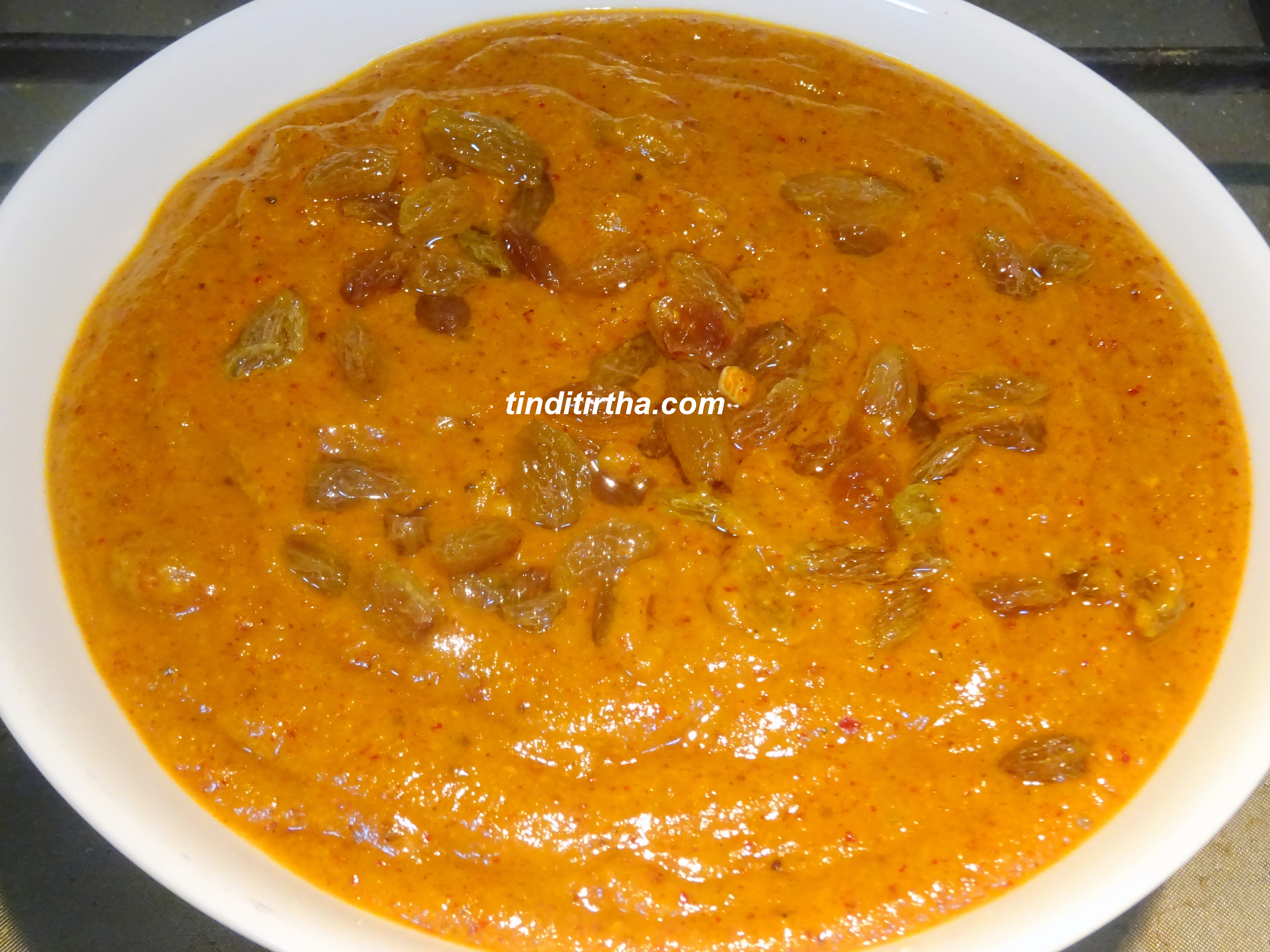 Posted in :
HULI / CURRY / VEGETABLE CURRY / GOJJU / TANGY CURRY / DAL / TOVVE / VEGETABLE KOOTU / SAGU
on
by :
Divya Suresh
Raisins are one of the healthy alternatives to those sugar rich sweet products. It also helps in digestion, anaemia, reduce acidity, prevent cancer, treat infections. It is good for the eyes, mouth & dental care etc etc.  When grapes are dehydrated to produce raisins, the nutrients become more concentrated, making a handful of raisins a snack which is rich in B vitamins, iron and potassium. Raisins are also a good source of carbohydrates for energy.
Now regarding this recipe, both my grandmothers and my mother used to prepare this awesome gojju/curry. It tastes best with hot rice, plain dosay/dosa, akki rotti and also with chapathi, Phulka, Plain paratha etc. Always adjust the sourness (tamarind juice) and sweetness (jaggery) depending on how much sweet & sour the grapes are. You can keep the consistency thick or thin depending on the requirement. It can be refrigerated for up to 3 – 4 days.
     Ingredients :
Raisins/Kishmish/ona drakshi – 1/2 to 3/4 cup
Oil – 1 tbsp
Ghee – 1 tbsp
Mustard seeds – 1/4 tsp
Tamarind juice – 2 tbsp (adjust)
Jaggery – 1 tbsp (adjust)
Salt to taste
    To roast and grind :
Coriander seeds – 1/2 tbsp
Bengal gram – 1 tbsp
Black gram – 3/4 tbsp
Red chilli – 6 to 8 (adjust)
Cinnamon stick – a 1/4 inch piece (adjust)
Curry leaves – few (12-15 leaves)
    Other ingredients :
Grated fresh coconut – 1/4 cup
Turmeric powder – 1/4 tsp
Hing – a fat pinch
     PROCEDURE : 
Roast and grind all the ingredients under the heading "to roast and grind", and grind it along with coconut, haldi and hing to a smooth paste
Heat oil in a pan, add mustard seeds, when it splutter add raisins/ona drakshi/Kishmish, saute for a minute, add little water and let it cook for 2 minutes
Now add tamarind juice, ground paste, jaggery and salt, mix well and boil it for 2-3 minutes so that the raisins absorb the masala
Check for salt& water,  add little more water if needed to get desired consistency….. once boiled, remove from the fire and add ghee and mix well
Raisins/Kishmish/Ona drakshi tangy curry is ready to serve