18 March, 2017
BABY CORN BAJJI CHAT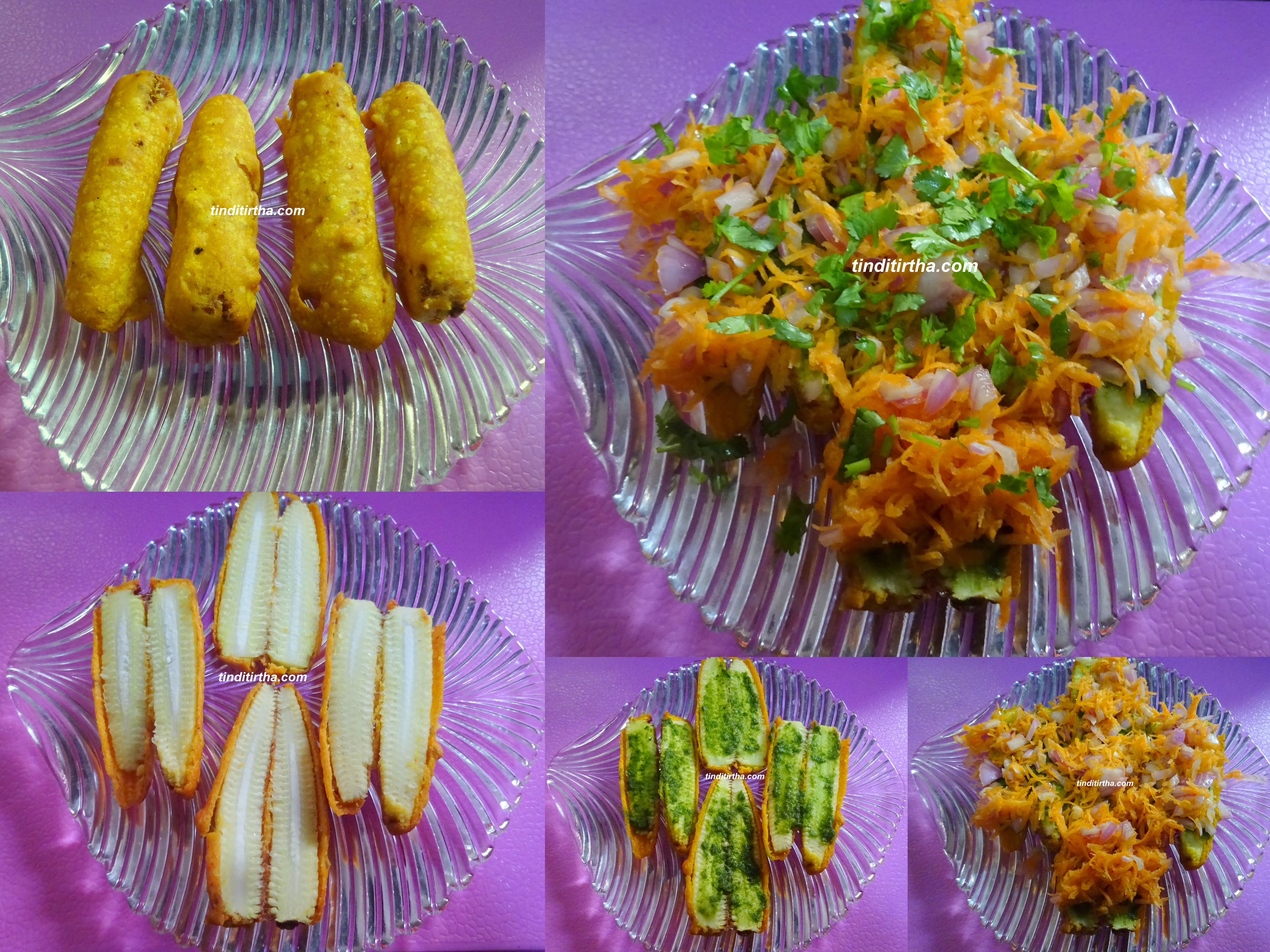 Posted in :
CHATS
on
by :
Divya Suresh
Being one of the famous street food of Bangalore, Bajji chat is truly a delight sold in small outlets, in many famous streets of bangalore. My familiy's favourite outlet is located in Nettakallappa Circle, Basavana Gudi, Bangalore. They have all varieties of bajjis like capsicum, Raw banana, chilli, baby corn, pineapple etc. The taste lies in the filling they use and they are generous with it like… carrots, onions, green chutney, cucumber, raw mango or lemon. Normally people end up having one of all types of bajjis and the amount will be still pocket friendly. That is Bangalore! fills your tummy without burning your pocket !
So today I'm trying to recreate what they do in those small roadside outlets, I closely watched them making, but the basic bajji batter is what I always do, and the procedure is how they do. I want to try out all of them, but at first I'm posting Baby corn bajji chat, Actually there is no perfect or particular measurement of ingredients, its according to taste and requirement.
     Ingredients : 
Baby corns – 4 big
Onion – 1 big (chopped)
Carrot – 1 big (grated)
Coriander leaves – 4 tbsp
Lemon juice or Grated raw mango
Green chutney – Grind together equal quantity of coriander, mint leaves, few curry leaves adding salt & little jaggery.
    For making bajji batter :
Besan/Kadlehittu – 1/2 cup
Rice flour/akki hittu – little less than 1/2 cup
Red chilli powder – 1 tsp
Turmeric powder – 1/4 tsp
Carrom seeds/Ajwain – 1/4 tsp
Hot oil – 3 tbsp
Oil – to deep fry bajji
Salt to taste
    PROCEDURE : 
Put baby corns in thoroughly boiled salt water for 10  minutes, keep it covered, then remove from the water and keep it aside
Heat oil to deep fry the bajjis
Now mix all the ingredients for the bajji batter, add little water and prepare the batter, keep it little thick
Dip baby corn in the batter and put it in the oil, deep fry, remove on a tissue paper once done
Allow bajjis to cool for a while, make a cut in the centre, don't separate it
Apply green chutney on both the sides of bajji
Sprinkle onion, carrot, little salt, lemon juice or grated raw mango
Garnish with coriander leaves and serve