15 April, 2017
KAAYI GANJI (KAAYGANJI)+GOJJU / FRESH COCONUT RICE BATH+SWEET CHUTNEY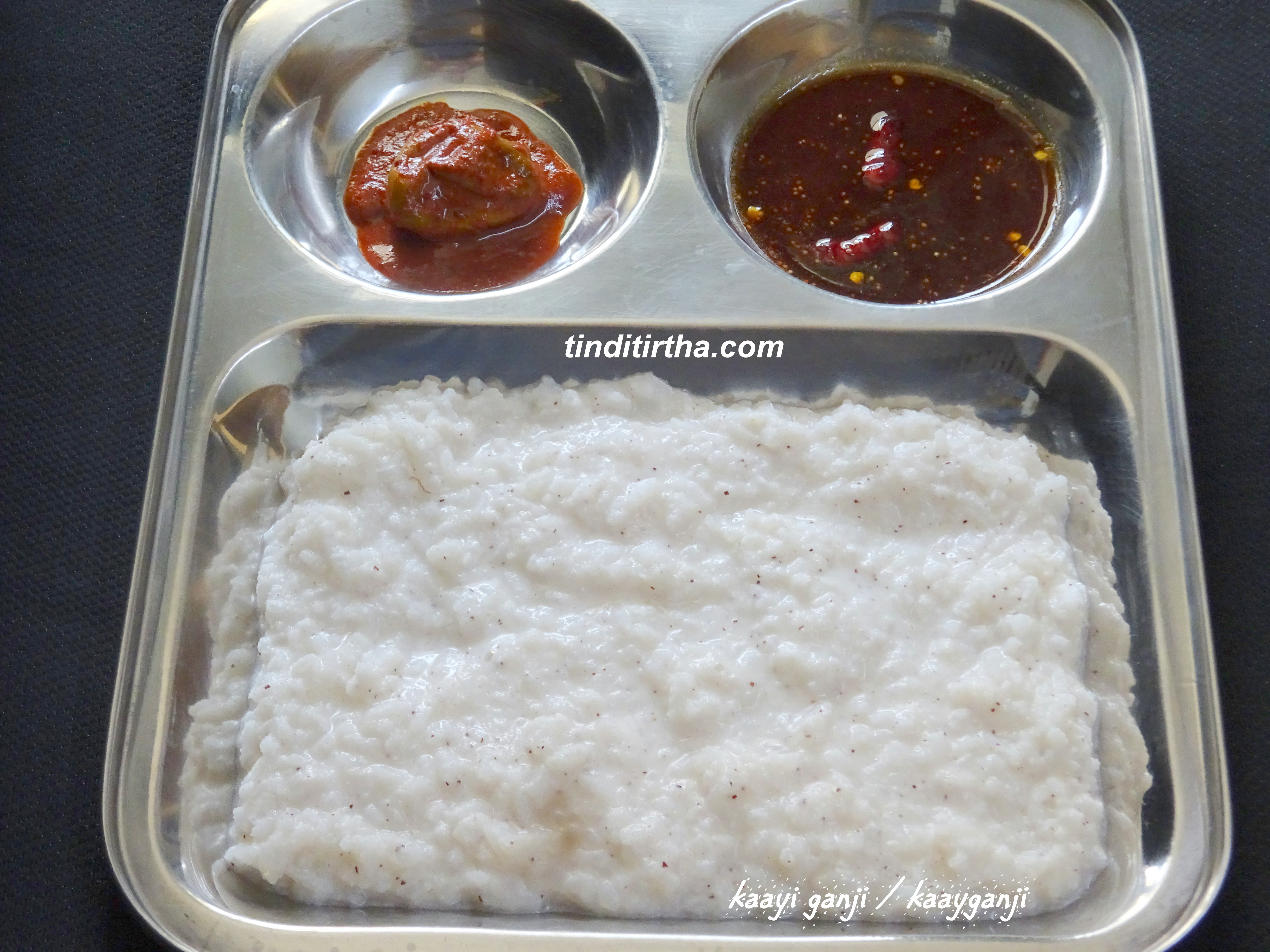 Posted in :
BREAKFAST RECIPES
,
RICE ITEMS - PULAV / MASALA BATH / BISIBELE BATH / CHITRANNA
on
by :
Divya Suresh
Wow!!!!! one of our most favourite, a malenadu (shimoga-Shikaripura) special dish called as "Kaayganji" (fresh coconut+rice bath). It's a summer season special and apt for this hot weather. It's a no spice recipe. Only salt is added to the ground coconut and rice mixture and served with tangy chutney ie…  Date+tamarind chutney  Or Gojju ie… Gojju(tamarind+Jaggery). And some times it is served along with Vadu mango Pickle (baby mango pickle, which is again a Malenadu and coastal region special) as well. It tastes equally good when cooled also.
In this recipe rice is being cooked in a open vessel and when it is fully cooked we add ground fresh coconut and salt. But now a days no body cooks rice in an open vessel, So I have adopted a different procedure, first cook rice in pressure cooker and then transfer it to a container along with some water, once it starts boiling… then add ground fresh coconut and salt. So this procedure is fast and less time consuming without any compromise in taste.
This time I prepared Gojju (tangy chutney) like this → I have added….. 2 tbsp of thick tamarind pulp, 3 tbsp of date syrup and salt to taste, in 1/4 cup of hot water and boiled it. Made tempering of 1 tsp ghee, 1/4 tsp mustard seeds and two broken spicy red chillies and… poured it over the tangy chutney
     Ingredients : 
Cooked rice – 3 cups
Grated fresh coconut – 1&1/2 cup
Water – 2 cups or as needed for the desired consistency
Salt to taste
     PROCEDURE :
Heat 1 cup of water in a vessel and add in the cooked rice and let it come to boil
Grind coconut with remaining 1 cup of water till smooth
Add in the ground coconut and salt, mix everything well
Stir it well and keep mashing it while stirring
Add more water if needed, the consistency should of  Khichdi
Remove from the fire once it is well boiled
Serve with Gojju or Pickle