5 May, 2017
LITTLE MILLET/SAAME AKKI/SAMAK CHAWAL BISIBELEBATH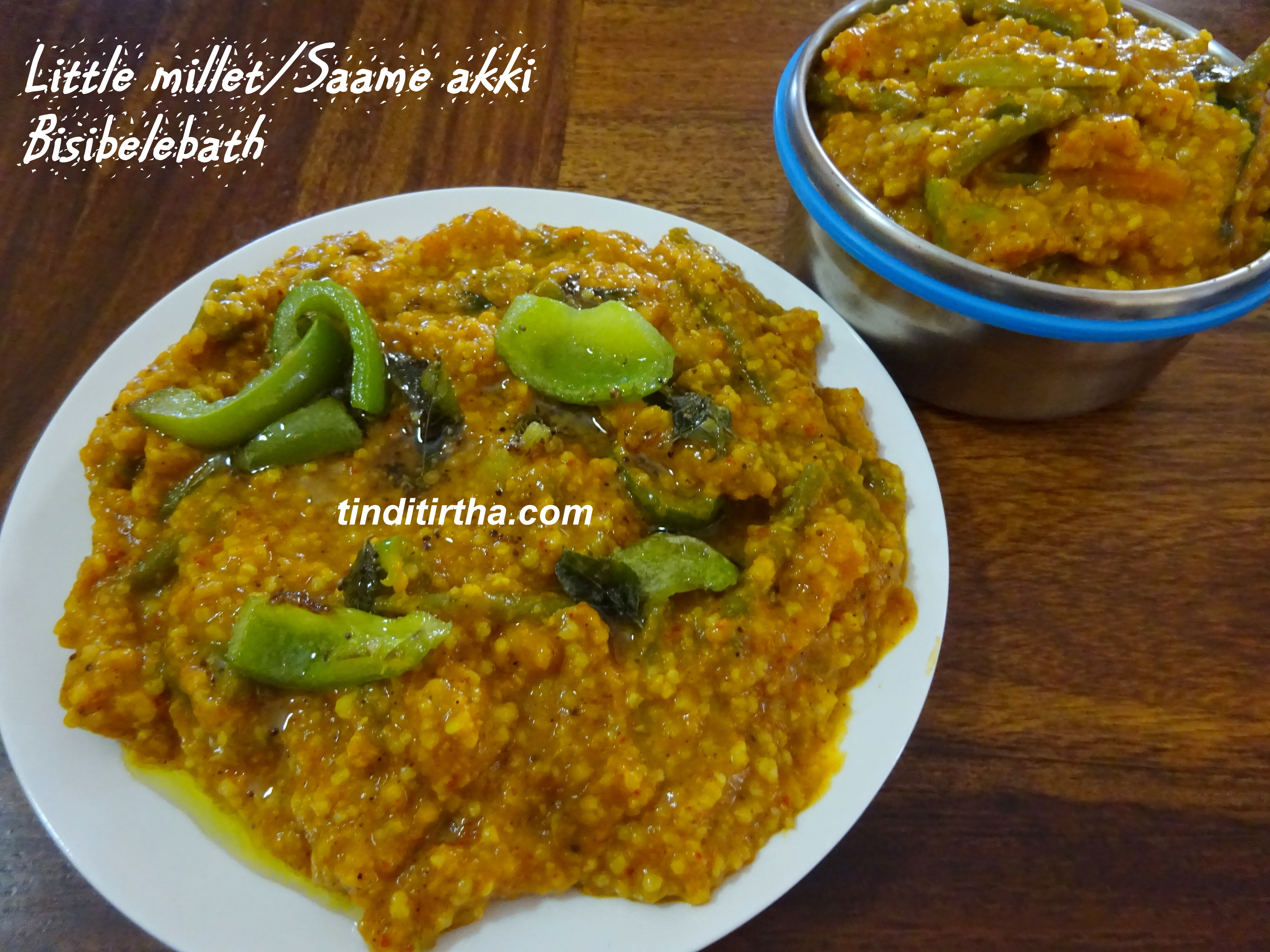 Posted in :
BREAKFAST RECIPES
,
DIABETIC FRIENDLY RECIPES
,
MILLETS PREPARATIONS
,
RICE ITEMS - PULAV / MASALA BATH / BISIBELE BATH / CHITRANNA
on
by :
Divya Suresh
Millets are gluten free grains and hence it is called as diabetic friendly grains. We south Indians use Ragi mainly in our diet since ages, which is again a wonder millet. They are very rich in dietary fiber and has a very high content of nutrients. And also contains impressive starch levels and a healthy source of essential fat in the body. It has very high B-Vitamin content, as well as calcium, iron, potassium, zinc, magnesium etc etc. If you browse through the net you'll find many articles written about the health benefits of all kind of millets. Today I'm going to post about the recipe of how to make Little millet bisibelebath, a famous one pot meal from south India.
You may also like to check  Bisibelebath, avalakki bisibelebath, semolina/rave/sooji bisibelebath, vermicelli/semiya bisibelebath
And also please do check banana saasive, tomato raita, cucumber raita, pineapple raita, Beet-Pomegranate raita, Green peas raita, Bele raita, Southekayi saasive
     Ingredients :
Toor dal/Pigeon Pea – 1/2 cup
Mixed vegetables – 2 cups (such as french beans, carrot, green peas, cluster beans, ash gourd)
Water – 1&1/2 to 2 cups
Salt as required (only to lentil & vegetables)
    Other ingredients : to cook Little millet  :
Little millet/saame akki/samak chawal – 1/2 cup
Ghee – 1 tsp
Water – 1&1/2 cups
Salt as required (only to little millet)
    For tempering :
Ghee – 2 tbsp
Capsicum – 1 big (cut into 16 pieces)
Mustard seeds – 1/4 tsp
Cashew nuts – 12 to 15
Curry leaves – 10 to 15 leaves
Whole red chilli – 2 nos.,
   To add into the tempering :
Bisibelebath powder here – 2 to 3 tbsp (adjust)
Turmeric powder – 1/4 tsp
red chilli powder – 1/2 tsp (optional)
Tamarind pulp – 1/2 tbsp
Salt to taste
     PROCEDURE :
Boil 2 cups of water in a cooker, put dal and all the vegetables and pressure cook until one whistle and let it cool
Meanwhile heat 1 tsp ghee in a pan, put 1/2 cup of little millet and roast it a bit, now add 1&1/2 cups of water and salt and let it cook on medium flame
Once it is cooked, remove from the fire and set it aside
Heat 1 tbsp ghee in a wide pan, add in cashew nuts, whole red chilies and saute for a minute
Now add in tamarind pulp, turmeric powder, red chilli powder, bisibelebath powder and cooked Lentil vegetable mixture
Let it come to boil, then add in cooked little millet and combine everything well
Prepare one more tempering using remaining 1 tbsp ghee, add in mustard seeds, curry leaves and saute capsicum in it and Pour it over bisibelebath
Serve Little millet/Saame akki/ Samak chawal bisibelebath with any kind of raita