6 May, 2017
SEMOLINA/RAWA/RAVE/SOOJI BISIBELEBATH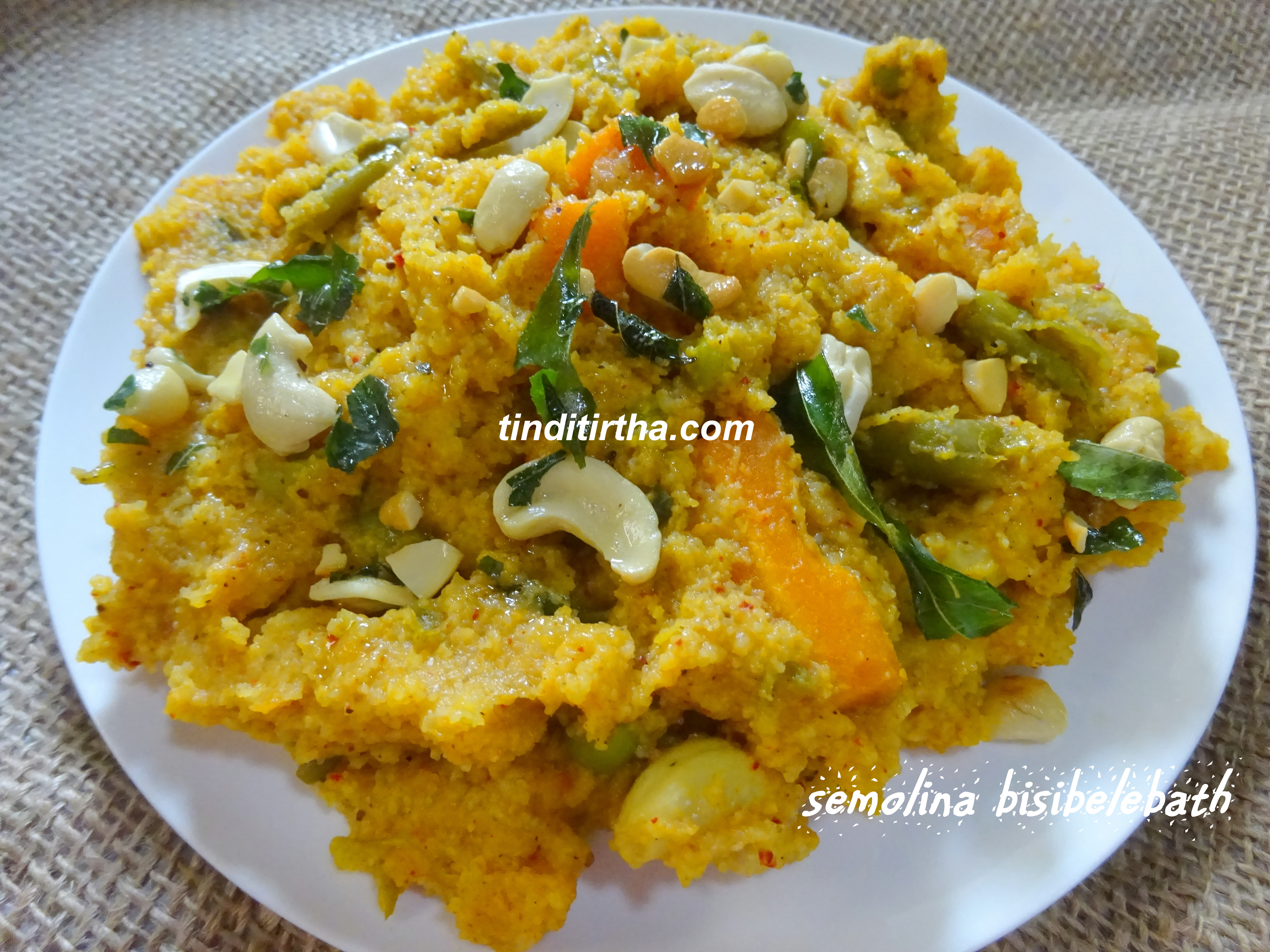 Posted in :
BREAKFAST RECIPES
,
DIABETIC FRIENDLY RECIPES
,
RICE ITEMS - PULAV / MASALA BATH / BISIBELE BATH / CHITRANNA
on
by :
Divya Suresh
Today I tried an awesome diabetic friendly recipe, in which a diabetic person can indulge without any hesitation and have it tummy full without any worries !! Since many years and till now I used to prepare the authentic bisibelebath using rice or flattened rice or little millet (saame) along with lentil and vegetables. But recently I tried making bisibelebath using wheat semolina Vermicelli (shyavige/semiya) and Semolina (rave/sooji) along with lentil and vegetables. And I must say that It was yummy just like regular rice bisibelebath, but the method of preparation of both Vermicelli Or Semolina bisibelebath is little different. So today I'm going to share my method of making  Semolina/rave/sooji  bisibelebath. You can also pack it for office/School !!
You may also like to check  Bisibelebath, avalakki bisibelebath, Little millet bisibelebath, vermicelli/semiya bisibelebath
 rave Idly, rave dosay/dosa, semolina adai dosay/dosa, 
And also please do check banana saasive, tomato raita, cucumber raita, pineapple raita, Beet-Pomegranate raita, Green peas raita, Bele raita, Southekayi saasive
     Ingredients :
Toor dal/Pigeon Pea – 1/3 cup
Mixed vegetables – 2 cups (such as french beans, carrot, green peas, cluster beans, ash gourd)
Water – 1&1/2 to 2 cups
Salt as required (only to lentil & vegetables)
    Other ingredients : to cook Semolina  :
Semolina/rave/sooji – 1/2 cup
Ghee – 1 tsp
Water – 1&1/2 cups
Salt as required (only to sooji/rave)
    For tempering :
Ghee – 2 tbsp
Mustard seeds – 1/4 tsp
Cashew nuts – 12 to 15
Curry leaves – 10 to 15 leaves
Whole red chilli – 2 nos.,
   To add into the tempering :
Bisibelebath powder here – 2 to 3 tbsp (adjust)
Turmeric powder – 1/4 tsp
red chilli powder – 1/2 tsp (optional)
Tamarind pulp – 1/2 tbsp
Salt to taste
     PROCEDURE :
Boil 2 cups of water in a cooker, put dal and all the vegetables and pressure cook until one whistle and let it cool
Meanwhile heat 1 tsp ghee in a pan, put 1/2 cup of semolina and roast it well, now add 1&1/2 cups of water and salt and let it cook on medium flame
Once semolina is cooked, remove from the fire and set it aside
Heat 2 tbsp ghee in a wide pan, add in mustard seeds, curry leaves, cashew nuts, whole red chilies and saute for a minute
Now add in tamarind pulp, turmeric powder, red chilli powder, bisibelebath powder and cooked Lentil vegetable mixture
Let it come to boil, then add in cooked semolina and combine everything well
Serve semolina/rave/sooji bisibelebath with any kind of raita