9 May, 2017
HAYAGREEVA / HAYAGREEVA MADDI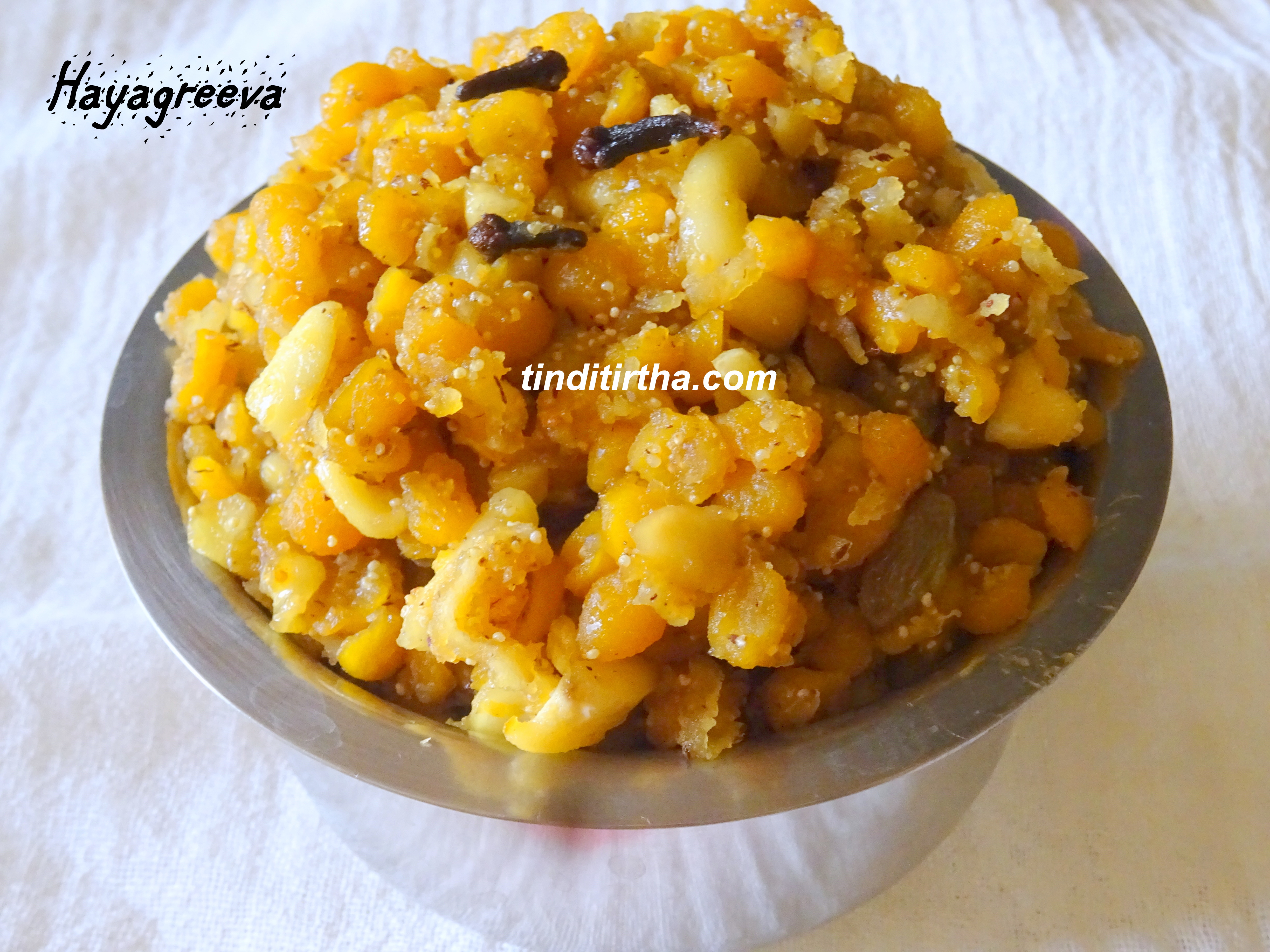 Posted in :
DESSERTS
,
SWEETS / UNDE/LADDU / BURFI / HOLIGE/POORAN POLI / HALWA
on
by :
Divya Suresh
Tags:
HALWA
' Hayagreeva ' is an incredible traditional dessert, also famously known as 'Hayagreeva Maddi' , includes all the goodness of healthy ingredients. It is one of my most favourite sweets (infact all those sweets which has jaggery in it is my favourite) It's a kind of Bengal gram halwa.  Moreover hayagreeva… the sweet dish has got a connection with one of the avataaraas (incarnation) of Lord Vishnu & the great saint Sri Vaadiraajaru. It is said that… Lord Vishnu took this Hayagreeva (Here the word 'Haya' means 'Horse' & 'Greeva' means 'neck') avataara to recover the holy Vedas from the two demons named Madhu & Kaitabha, who stole holy Vedas from Lord Brahma. So in this avataara Lord Vishnu is worshipped as the God of Knowledge and Wisdom.  And  it is said that Everyday Sri Vaadiraajaru used to offer the sweet dish 'hayagreeva' as naivedya to Lord Vishnu, everyday Sri Vaadiraajaru used to keep this naivedya on his head while reciting hayagreeva shloka, and the Lord Vishnu, in a beautiful white horse form used to come and eat his offering (horses supposedly like bengal gram).
Now coming to the recipe, it uses all the goodies in its preparation, which have all the health benefits. I have explained it with step wise pics, it is an easy and yummy dish to prepare. In my method I collect the remaining water from cooked bengal gram, and dissolve jaggery in the same water, and again strain the jaggery water and use it for further process. You'll understand once you go through the step wise pics.
     Ingredients :
Bengal gram/Kadalebele/chanadal – 1 cup
Water – 4 cups
Jaggery – 3/4 cup (adjust)
Ghee – 2 tbsp (adjust) ( I use 1&1/2 tbsp)
Poppy seeds – 1&1/2 tbsp
Cloves – 6 nos.,
Grated dry coconut or fresh coconut – 1/2 cup
Raisins – 1&1/2 tbsp
Cashew nuts – 2 to 3 tbsp
Cardamom powder – 1/4 tsp
    PROCEDURE :
Cook bengal gram/ kadalebele by adding required amount of water
Pass it through a strainer and collect and reserve the water
Heat the reserved water and dissolve the jaggery in it, strain the jaggery water to separate the impurities
Now put this strained jaggery water and the cooked bengal gram in a pan or a container and let it boil
Continue to boil it till all the water is absorbed and becomes thick, keep stirring
Heat 1 tbsp ghee in a tadka pan, add in cloves, raisins, cashews, poppy seeds and coconut
Pour the prepared tempering on bengal gram-Jaggery mixture and stir it again
Add in cardamom powder and remaining 1 tbsp ghee, mix everything well
Hayagreeva is ready to serve