11 June, 2017
OPEN BUTTER PUDI MASALE DOSAY/MASALA DOSA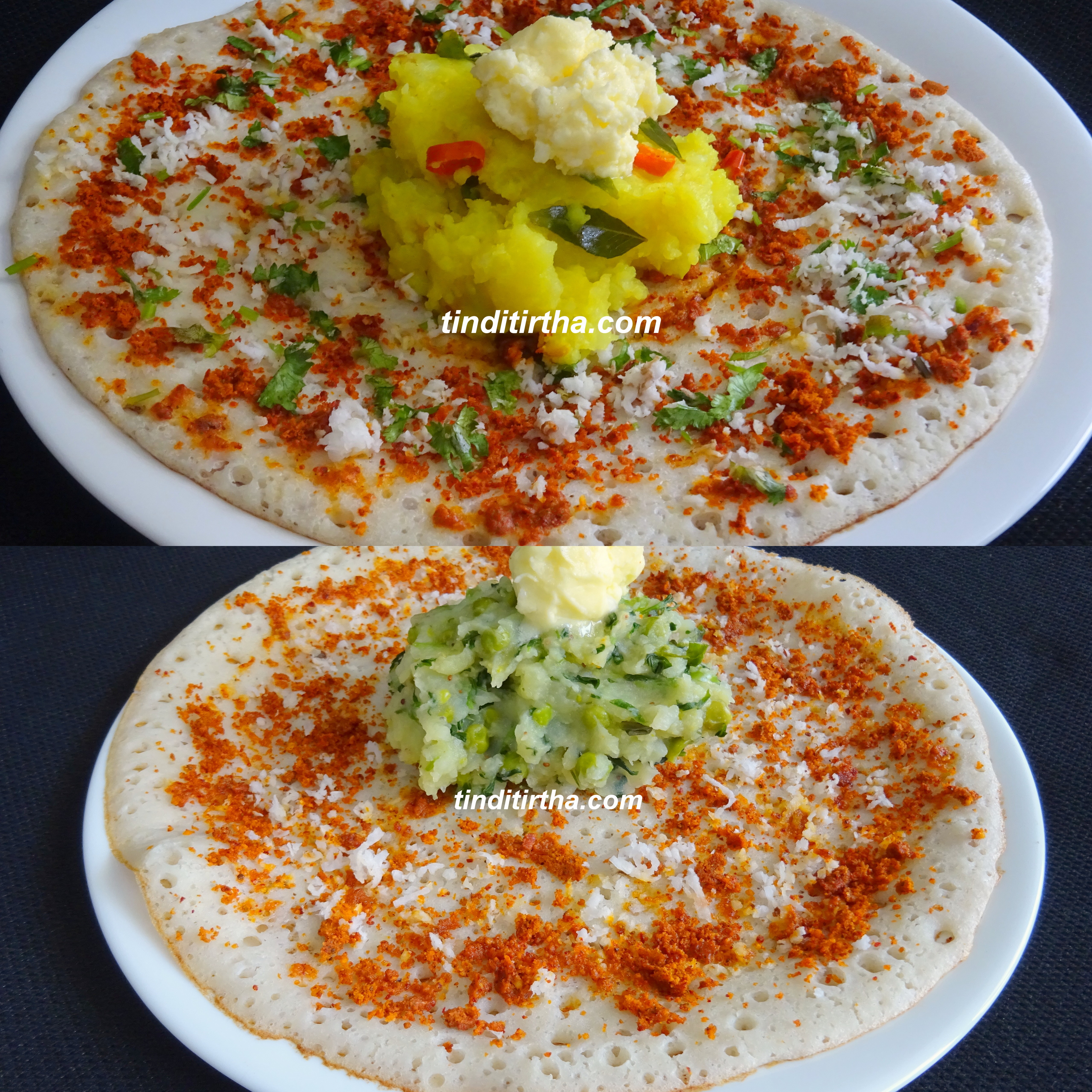 Posted in :
BREAKFAST RECIPES
on
by :
Divya Suresh
I'm here today with one more variety of dosay/dosa which we tasted during our last visit to Bengaluru, Open butter pudi masala dosay/dosa. The masala ie…. the potato palya/subji, spicy powder and the butter on the top is arranged on the dosa openly when served, hence the name is Open pudi(spicy powder)masala dosay/dosa ! The difference between regular masala dosay/dosa and this particular masala dosay/dosa is, firstly onion is not used potato while making subji, and the second one is instead of applying onion chutney, different spice powder (dry) is prepared and sprinkled on the dosa/dosay….. and that definitely makes a huge difference in taste and look. I always use home made butter.
The Spice powder (chutney pudi) used here and the combination of  ingredients in the dosay/dosa batter is my own creation, though with the same ingredients, which we use for making chutney pudi or dosay/dosa batter.
This particular dosay/dosa is roasted only on one side, so the dosay/dosa batter needs to be perfect, to get that spongy, soft yet crispy dosay/dosa. Otherwise the dosay/dosa will become hard and fluffiness will be lost. This dosay/dosa is made little thicker than the regular dosay/dosa.
Recipe for Potato subji : Heat 2 tsp oil in a pan, add in 1/4 tsp mustard seeds, 1 tbsp chana dal, 1/2 tbsp urad dal, 1 green chilli, few curry leaves, 1/2 cup of chopped methi leaves(if using), 1/3 cup of boiled green Peas(if using),  boiled and mashed potato (2 big), salt to taste, mix everything well and remove from the fire.
      Ingredients :
Rice – 2 cups
Urad dal/black gram lentil – 1/2 cup
Bengal gram lentil/chana dal – 1/3 cup
Sago/sabbakki/sabudana – 1 cup
Beaten rice/avalakki – 1/2 cup
Fenugreek seeds – 1 tbsp
Sugar – 2 tsp
Salt to taste
Oil to roast dosay/dosa
       Others :
Potato subji (recipe ⇑ above)
Coriander leaves (chopped)
Grated fresh coconut (optional)
     PROCEDURE :
Rinse and soak all the ingredients, except sugar & salt for 4 to 6 hours
Drain all the water and  grind it into a smooth batter by adding salt and water
Transfer it into a bowl, cover and allow it to ferment for 8 to 9 hours or overnight
Add sugar 1/2 an hour before making dosay/dosa, mix well
Heat tawa, put a laddle full of batter and spread evenly in a circular shape, keep it thick
Smear little oil and let it cook
Keep the fire on low, sprinkle spice powder, coriander leaves, grated fresh coconut all over the dosay/dosa
Keep 1/2 cup of potato subji in the center, and put a tsp of butter on the top
Serve Open butter pudi masala dosay/dosa with chutney
Please do check the chutney recipes in my blog       Pineapple chutney , authentic kaayi chutney (with rice) , fresh coconut chutney (for dosay,Idly,rotti) ,  raw mango chutney , nellikayi mosaru chutney , menthya soppu chutney , nellikayi-pudina chutney , nellikayi-kottambari chutney , bettada nellikayi chutney , Guava chutney , hagalakayi chutney , mango-sprouted methi chutney , mint/Pudina chutney , almond/badami chutney , winter carrot chutney , carrot chutney , kadalebele chutney , Anjoora/anjeer chutney , sweet & green chutney
Please do check other types of dosay/dosa recipes   ragi masala dosay , instant wheat flour dosay , Kakatiya special dosay , fenugreek leaves dosay , dalia dosay , rave dosay , chakuli/sponge dosay , ragi dosay , healthy dosay , Potato dosay , chocolate dosay , rave adai dosay , masale dosay , lentils-Pulses masale dosay , mixed veggies Uttapa , vermicelli/shavige Uttapa , Red rice dosay