28 June, 2017
LITTLE MILLET/SAAME AKKI/SAMAK CHAWAL POTATO BATH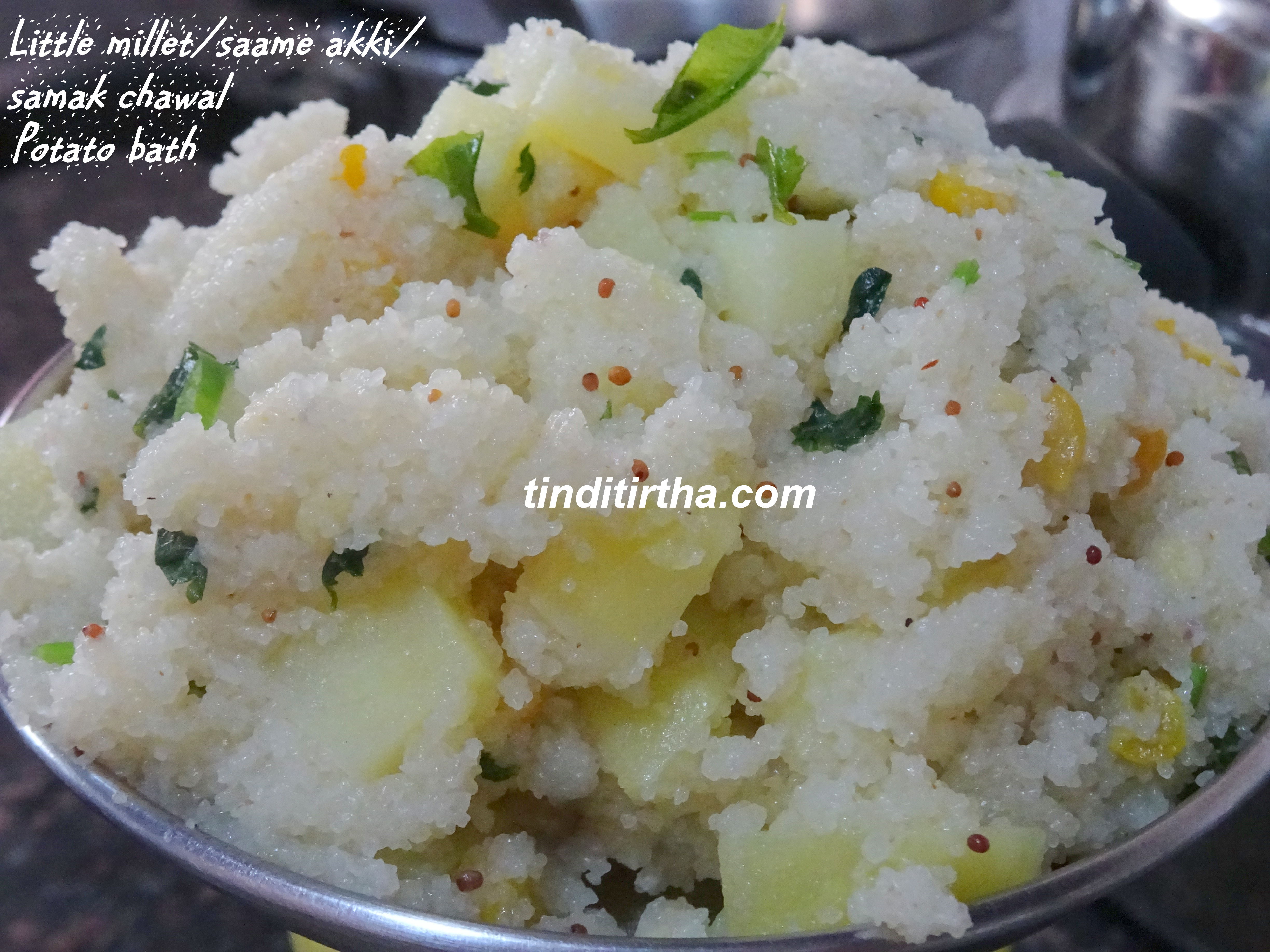 Posted in :
BREAKFAST RECIPES
,
MILLETS PREPARATIONS
on
by :
Divya Suresh
I just tried making Potato bath/Aloo bath using little millet/saame akki/samak chawal, in the same way, like how I make Potato bath using semolina. And the result is awesome !! And what I found is a simple and easy method of making a delicious one pot meal. It can be served with any raita or chutney of your choice or can be eaten as such.
We all know about the health benefits of including millets in our diet. Luckily we get almost all the millets here in Gurgaon. It has got high content of nutrients, very high B Vitamin content, as well as Calcium. Iron, Potassium, Zinc, Magnesium along with being a healthy source of essential fats in the body. Diabetic people can also eat this, but if we replace potato with some other diabetic friendly vegetable (beans,broccoli, spinach etc) then it will become more suitable for them.
You may also like to check ⇒ little millet Bisibelebath , Little millet curd bath ,  little millet tamarind bath , 
      Ingredients : 
Little millet/saame akki – 1 cup
water – 2 cups
Potato – 1 big sized (I didn't peel the skin)
Salt to taste
     Others :
Ghee – 1 tbsp
Mustard seeds – 1/4 tsp
Bengal gram/chana dal – 1 tbsp
Black gram lentil/urad dal – 1/2 tbsp
Green chilli – 2 to 4 (adjust)
Curry leaves – few
Coriander leaves – 2 tbsp
Red chilli powder – 1/2 tsp (adjust)
      PROCEDURE :
Wash the potato well and chop it, and steam it till soft
Heat 2 cups of water and add rinsed little millet/saame akki and cook till done, (you can also pressure cook)
Heat ghee in a pan, add in all the ingredients under the heading " others "
Reduce the heat and add in steamed potato stir well and add cooked little millet
Add in salt and combine everything well
Remove from the fire and serve