2 July, 2017
BROKEN WHEAT/DALIA/LAPSY/GODHI NUCHHU BISIBELEBATH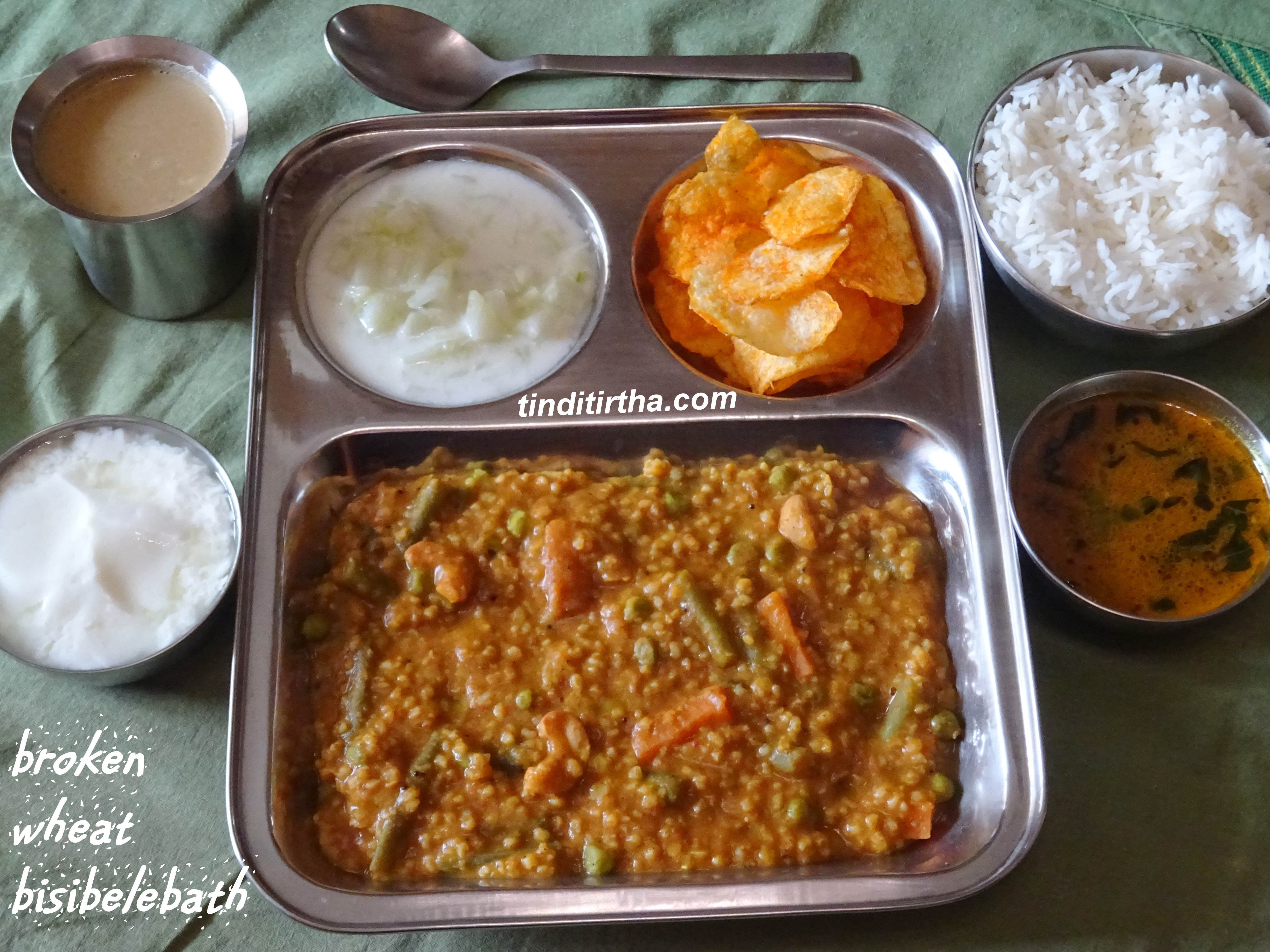 Posted in :
DIABETIC FRIENDLY RECIPES
,
PLATTER
,
RICE ITEMS - PULAV / MASALA BATH / BISIBELE BATH / CHITRANNA
on
by :
Divya Suresh
Tags:
BROKEN WHEAT
We… the people of south India, that too specially the people of Bengaluru-Mysuru region, are always ready to relish our own bisibelebath in any combination ie… rice-dal, beaten rice-dal, millet-dal or broken wheat dal !! for it is a yummy, healthy, filling dish. I have shared my recipe of bisibelebath (rice-dal) , beaten rice bisibelebath , vermicelli bisibelebath , semolina bisibelebath , Little millet bisibelebath and now…it is broken wheat bisibelebath, which I have explained with step wise pics.  It is Very much suitable for people with diabetes. Please click here for bisibelebath masala powder.
Please find the recipes of  ⇒  Neer saaru(rasam) , southekayi raita , gasagase payasa , 
     Ingredients :
Broken wheat – 1/2 cup
Pigeon Pea/toor dal – 3/4 cup
French beans, carrot, green peas – 1/4 cup each (adjust) (add any vegetables of your choice)
Tomato 3 medium sized, Puree it adding little water
Tamarind pulp – 2 tbsp
Jaggery – 1 small piece
Turmeric powder – 1/4 tsp
Oil – 1 tsp
Salt to taste
Water
Bisibelebath masala powder – 6 tbsp    (Just for your reference I have listed the ingredients of masala powder below, dry roast them and grind into a smooth powder)
Dhaniya – 1 tbsp (heaped)
urad dal – 1/2 tbsp
chana dal – 1/2 tbsp
toor dal – 1 tbsp
fenugreek seeds – 1/2 tsp
black pepper corn – 1 tsp
cinnamon – 1&1/2 inch
poppy seeds – 1 tsp
dry coconut -1/2 cup
red chilli – 3 (spicy) 4 (for color)
star anise – 3 nos.,
red chilli powder – 1 tsp (less spicy)
Hing – 1/8 tsp
turmeric powder – 1/4 tsp
curry leaves – few
      For tempering : 
Ghee – 2 tbsp (I use 1 tbsp)
Mustard seeds – 1/4 tsp
Cashew nuts – 10 to 12 (optional)
Curry leaves – few
     PROCEDURE :
Rinse both broken wheat and toor dal well, add  water (4 to 5 cups), 1/4 tsp turmeric powder, 1 tsp oil and pressure cook for 2 whistles
Cook chopped & washed vegetables in another vessel (I always cook it openly and always keep it crunchy)
Boil thoroughly pureed tomato in another vessel, add in masala powder (mix it in water to avoid lump forming), tamarind juice(thick) and jaggery, Mix everything well,
Put boiled vegetables to dalia-dal mixture, add salt and add this tomato puree+masala mixture also and allow it to boil well
Keep stirring so that it won't get burnt, once boiled thoroughly, turn off the fire
Meanwhile prepare tempering using the ingredients under the heading " for tempering "
Pour the prepared tempering over the dalia-dal mixture