19 July, 2017
MENTHYA GOJJU/FENUGREEK SEEDS TANGY CURRY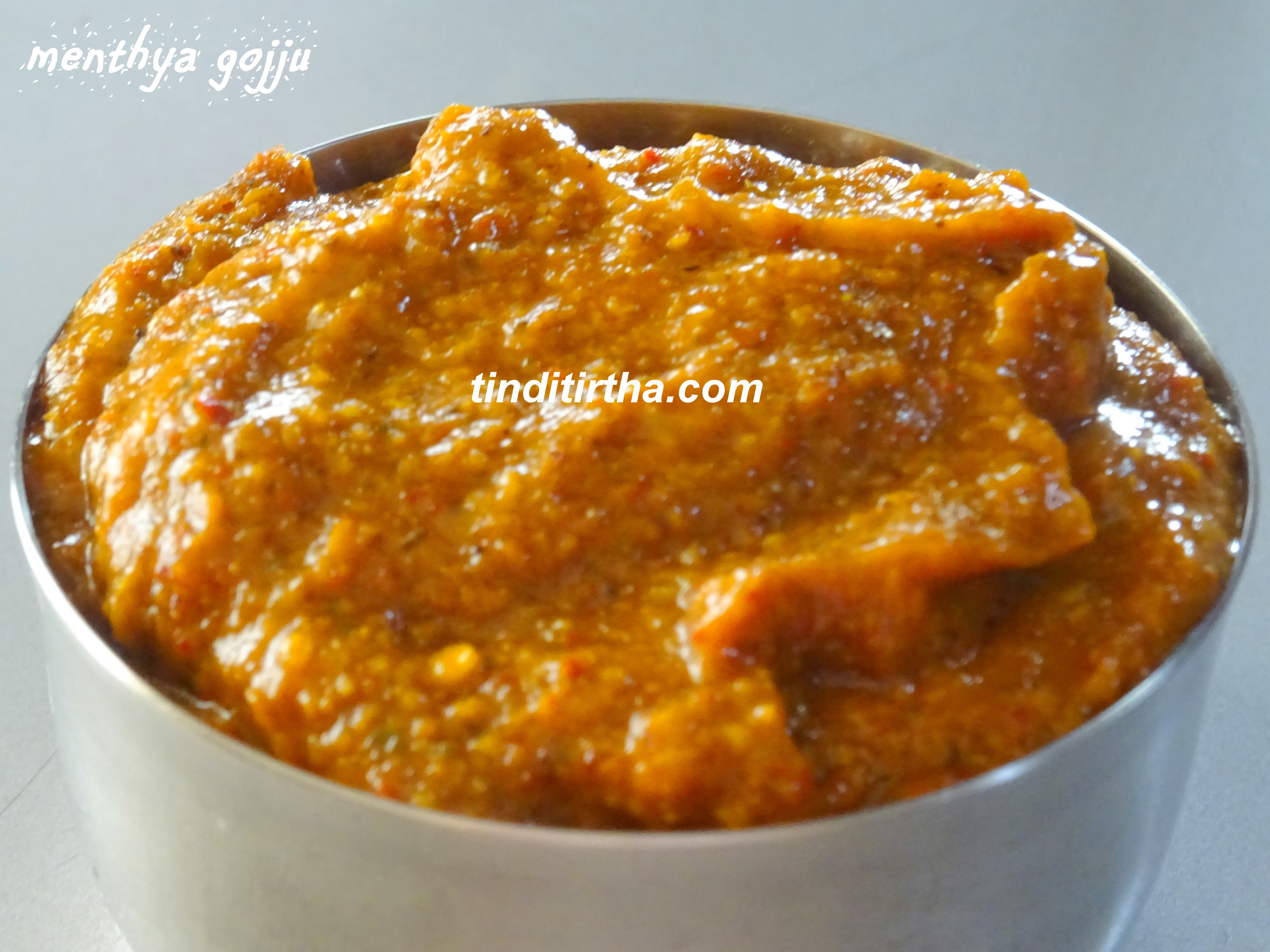 Posted in :
DIABETIC FRIENDLY RECIPES
,
HULI / CURRY / VEGETABLE CURRY / GOJJU / TANGY CURRY / DAL / TOVVE / VEGETABLE KOOTU / SAGU
on
by :
Divya Suresh
Tags:
FENUGREEK SEEDS
Fenugreek/methi seeds, though small in size, has an amazing health benefits and is used as medicinal, therapeutic and natural home remedy. Both methi seeds and leaves are easily available and largely used across the country. It has numerous health benefits  and has minerals, fiber, Protein, Vitamin C, Iron, Potassium, Vitamin B etc etc. It is said that India is the largest producer of fenugreek seeds in the world, it is largely produced in many states in India like Rajasthan, Uttar Pradesh, Maharashtra, Gujarat, Punjab, Madhya Pradesh, Uttarakhand, Haryana etc, of which Rajasthan produces approximately 80 % of the total fenugreek production. May it may be fresh leaves or fenugreek seeds, both are widely used to make many kinds of curry, Paratha, dal etc and also used in making masala powders. And especially we, people of south India use it everyday in the preparation of huli (sambar), saaru (rasam), curry etc. We use sprouted fenugreek seeds while making Pickle , Raita.  
The 'menthyada huli' (fenugreek seeds sambar) along with curd chilli is very famous among south Indian brahmin community, which we are ready to relish on any day …any time. It is my husband's most favourite huli too among all the other huli we make. Today I'm going to write the recipe of tangy curry using fenugreek seeds, which I have learnt from my mother and also which is an amazing accompaniment with chapati, rotti, huli, saaru and tastes tangy & yummy with the hot steaming rice.
Please check some other tangy curry recipes here ⇒ ona drakshi gojju , gojjina pudi , Nimbe gojju , curry leaves gojju
     Ingredients :
Coriander seeds – 1 tbsp
Fenugreek seeds – 1 tsp
Cumin seeds – 1/2 tsp (optional)
Red chilli – 6 (non spicy)
Black pepper corns – 1/2 tsp
curry leaves – few
Hing – 1/8 tsp
Rice flour – 1 tbsp
Grated fresh coconut – 2 tbsp
Turmeric powder – 1/4 tsp
     Others :
Tamarind pulp – 1 tbsp
Jaggery – small lemon sized (adjust)
Salt to taste
     For tempering :
Ghee – 1 tsp + 1/2 tsp
Fenugreek seeds – 1/2 tsp
    PROCEDURE :
Dry roast coriander seeds, 1 tsp fenugreek seeds, cumin seeds (if adding), red chilli, black pepper corns, hing and curry leaves till done, turn off the fire and add grated fresh coconut
Allow it to cool a bit, then transfer into a mixie jar, also add rice flour, turmeric powder and grind into a smooth paste using little water
Heat 1 tsp ghee in a pan, add in 1/2 tsp fenugreek seeds, when it becomes light brown add in ground paste, tamarind pulp, jaggery and salt
Mix everything well, add water to get desired consistency (keep it little thick only)
Boil… while combining everything well
Once boiled well, add in 1/2 tsp ghee and remove from the fire
Fenugreek seeds tangy curry is ready to serve