24 July, 2017
KUCHHIDA SIHI KADUBU/STEAMED RICE FLOUR SWEET DUMPLINGS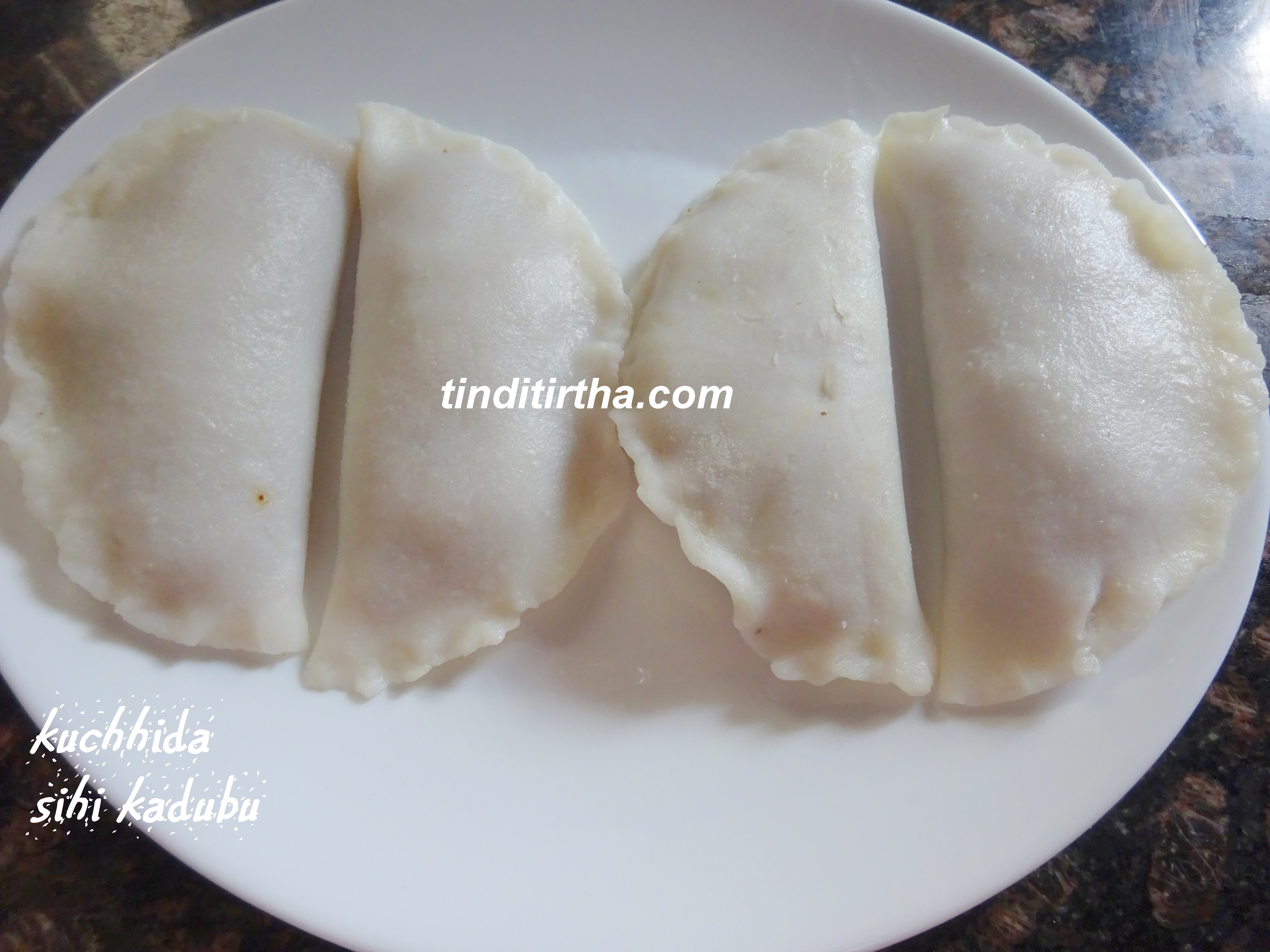 Posted in :
SNACKS / BAKED / DEEP FRIED / STEAMED
on
by :
Divya Suresh
Tags:
KAAYI HOORANA
We prepare this steamed rice Sihi and khara (sweet and spicy) kadubu (dumplings) particularly on Nagara Panchami day. Actually it is very popular in Karnataka as sihi kadubu, uddina kadubu (spicy) and kadale kadubu (spicy). A very yummy & tasty dish which is steamed ie…. totally oil free/guilt free ! Sweet mixture ie… Pre-cooked fresh coconut & jaggery mixture is filled in steamed rice flaps and cooked again in steaming method. I guess almost everybody is this dish's biggest fans !!
To make it easy for the beginners/learners I have mentioned all the ingredients in small quantity, so that it becomes easy for them to try it out.
NOTE : You can make rice flaps in this method also for making khara kadale & uddina kadubu, just don't cover the flaps fully, you need to leave the sides open, so that the lentil mixture gets cooked. I shall add the photo of the same very soon
You may also like to check ⇒  kuchhida khara batani kadubu, sihi-khara ottu shavige , Stuffed or sandwich Idly  ,  kuchhida khara kadale & uddina kadubu
       Ingredients :
      For sweet filling :
Grated fresh coconut – 1 cup
Jaggery – 1/3 to 1/2 cup (I have used little less than 1/2 cup, so adjust as per your taste)
Cardamom powder – 1/8 tsp
Poppy seeds – 1/2 tbsp (optional)
      PROCEDURE :
Dry roast Poppy seeds (you can also use sesame seeds in place of poppy seeds)
In a pan gather together coconut & jaggery and cook till all the water evaporates
Remove from the fire and add in cardamom powder & roasted Poppy seeds, mix well and allow it to cool
      For Rice flaps :
Rice flour – 1 cup
Water – 2 cups
Salt – a pinch
      PROCEDURE :
Boil two cups of water in a vessel, add a pinch of salt
When it is boiling rapidly, turn the fire to sim and add in the rice flour all at once in the center and leave like that for 2 to 4 minutes
Now with a spatula keep stirring the mixture till it becomes a dough and separates from the pan or vessel, then turn off the heat
Allow it to cool a bit and then knead it well…..You need to knead it really well
Then pinch small portions and roll it into a poori size (dust it with rice flour only)
The rice flap is ready to be stuffed
Take a spoon full of sweet filling mixture and place it in the center of the rice flap and close the edge completely
Steam it for 10 to 12 minutes
Sihi Kuchhida Kadubu is ready to relish