2 August, 2017
CHITRANNADA PUDI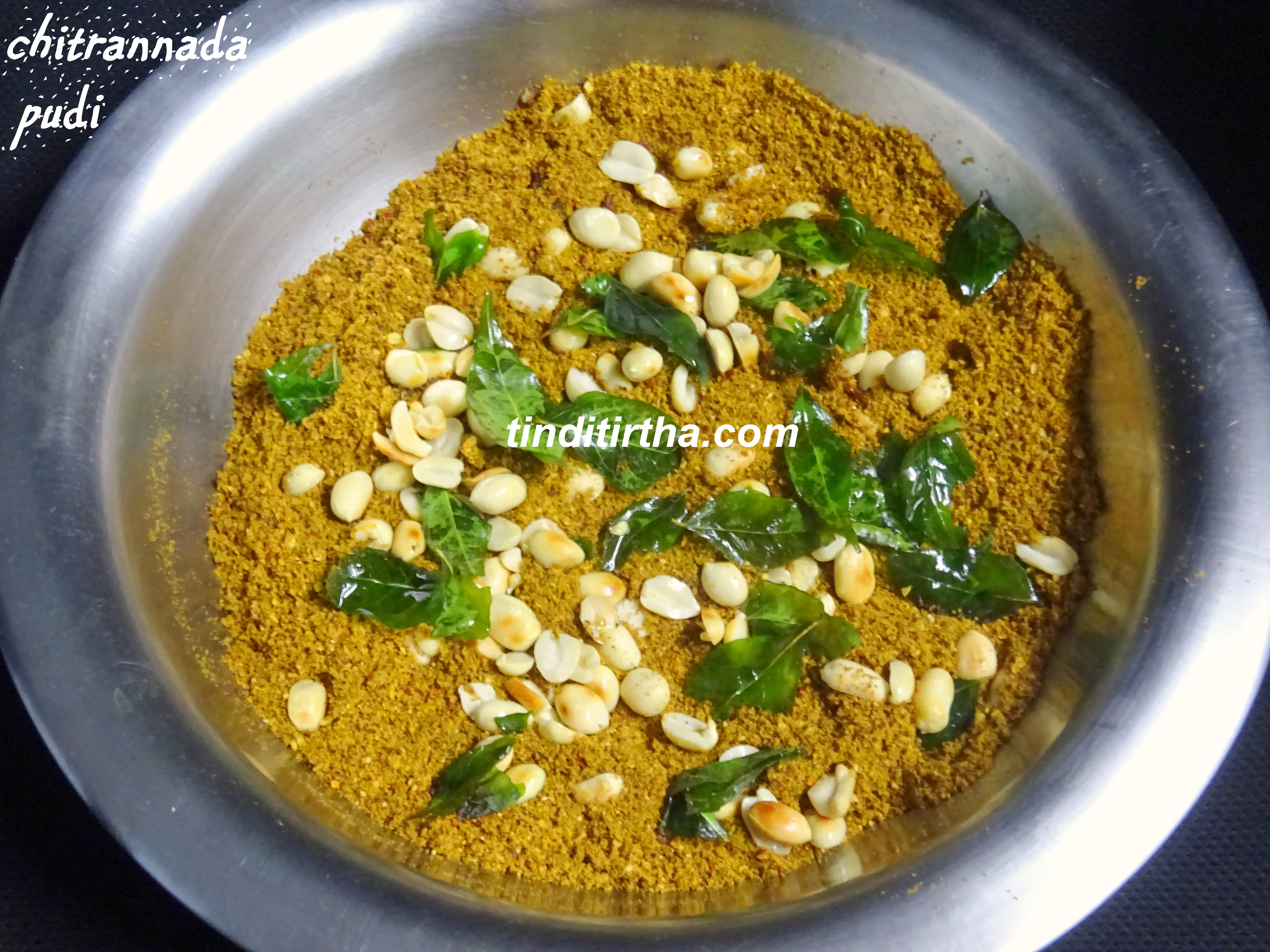 Posted in :
PUDIGALU/HOME MADE SPICE POWDER/MASALA POWDER/KARNATAKA (BENGALURU) STYLE
,
RICE ITEMS - PULAV / MASALA BATH / BISIBELE BATH / CHITRANNA
on
by :
Divya Suresh
Tags:
CHITRANNA
Chitrannada Pudi…… the word 'chitranna' translates to the spicy rice dish which we prepare using home made masala powder called chitrannada pudi…..my mom's one more signature dish made using this powder. No vegetables are used in this recipe. It almost tastes like the famous Puliyogare, but slightly different because we use less amount of black sesame seeds and pepper compared to puliyogare. She always used to make this in large quantity during this shravana masa (a month of festivals) so that it becomes easy for her to make chitranna quickly in those morning rush hours. Even I continue the same custom. Just make the masala powder and store it in a air tight container like any other masala powders and use it whenever you want to. Just add this prepared powder to the cooked rice, check for salt and pour the simple tempering (consisting of mustard seeds, bengal gram (kadale bele), black gram (uddina bele) prepared in sesame oil) over it…. and the chitranna is ready to eat. You can also add in some grated fresh coconut for that extra aroma and taste.
Please do check other masala powders here ⇒    Huli/sambar powder , Saaru/Rasam Powder , Palyada Pudi , Gojjina pudi/tangy curry masala powder , authentic chutney powder , Huruli chutney powder , curry leaves chutney powder , black sesame chutney powder , kharabath powder , Bisibelebath powder , menthyada hittu
      Ingredients :
Coriander seeds – 5 tbsp
Bengal gram – 4 tbsp
Black gram – 2 tbsp
Cumin seeds – 1&1/2 tbsp
Black pepper corn – 1 tbsp
Black sesame seeds – 2 tbsp
Dry coconut flakes – 1/2 cup
Fenugreek seeds – 1/2 tsp
Whole red chilli –  15 nos., for color & 5 nos., hot
Curry leaves – 1/4 cup
Hing – 1/4 tsp
Jaggery – 1 tbsp
Tamarind – 1 big lemon sized
Rock salt – 2 tbsp
      Others :
Oil – 1 tsp
Turmeric powder – 1/4 tsp
Curry leaves – few
Roasted peanuts – 1/2 cups
      PROCEDURE :
Roast all the ingredients one by one without burning
Allow it to come to room temperature and then grind it into a coarse powder and if you like you can just add roasted peanuts as such (ie..without tempering) now itself
Heat oil in a pan, add in turmeric powder, curry leaves, roasted peanuts… let them crackle and then pour it on the ground powder
Mix well, allow it to cool completely, then store it in a air tight container