21 August, 2017
KAYI HOLIGE/KAYI HOORANADA HOLIGE/FRESH COCONUT POORAN POLI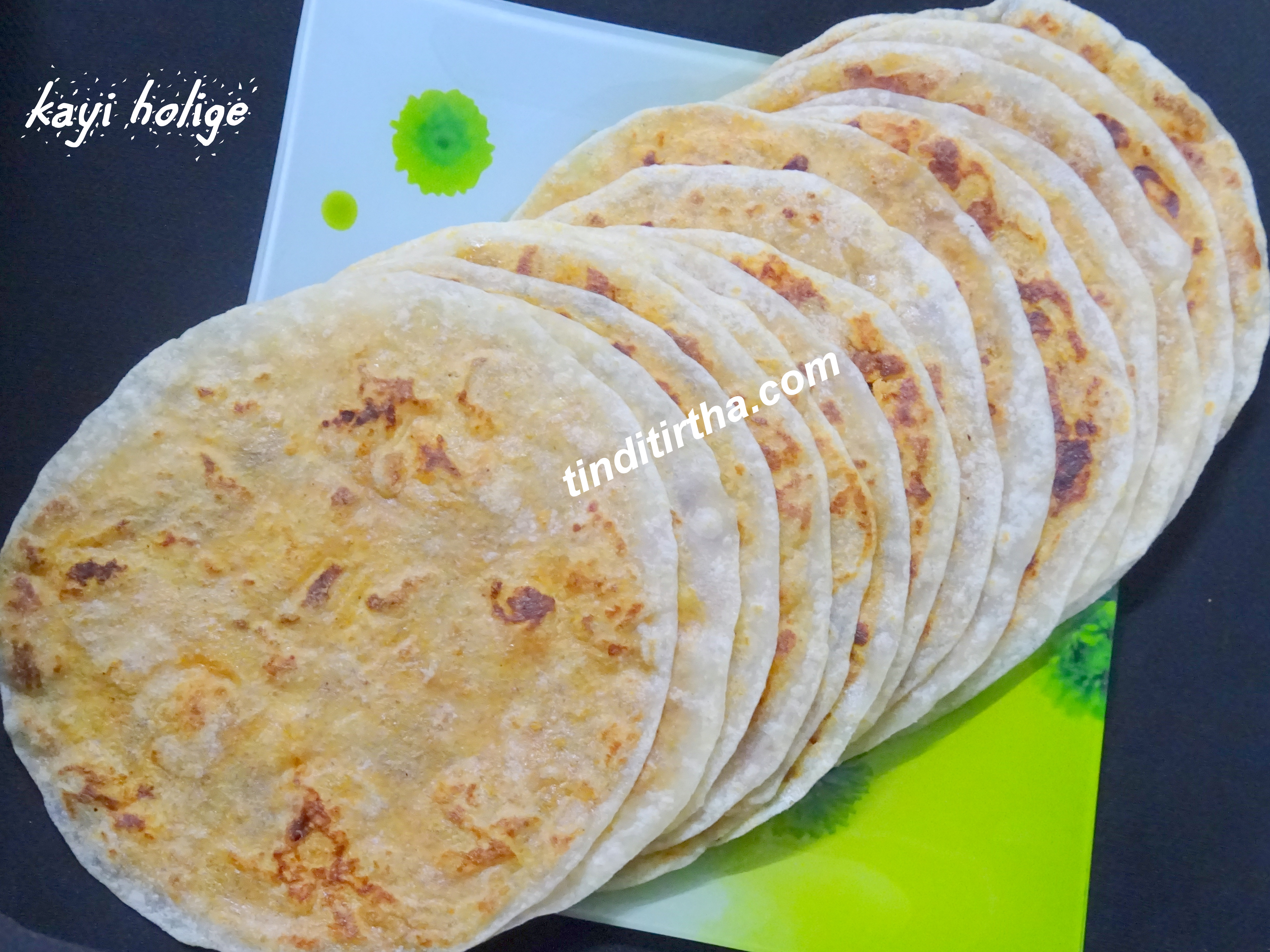 Posted in :
SWEETS / UNDE/LADDU / BURFI / HOLIGE/POORAN POLI / HALWA
on
by :
Divya Suresh
Tags:
KAYI
Yet another, an authentic sweet recipe from Karnataka…. Kayi holige or Coconut Pooran Poli, which is made using fresh coconut & jaggery mixed filling. It is known with different names across India. The outer layer differs from person to person. Most of them use maida as a main ingredient and some use fine quality semolina called chiroti rava and some more prepare it using whole wheat flour. I never use maida but make it using either chiroti rava or whole wheat flour.  Normally the knead outer layer mix/Kanaka is soaked in enough oil for quite some time and then holige/pooran poli is made. But this time I tried without soaking the dough/Kanaka in the oil and what I found is still more simple, easier holige/pooran poli with very very less oil. In this particular recipe I have used chiroti rava and shall soon post kayi holige made using whole wheat flour (sweet paratha).
Please also do check ⇒ dates and sesame seeds holige , kadalebeeja/peanuts holige , godhi hittina bele holige , ananas/pineapple holige
Ingredients :
For the outer layer/Kanaka :
Chiroti rava/fine quality semolina – 2 cups
Salt – a pinch
Water to knead the dough
Oil to apply while rolling the holige
For filling/hoorana :
Grated fresh coconut – 4 cups (loosely packed)
Jaggery (powdered) – 3 cups
Cardamom powder – 1/2 tsp
Rice flour/powder – 2 tbsp
How to make hoorana/filling :
Grind together coconut, jaggery and rice flour/powder into a fine paste (really fine) without adding water
Transfer it into a Pan and turn on the flame, keep stirring it continuously till all the water evaporates
Now add in cardamom powder, mix well, remove from the fire and transfer it into a bowl/plate/container
Allow it to cool completely, now its ready to use.
PROCEDURE :
Combine well chiroti rava and salt, knead into a soft and loose dough/Kanaka (you need to knead it really well to get it soft), cover and let it sit for at least 3 to 4 hours (the longer it sits better the holige/Poli turns out)
Grease your hands and pinch a portion of the dough/Kanaka, Place a portion of the filling in the centre, cover all the sides and roll it on a greased sheet into a thin circle
Heat the tawa, reverse the holige paper on the tawa, so the holige will be placed directly on the tawa, wait for 1 or 2 seconds and then slowly remove the holige paper
When it is cooked, flip and roast it on the other side as well
Remove from the tawa and serve hot with ghee