22 August, 2017
AMBODE/BENGAL GRAM/CHANA DAL AMBODE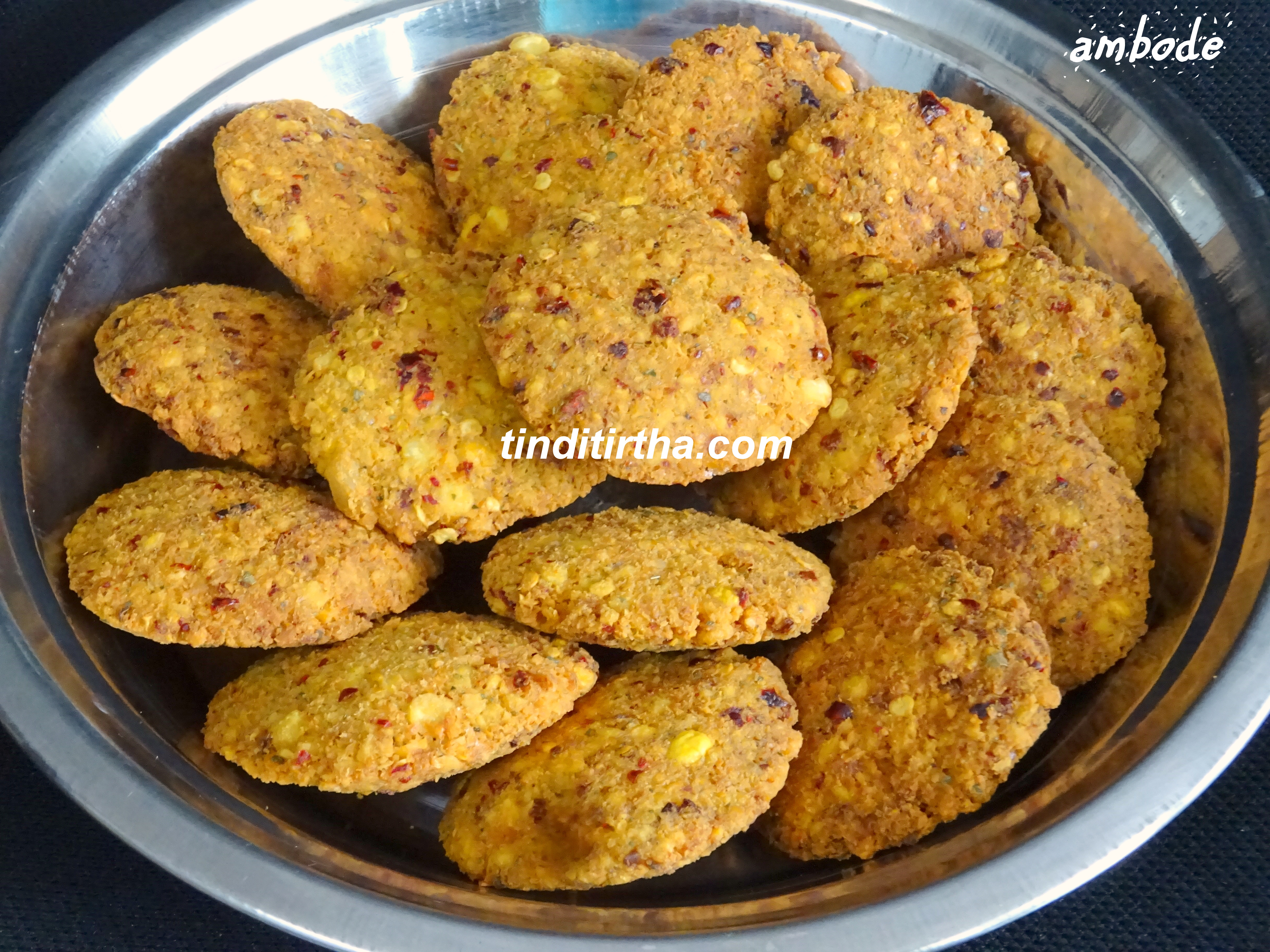 Posted in :
SNACKS / BAKED / DEEP FRIED / STEAMED
on
by :
Divya Suresh
Ambode is a deep fried lentil snack. The main ingredient used is….. bengal gram/chana dal/Kadlebele. It is a most suitable festive spicy preparation, which is almost everyone's first choice. Normally ambode is made when ever holige/Pooran poli is prepared, (it goes like…. today I have made holige-ambode for the festive lunch).  On the day of Swarna Gowri vratha/festival it is necessarily made, so thought of sharing it. Today what I'm going to share is the very basic recipe of making ambode. For further modifications…. dil leaves or mint leaves or onion or all of these together can be added. But on the festival days and for functions like marriage etc we don't add onion. This method was followed by my both grand mothers, and my mother as well, obviously by default it has become my method also.
Again I have mentioned a very small quantity of ingredients to make it easy for beginners/youngsters. It yields 12 ambodes of the below given size. In this particular method the ambode turns out to be very crispy, light and crunchy. To make it easy and simple I have explained it with step wise pics.
Below is the recipe pic of hitakavare (pressed field beans) ambode, prepared exactly in the same method, but just added 1 cup of hitakavare bele (pressed field beans) to the ground bengal gram mixture and posting this pic today ie… on 8/1/18
Ingredients :
Kadlebele/chana dal/ bengal gram – 1 cup
Whole red chillies – 8 nos., for colour & 5 nos., for spicyness
Hing – 1/8 tsp
Curry leaves – 2 strings
Rock salt – 1/2 tbsp (adjust)
Grated fresh coconut – 4 tbsp (you can use chopped coconut also)
Rice flour – 1 tbsp
Ghee – 2 tsp
Others :
Oil to deep fry the Ambode
PROCEDURE :
Wash well and soak bengal gram/Kadlebele for at least 3 to 4 hours
Drain all the water, add in chillies, hing, curry leaves and salt and grind into a coarse paste
Now add in rice flour, ghee and grated coconut to the ground paste, combine everything really well
Pinch a lemon sized ball and press it between the palms…..
Deep fry in the oil till golden brown
Ambode is ready to relish