1 September, 2017
MASALA IDLY/VEGETABLE IDLY/TEMPERED VEGETABLE IDLY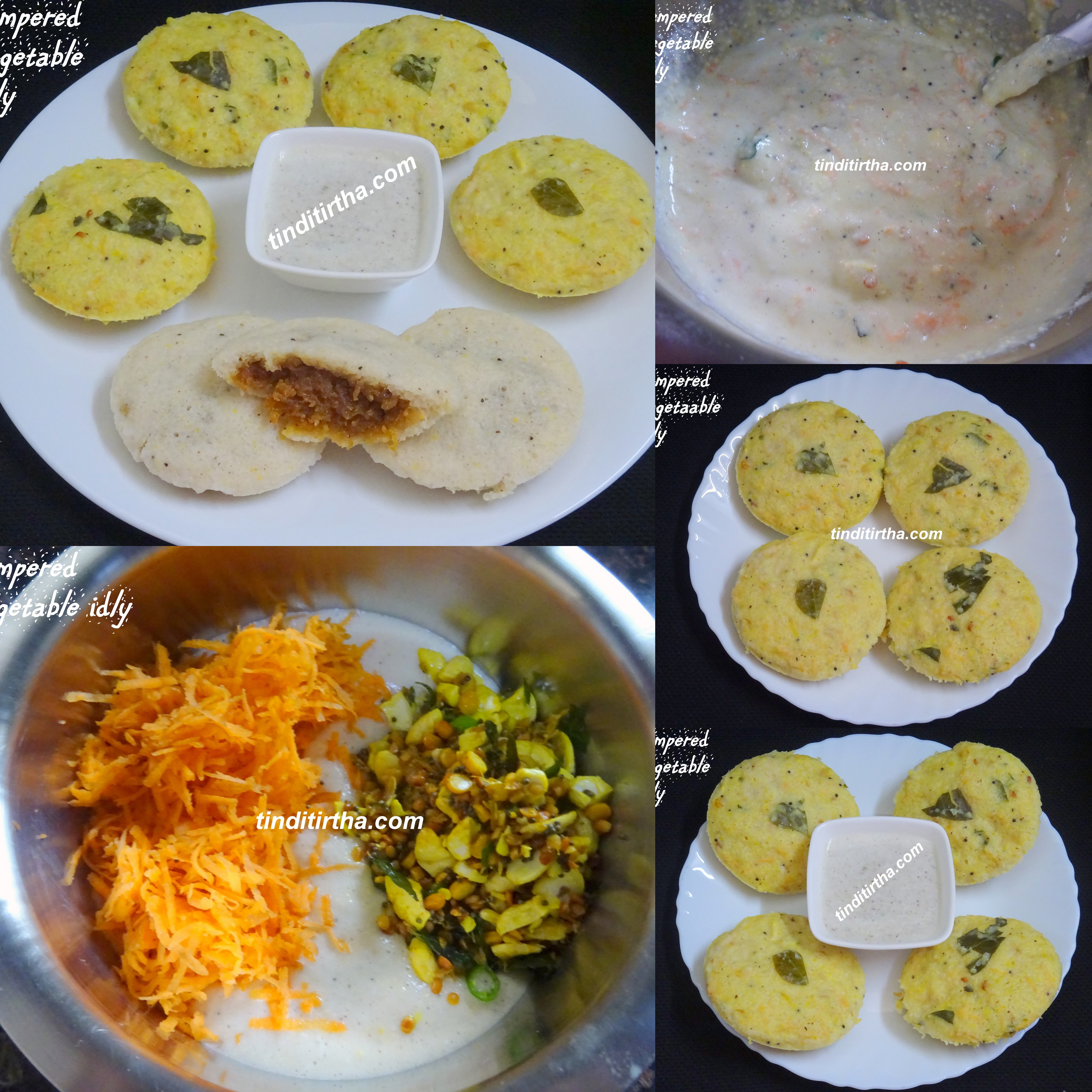 Posted in :
BREAKFAST RECIPES
on
by :
Divya Suresh
Tags:
TEMPERED IDLY
If you are bored of eating plain and same style Idly, then here I have a solution for it. Just prepare tempering, add any finely chopped or grated vegetable of your choice and relish the yummy Idly. Today I have added grated carrot into the batter, but you can also add grated cucumber, onion, beetroot etc. Below is the recipe for simple tempered vegetable idly. Today I have served it with authentic coconut chutney and sandwich/stuffed sweet Idly. The below measurement yields 16 nos., of Idlys.
You may also like to check ⇒ Sorghum/Jowar idly , stuffed/sandwich idly , mallige idly , Idly-lentil less sambar , Beaten rice/Poha idly , finger millet/ragi idly , vermicelli/semiya idly , semolina idly , maize flour/makki/Jolada idly , sabbakki/sago Idly
Chutney recipes in my blog ⇒  Pineapple chutney , authentic kaayi chutney (with rice) , fresh coconut chutney (for dosay,Idly,rotti) ,  raw mango chutney , nellikayi mosaru chutney , menthya soppu chutney , nellikayi-pudina chutney , nellikayi-kottambari chutney , bettada nellikayi chutney , Guava chutney , hagalakayi chutney , mango-sprouted methi chutney , mint/Pudina chutney , almond/badami chutney , winter carrot chutney , carrot chutney , kadalebele chutney , Anjoora/anjeer chutney , sweet & green chutney
Ingredients :
Idly batter – Up to 4 cups
Grated carrot – 1 cup
Salt – to add to carrot
For tempering :
Oil/Ghee – 1&1/2 tbsp
Mustard seeds – 1/4 tsp
Bengal gram lentil/chana dal – 1&1/2 tbsp
Black gram lentil/urad dal – 3/4 tbsp
Ginger (grated) – 1 tbsp
Green chilli (chopped) – 3 or more as per taste
Black pepper corns – 1 tsp (optional)
Hing – 1/8 tsp
Curry leaves – few
Coriander leaves – 2 tbsp
Broken cashew nuts – 4 tbsp
PROCEDURE :
Add in both grated carrot and prepared tempering to the Idly batter and mix well
Pour it in the wet Idly plates and steam for 10 to 12 minutes
Remove from the fire and allow it to stay covered  for 5 more minutes
Then remove the Idly from the plates and serve with chutney
You can also put little ghee on the cooked Idly.
Today I have served it with authentic coconut chutney and sandwich/stuffed sweet Idly