3 September, 2017
KOOTU CURRY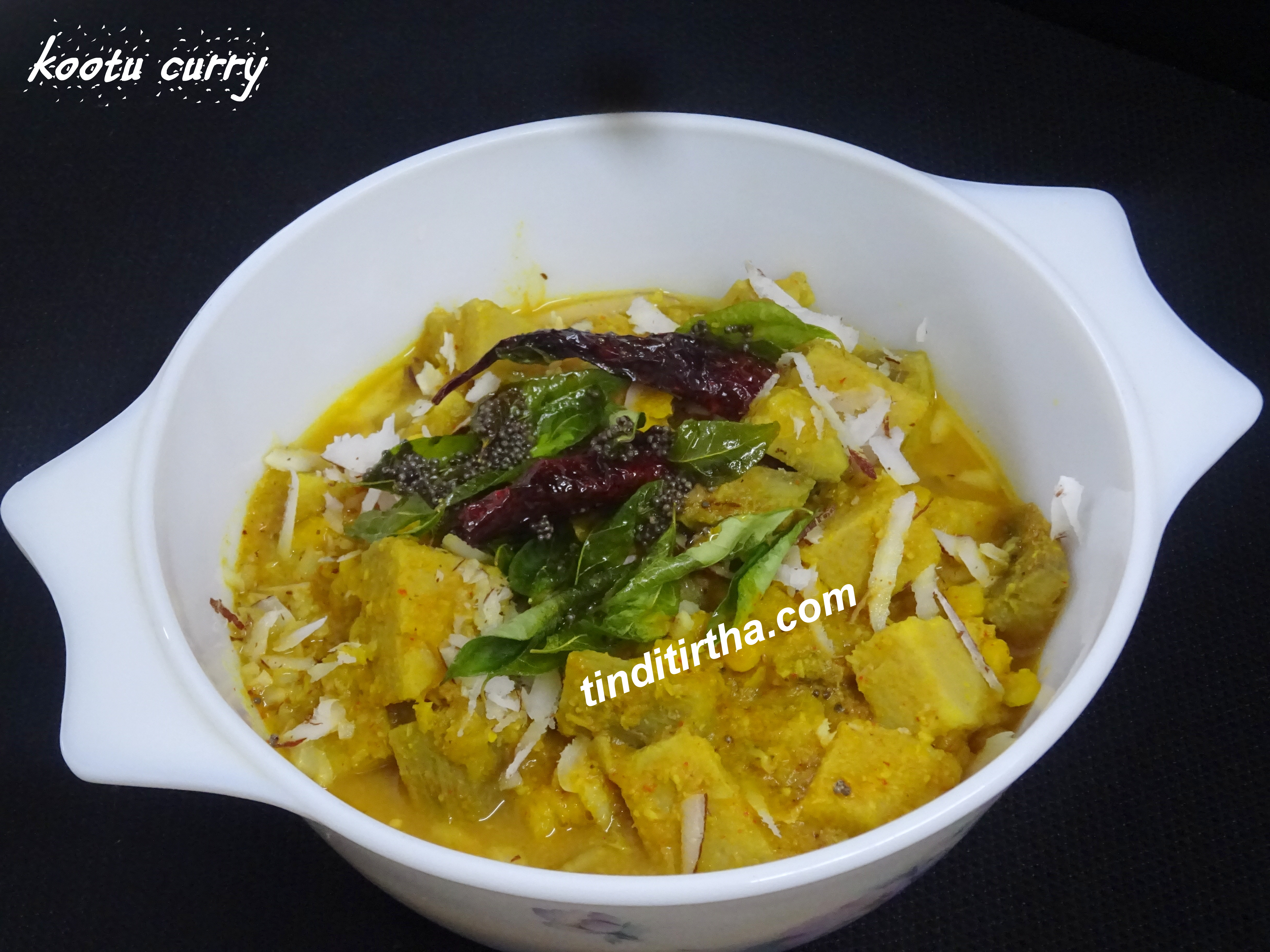 Posted in :
ONAM SADHYA/KERALA RECIPES
on
by :
Divya Suresh
Tags:
ONAM-KOOTU
Since long time I was willing to try out some of the vegetarian recipes from Kerala, I had once tried their mixed vegetable sambar long back, we all very much liked it as well, but haven't posted it in my blog(shall try it out again and post it here soon). As Onam(harvest festival of Kerala which they celebrate for ten days I believe) is around the corner I thought I should definitely try some of their dishes. So the very first dish I tried is Bengal gram lentil/kadalebele/chana dal/Kadala Parippu Kootu curry (we call this as kadalebele huli(chana dal sambar) in Karnataka) which is eaten with rice. It was too delicious and we all liked it too.
Onam is the regional festival of Kerala and Onam sadhya, a vegetarian feast is the main attraction. Many types of curries, sambar, rasam, vegetable palya(thoran), many types of chutneys, Payasa etc are done for the platter. Overall the multi course meal is served traditionally in banana leaves. More or less same kind of banana leaf platter is prepared even in Karnataka too for all the festivals. But their method of preparing and set of ingredients used differ from us. They mainly use lot of fresh coconut, which we also do, but the difference is, they use coconut oil and coconut milk as well but we use refined oil/ghee, and we use ground coconut paste. So the use of coconut oil also makes the dish taste and smell different.
I have not used coconut oil, but used regular oil which I use in my everyday cooking. But you can use coconut oil. Other than oil I did not made any major changes in the recipe and I followed Raji Ramakrishanan's method.
Ingredients :
Bengal gram lentil – 1/2 cup
Raw banana – 2 nos.,
Elephant Yam/Jimikand/suvarna gedde – 1 cup
turmeric powder – 1/4 tsp
Red chilli powder – 1 tsp (which enhances the color)
Grated fresh coconut – 2 to 3 tbsp (to sprinkle on the Kootu at the end)
Others :
Jaggery – 1 tsp
Tamarind thick juice – 1/2 tbsp
Salt to taste
To grind together :
Grated fresh coconut – 1/3 cup
Whole red chillies – 2 nos., (hot ones)
Cumin seeds – 3/4 tsp
Turmeric powder – 1/4 tsp
For tempering :
Oil – 1 tsp (preferably coconut oil)
Mustard seeds – 1/2 tsp
Whole red chilli – 1 broken (which gives color)
Curry leaves – 1 string
Hing – 1/4 tsp
PROCEDURE :
Cook Bengal gram lentil in a cooker till soft adding enough water
Grind all the ingredients mentioned under the heading "to grind together", into a fine paste
Peel the skin of the raw banana and dice it
Cook diced yam and raw banana in a separate vessel using water, and when it is soft add in 1/4 tsp turmeric powder, 1 tsp red chilli powder and salt and allow it to boil
Now add in cooked lentil, 1 tsp jaggery to the cooked vegetable and stir well
Now add in ground paste, tamarind juice and salt, boil well and remove from the fire
Prepare tempering with the ingredients under the heading "for tempering"
Pour it over the Kootu curry and sprinkle grated coconut and serve with hot rice