3 September, 2017
PINEAPPLE PULISSERY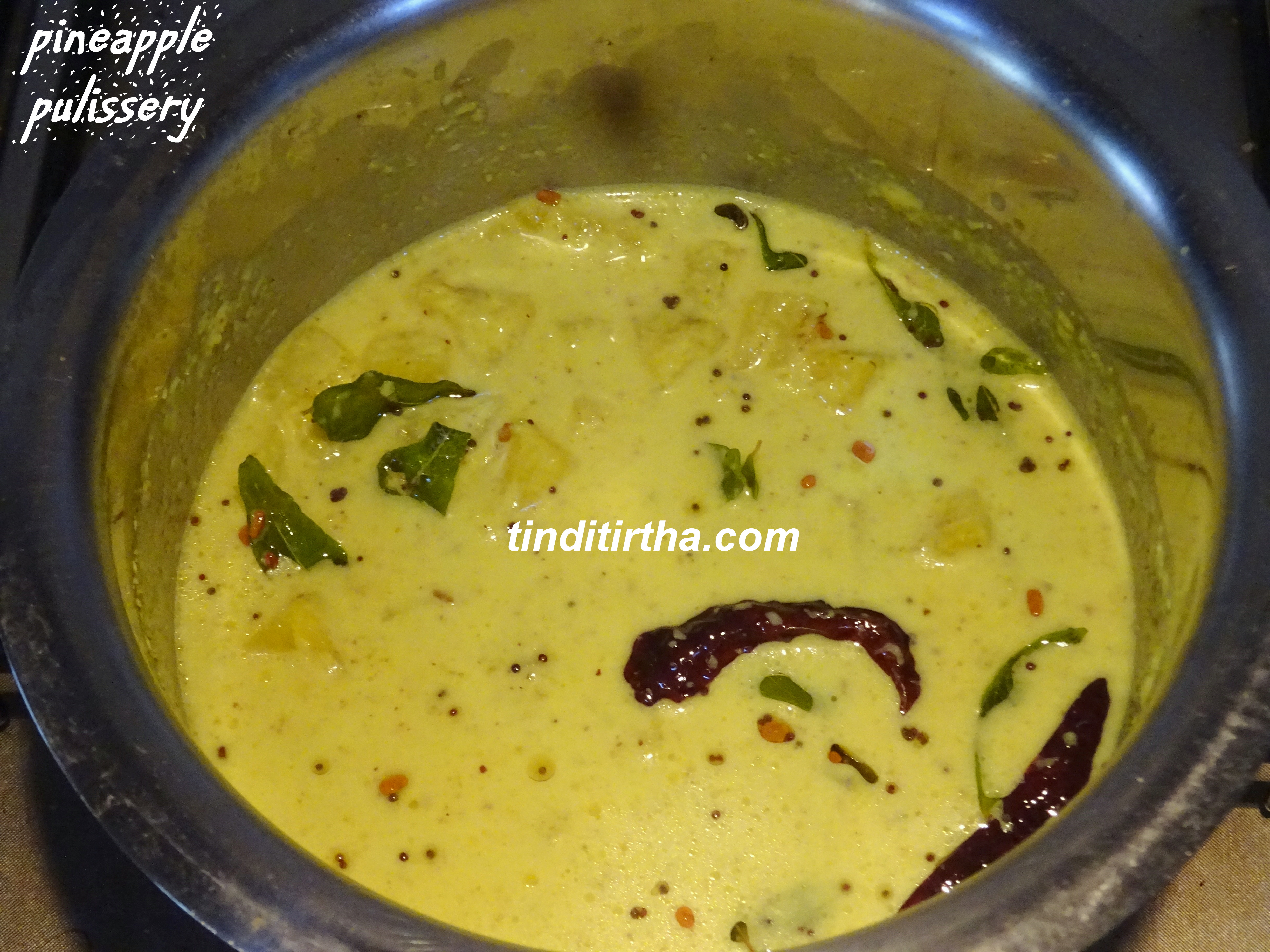 Posted in :
ONAM SADHYA/KERALA RECIPES
on
by :
Divya Suresh
Tags:
ONAM-PINEAPPLE
Pineapple pulissery is a curd based curry or gravy, which is again to be eaten with rice. We…. in Karnataka do curd curry and saasive which are also a curd based curry (majjige paldya/huli) r gravy. So this pulissery is the mix of Karnataka's both curd curry and saasive. And as I have mentioned many a times earlier, I'm the biggest fan of pineapple and I don't want to miss any dish prepared using pineapple. So obviously this recipe grabbed my attention. There are some other Kerala recipes are there using pineapple, I shall try out all of them one by one. I followed Simple Indian recipes post, submitted by Dahlia
Since it is a curd based curry, I have used ghee for tempering, otherwise they use coconut oil only for this recipe also. 
Ingredients :
Pineapple (chopped) – 1 cup
Water – 1/4 to 1/2 cup (to cook pineapple)
Curd (beaten) – 1 cup
Salt to taste
For grinding :
Grated coconut – 1/2 cup
Green chillies – 4 nos.,
Cumin seeds – 1 tsp
Turmeric powder – 1/4 tsp
For tempering :
Ghee – 1 tbsp
Mustard seeds – 1/2 tsp
Fenugreek seeds – 1/2 tsp
Who red chillies – 2 nos.,
Curry leaves – few
PROCEDURE :
Cook pineapple till soft and add little salt once it is soft
Meanwhile grind all the ingredients mentioned under the heading "for grinding" and add it into the cooked pineapple
Mix and stir everything well while boiling and remove from the fire
Now add in beaten curd and combine everything well
Prepare the tempering using all the ingredients mentioned under the heading "for tempering"
Pour the prepared tempering on the pineapple curry
Pineapple Pulissery is ready to serve