19 September, 2017
TIFFIN PLATTER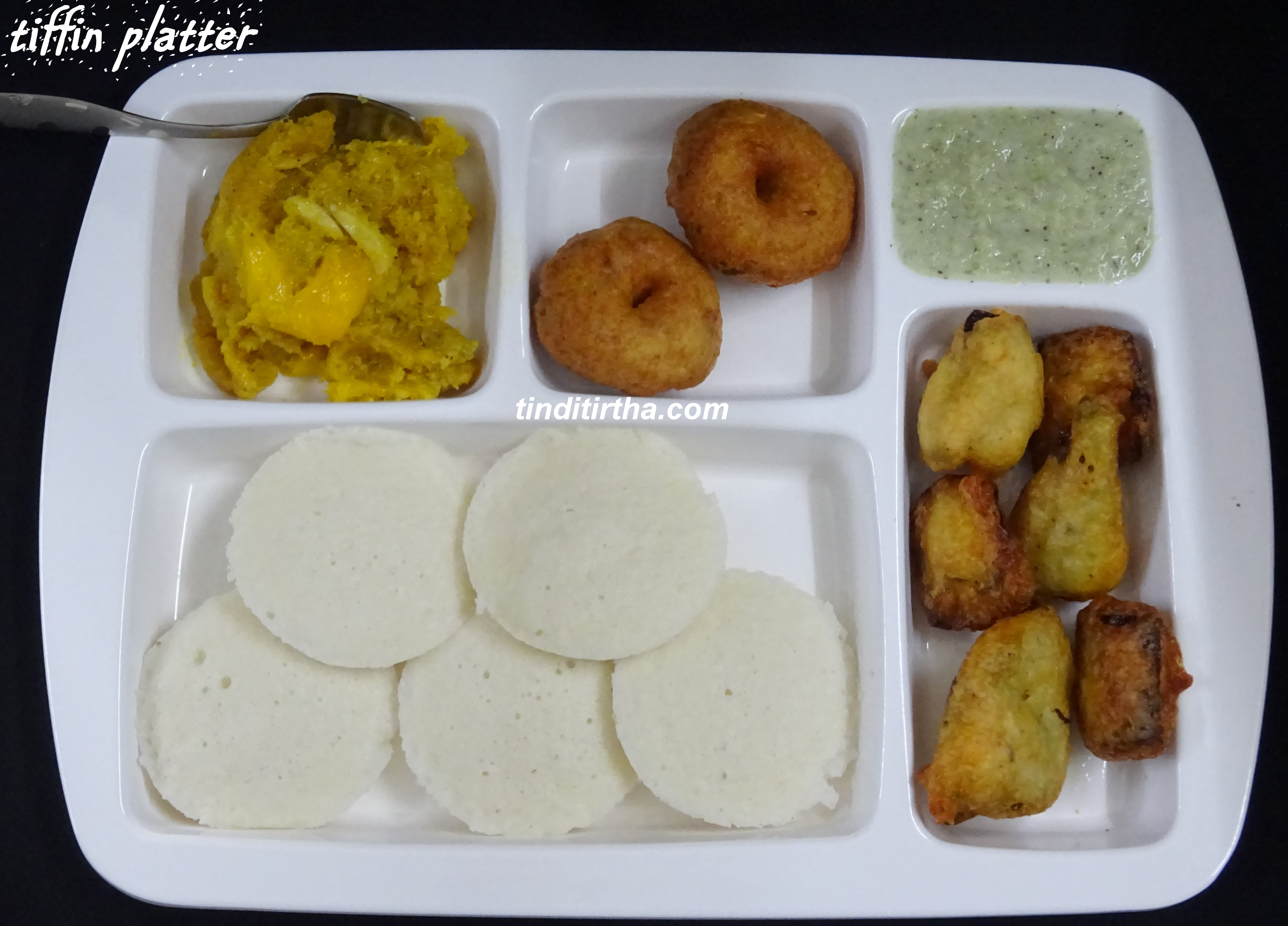 Posted in :
BREAKFAST RECIPES
,
PLATTER
,
SNACKS / BAKED / DEEP FRIED / STEAMED
on
by :
Divya Suresh
Tags:
TIFFIN
This particular tiffin platter consists of Akki tari Idly (raw rice rava idly), black gram lentil/urad dal vada/waday, authentic coconut chutney, mango semolina sheera, urad dal fritters. Please click on the relevant pic to read the detailed recipe.
The urad dal fritters – I had those big green chillies, which are not very spicy and available in plenty now , so made fritters using the same waday/vada batter, just added some water to the ground batter and dipped the cut green chillies and deep fried….that's it!
You may also like to check ⇒ Sorghum/Jowar idly , stuffed/sandwich idly , mallige idly , Idly-lentil less sambar , Beaten rice/Poha idly , finger millet/ragi idly , vermicelli/semiya idly , semolina idly , maize flour/makki/Jolada idly , sabbakki/sago Idly
You may also like to check ⇒ ambode , Kutchhida batani kadubu , Kutchhida khara kadubu , avalakki nuchhinunde , Instant dahi vada/waday , madduru waday , togari-tarakari nuchhinunde , mosaru vade/waday , baked bread rolls
Some other chutney recipes in my blog ⇒  Pineapple chutney ,  fresh coconut chutney (for dosay,Idly,rotti) ,  raw mango chutney , nellikayi mosaru chutney , menthya soppu chutney , nellikayi-pudina chutney , nellikayi-kottambari chutney , bettada nellikayi chutney , Guava chutney , hagalakayi chutney , mango-sprouted methi chutney , mint/Pudina chutney , almond/badami chutney , winter carrot chutney , carrot chutney , kadalebele chutney , Anjoora/anjeer chutney , sweet & green chutney