7 October, 2017
SEEME BADANEKAYI/CHAYOTE/CHOU-CHOU SAGU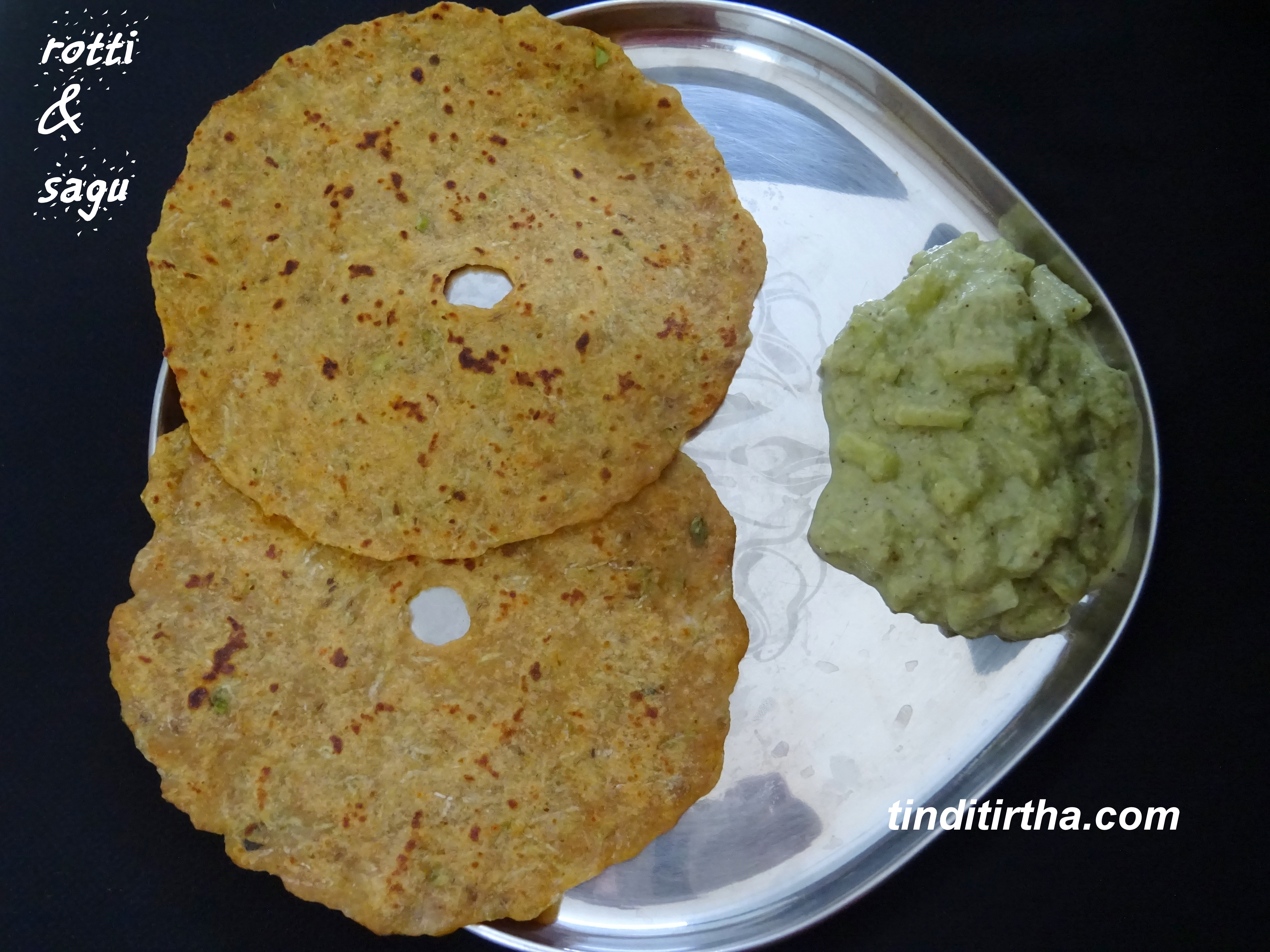 Posted in :
BREAKFAST RECIPES
,
HULI / CURRY / VEGETABLE CURRY / GOJJU / TANGY CURRY / DAL / TOVVE / VEGETABLE KOOTU / SAGU
,
ROTTI / ROTI / THALIPEET
on
by :
Divya Suresh
Tags:
CHAYOTE
Today I'm going to share exclusively my method of making sagu, that too using seeme badanekayi/chou-chou/Chayote. This particular sagu is with the goodness of almonds and poppy seeds, I have not used any spices which smell pungent. We… all the four of us at home, like this particular flavor and taste of sagu.
Chayote …seeme badanekayi in kannada is an edible plant belonging to the gourd family along with melons, cucumbers and squash, eaten in similar way to the summer squash, cucumbers and melons. Chayote was one of the many foods introduced to Europe by early explorers, who brought back a wide assortment of botanical samples. The chayote fruit is used in mostly cooked forms, it is generally lightly cooked to retain the crispy consistency. Chayote is a good source of Vitamin C. It is available in plenty in most of the southern parts of India. We make huli (sambar), Palya (subji), Kootu, rice rotti, wheat flour rotti and sagu etc using this vegetable. We also make chutney using its peel. It is not familiar to the people of Northern part of India, but luckily we get this vegetable in Delhi and Gurgaon. This is one of my personal favourite vegetable. So today I'm going to share the recipe of Seeme badanekayi sagu, which is again with different taste and flavor from other types of sagu. Somehow my elder son doesn't like the cinnamon & cloves flavor & taste in the sagu, so I make this particular sagu, in my own method using below listed set of ingredients for masala.
Please also do check   Sagu kofta curry , green sagu , Mixed vegetable sagu
avalakki/poha rotti , southekayi/cucumber rotti , lauki-wheat flour rotti , singhara flour-peanuts rotti , sorghum sooji rotti , sabudana/sabbakki flour rotti , yelekosu/cabbage rotti
SEEME BADANEKAYI / CHAYOTE / CHOU-CHOU ⇓
Ingredients :
Seeme badanekayi (chopped) – 3 cups
Salt to taste
Water to cook
For grinding :
Almonds – 8 nos.,
Poppy seeds/Khus khus – 1/2 tbsp
Grated fresh coconut – 4 tbsp
Roasted gram – 2 tbsp
Green chilli – 4 nos.,
Coriander leaves – 1/4 cup
For tempering :
Oil – 1 tsp
Mustard seeds – 1/4 tsp
Curry leaves – few
PROCEDURE :
Heat 1 tsp oil in a pan, add in mustard seeds and curry leaves, when it splutter add in seeme badanekayi and one cup of water, cook till little soft, don't make it too soft, keep it crunchy
Gather all the ingredients under the heading 'for grinding', in a mixie jar and grind it into a fine paste using little water
When the vegetable is cooked, add in the ground paste & salt and mix everything well
Add water to adjust the consistency you desire, and allow it to boil for 2 minutes
Remove from the fire and serve
Today I served the sagu with multi grain flour + seeme badanekayi rotti/thalipeeth
RECIPE :  Peel the skin and grate one big seeme badanekayi, to that….add in 2 cups of multi grain flour, salt to taste, curry leaves and red chilli powder. Knead a stiff & soft dough using water, keep it covered for half an hour, then make rotti, roast it on both the sides smearing little oil.