14 October, 2017
SWEET & SAVORY/SIHI & KHARA BOONDI KALU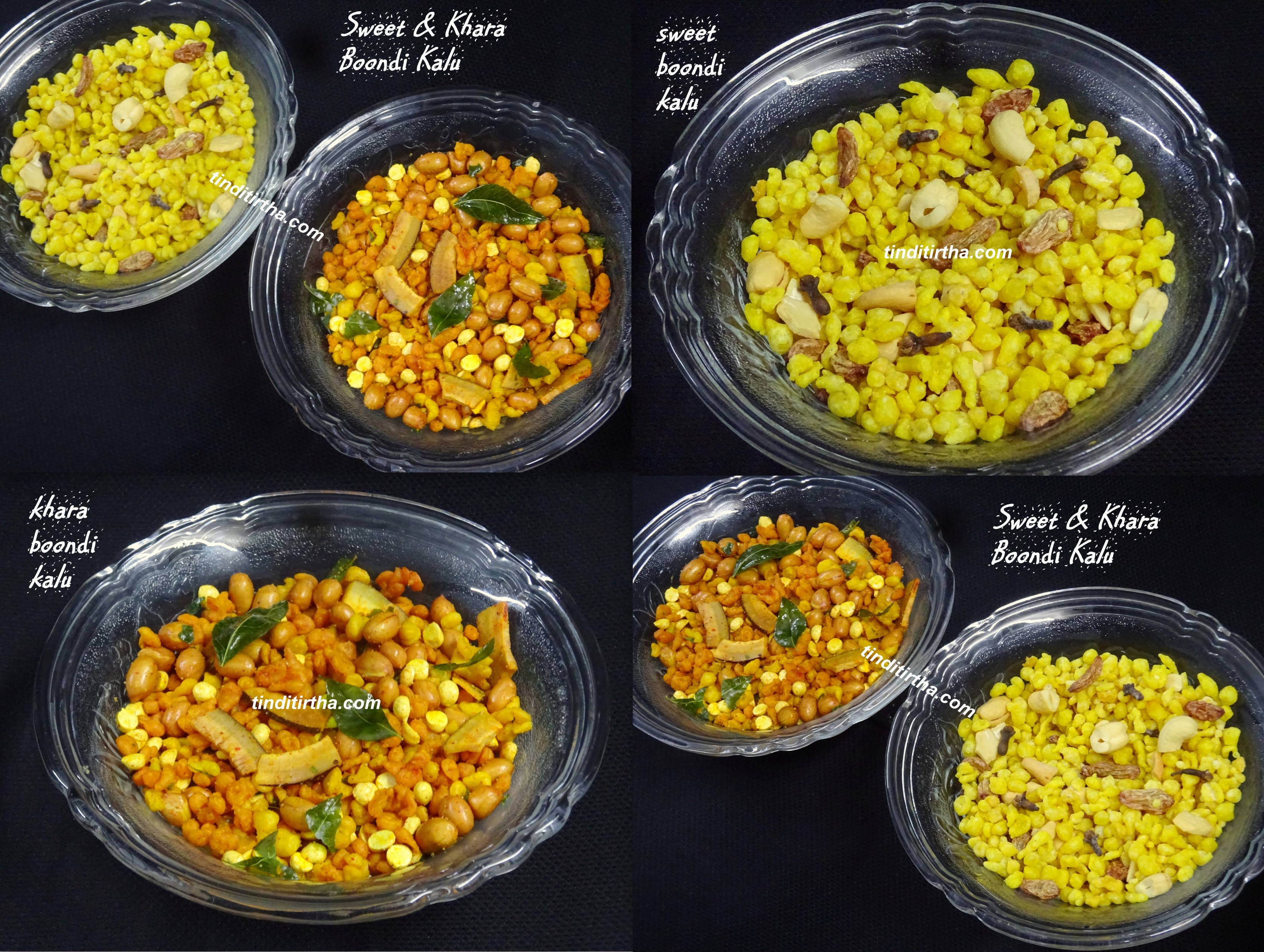 Posted in :
GOKULASHTAMI/JANMASHTAMI RECIPES
,
SNACKS / BAKED / DEEP FRIED / STEAMED
,
SWEETS / UNDE/LADDU / BURFI / HOLIGE/POORAN POLI / HALWA
on
by :
Divya Suresh
Tags:
DEEPAVALI
One of the traditional sweet & savory combo for Deepavali. A bit time consuming dish but easy to make.  I mix the flour with water, first I make boondi for sweet version using the half of the flour, then to the same mixed batter add red chilli powder and salt and continue making boondi for savory version. But you can take separately at the beginning itself. The measurement of the ingredients given below makes both the sweet & savory boondi enough to serve for 4 people.
Please do check –   Shankranthi trail mix , Kodubale , thengolu , chakkuli , mixture , authentic muchhore , om pudi/khara sev , Sorghum/Jolada mixture
Ingredients :
Gram flour/Besan/Kadale hittu – 1 cup
Rice flour/chawal ka atta/akki hittu – 2 tbsp
Ghee – 1 tbsp
Turmeric powder – 1/2 tsp
salt a pinch
Hot (smoking ) oil – 1/2 tbsp
Oil – enough to deep fry boondi kalu
Water – enough to make batter (almost 3/4 cup)
For sweet version :
Powdered sugar – 1&1/2 tbsp (adjust)
Cardamom powder – 1/4 tsp
Cashew nuts – 2 tbsp
Raisins – 1 tbsp
Cloves – 4 to 6
For savory version :
Red chilli powder – 1/2 tsp + 1/4 tsp
Turmeric powder – 1/4 tsp
salt to taste
Dry coconut chunks – 1/4 cup
Peanuts – 1/4 cup
Roasted gram – 1/4 cup
Curry leaves – few
PROCEDURE :
In a bowl rub together rice flour and ghee with your hands till it becomes smooth like butter, add in gram flour, turmeric powder and a pinch of salt, add in hot (smoking) oil and mix everything well, add water and make a thick batter
Heat oil in a pan, start preparing boondi kalu using perforated spoon (a big round spoon with multiple small holes in it)
Add in fried cashew nuts, raisins, cloves and powdered sugar to the boondi kalu, mix everything well
Now sweet boondi kalu is ready to serve
Now add in 1/2 tsp red chilli powder & salt required to the remaining batter and again prepare boondi kalu
Now add in fried peanuts, dry coconut chunks, roasted gram, curry leaves, remaining 1/4 tsp of red chilli powder, little more salt, turmeric powder and mix everything well
Now khara boondi kalu is ready to serve