18 October, 2017
BENNE (BUTTER) MURUKU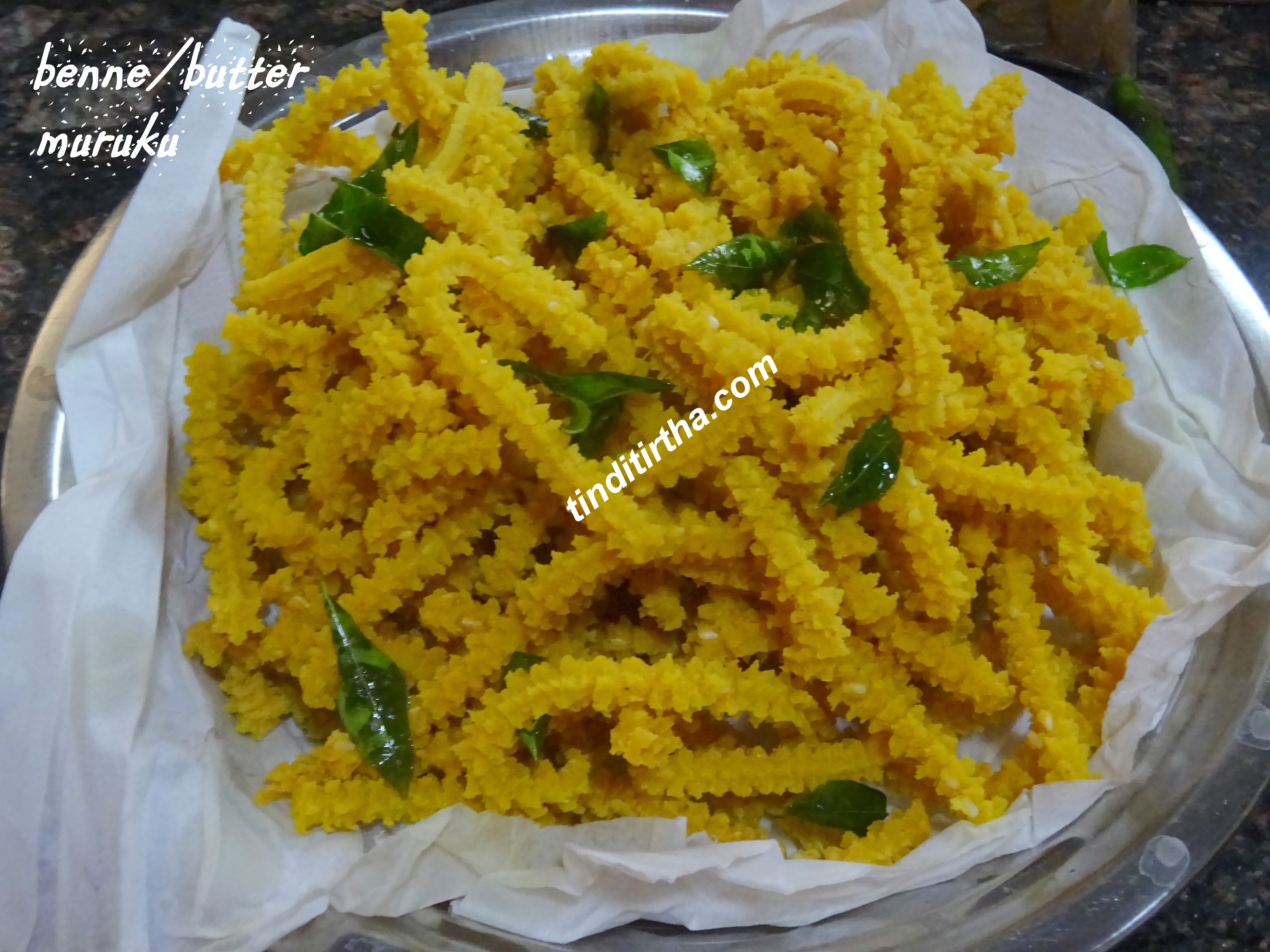 Posted in :
GOKULASHTAMI/JANMASHTAMI RECIPES
,
SNACKS / BAKED / DEEP FRIED / STEAMED
on
by :
Divya Suresh
Tags:
BENNE/BUTTER
Almost like must to do savory snack for deepavali from Karnataka….Benne muruku. Benne means butter and muruku literally means pieces. It is said so because though benne muruku looks exactly like chakkuli/chakli a spiral shaped savory snack from Karnataka, but it is not made in spiral shape, but made in pieces… which is the reason for it's name.  It is light, crunchy and yummy in taste.
Ingredients :
Rice flour – 1&1/2 cup
Powdered roasted gram – 1/4 cup (tightly packed)
Gram flour – 1/4 cup
Butter – 2 tbsp (I use home made)
HIng – 1/8 tsp
White sesame seeds – 1/2 tbsp
Red chilli powder – 1/2 tsp
Turmeric powder – 1/4 tsp
salt to taste
Oil – 1 tbsp + for deep frying
PROCEDURE :
Heat enough oil in a pan/kadai, first heat it on high flame then reduce the flame to medium
Gather together rice flour, roasted gram powder, gram flour, white sesame seeds, red chilli powder, turmeric powder, salt and hing and mix well
Now add in 1 tbsp hot..smoking oil and knead into a soft & stiff dough using water
Make portions and fill it in the chakli mould and squeeze directly into the oil
Deep fry in the same way in batches and remove on an absorbent paper
Benne murukku is ready to relish