21 October, 2017
SEEMEBADANEKAYI BONDA/BAJJI/PAKODA/FRITTERS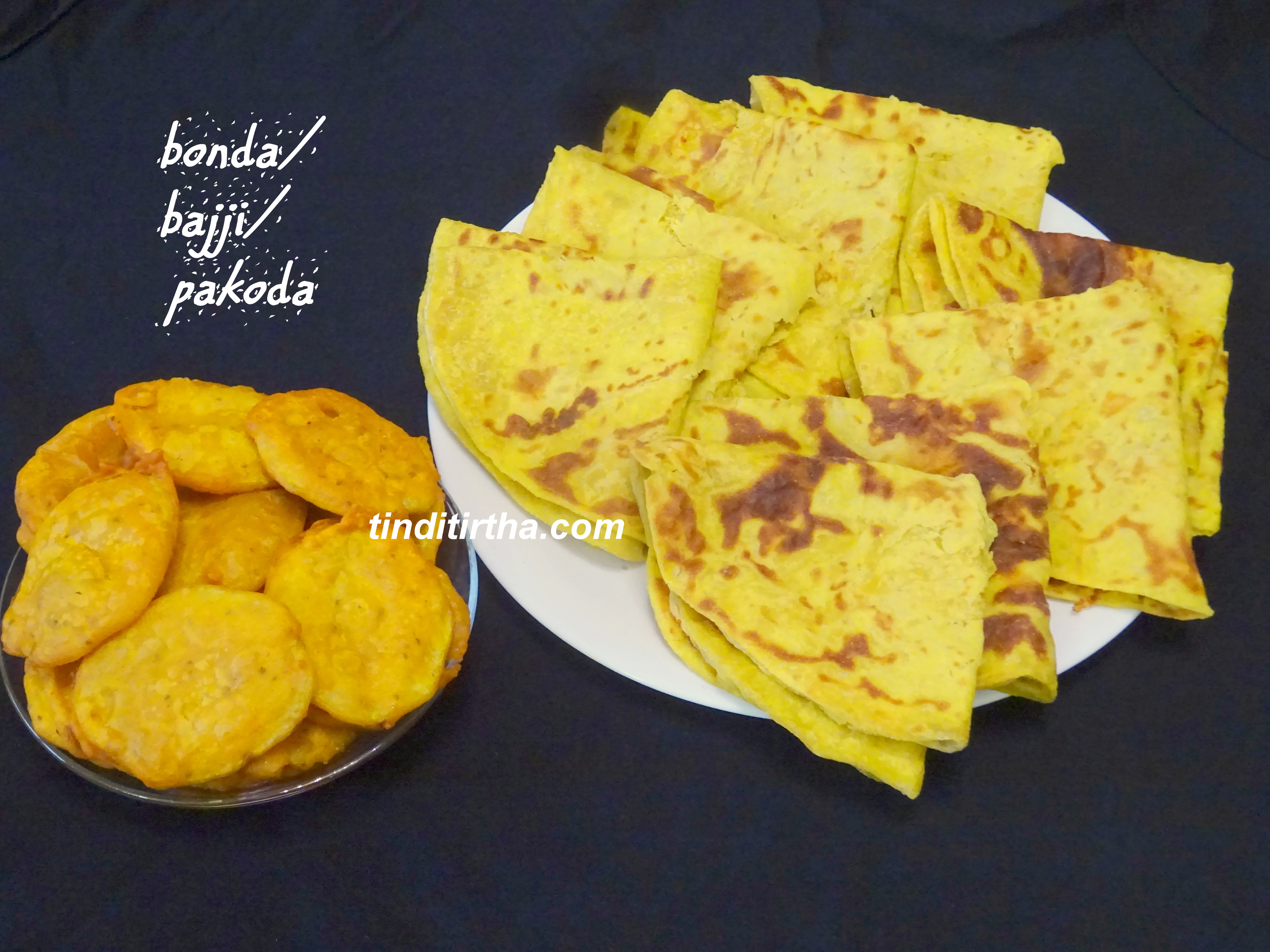 Posted in :
SNACKS / BAKED / DEEP FRIED / STEAMED
,
SWEETS / UNDE/LADDU / BURFI / HOLIGE/POORAN POLI / HALWA
on
by :
Divya Suresh
Tags:
BAJJI/BONDA/FRITTER/PAKODA
Bonda/bajji/fritters is a sliced vegetable stuffed deep fried snack made during any festival/functions etc. We can use ridge gourd, green chilli, potato, cucumber, onion, chow chow (seemebadanekayi) etc. I never use maida/Plain flour in this, instead I always use rice flour with the gram flour (my mom used to do so). It turns out crispy, light and melt in mouth kind of thing. Today the last day of deepavali festival, celebrated as bhai dooj (anna tangeera habba) I made bele holige/lentil pooran poli and bajji to celebrate the occasion. In my native place (Shikaripura) it is celebrated equally grand like rest of the days of deepavali. I very often make bele holige/lentil pooran poli, as it is one of our most favourite sweets. So this time I did not make holige since last four days, but did it today along with seemebadanekayi bonda/bajji. I have already posted the recipe of the Pooran poli in my blog, so today I'm here to share my method of making bonda/bajji/fritters.
seemebadanekayi/chow-chow ⇓
Ingredients :
Gram flour – 1/2 cup
Rice flour – 1/3 cup (I use almost equal)
Carom seeds/ajwain/Om – 3/4 tsp
Red chilli powder – 1 tsp (adjust)
Turmeric powder – 1/2 tsp
Ginger paste – 1 tbsp
Green chilli – 1 or 2 (Optional) (I use this when making Pakoda)
Curry leaves – 2 tbsp (Optional) (I use this when making Pakoda)
Hing – 1/4 tsp
Salt to taste
Hot (smoking) oil – 2 tbsp
Others :
Slices of vegetable you want to use, today I have used seemebadanekayi/chow-chow
Water to make batter
Oil to deep fry
PROCEDURE :
Gather gran flour, rice flour, carom seeds, red chilli powder, turmeric powder, ginger paste, hing and salt to taste in a bowl, combine everything well, now pour the hot oil and slowly add water while mixing continuously and prepare a thick batter.
Meanwhile heat oil for deep frying
Now dip the sliced vegetable in the prepared batter and drop them slowly in the hot oil, one by one
Cook till both sides are done, remove on a kitchen towel to drain the excess oil
Serve hot