22 October, 2017
FINGER MILLET/RAGI SET DOSAY/DOSA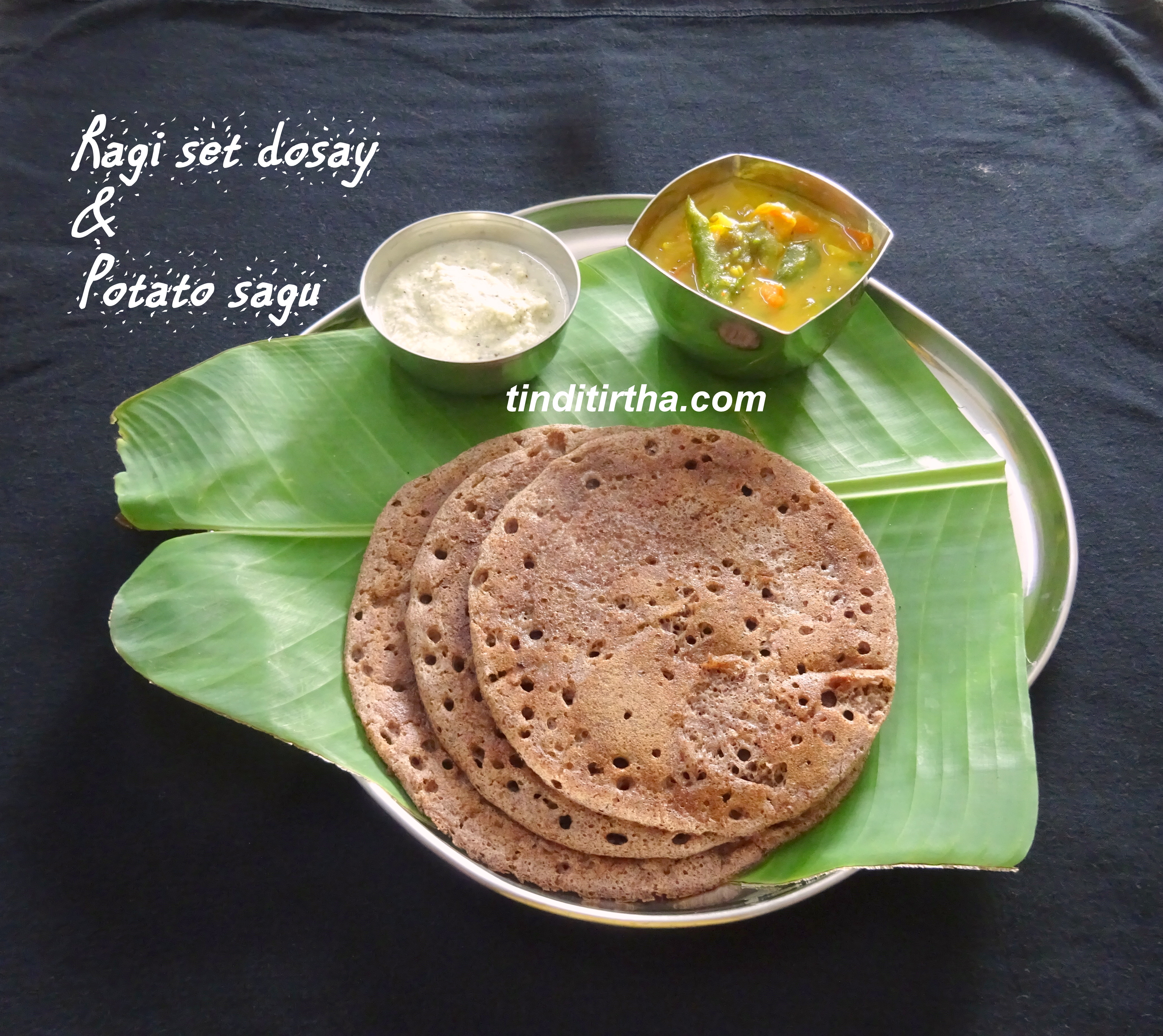 Posted in :
BREAKFAST RECIPES
,
DIABETIC FRIENDLY RECIPES
,
MILLETS PREPARATIONS
on
by :
Divya Suresh
Tags:
RAGI/FINGER MILLET
It was today's awesome breakfast paired with yummy Potato sagu/aloo subji and coconut chutney. Yesterday just like that I thought about this and soaked black gram lentil/urad dal/uddina bele and Sago/sabudana/sabbakki for almost 2 hours and then did grind it nicely , then added in the ragi flour and salt, fermented it for overnight and today morning I made healthy, yummy, awesome, super soft, fluffy, tasty three ingredient ragi set dosay ! Wow….. It's my innovation…….so exciting! So from now on wards it will be on the top of the breakfast list. Just three ingredients and you can have the healthiest breakfast. The below mentioned quantity of ingredients makes approximately 8 nos., of dosa/dosay.
Some more dosay/dosa recipes in my blog ⇒  ragi masala dosay , instant wheat flour dosay , Kakatiya special dosay , fenugreek leaves dosay , dalia dosay , rave dosay , chakuli/sponge dosay , ragi dosay , healthy dosay , Potato dosay , chocolate dosay , rave adai dosay , masale dosay , lentils-Pulses masale dosay , mixed veggies Uttapa , vermicelli/shavige Uttapa , Red rice dosay , Set dosay , Davanagere benne dosay , Plain dosay , 
You may also like to check  ⇒  Pineapple chutney ,  Pineapple+bengal gram chutney , authentic kaayi chutney (with rice) , fresh coconut chutney (for dosay,Idly,rotti) ,  raw mango chutney , nellikayi mosaru chutney , menthya soppu chutney , nellikayi-pudina chutney , nellikayi-kottambari chutney , bettada nellikayi chutney , Guava chutney , hagalakayi chutney , mango-sprouted methi chutney , mint/Pudina chutney , almond/badami chutney , winter carrot chutney , carrot chutney , kadalebele chutney , Anjoora/anjeer chutney , sweet & green chutney
Ingredients :
Whole ragi/Ragi flour – 1 cup
Urad dal/uddina bele – 1/4 cup
Sago/sabbakki – 1/4 cup
salt to taste
Water to grind
Oil to roast the dosa/dosay
PROCEDURE :
If you are using whole ragi, then rinse and soak ragi for at least 5 to 6 hours
Rinse and soak urad dal and sago separately for 2 hours or so
Drain all the water and grind them together into fine paste using fresh water (use little water)
Then add in ragi flour & salt and run the mixie again to just get everything mixed well and If it is whole ragi, then grind it till it becomes fine batter (keep the batter thick, so do not add more water while grinding)
Transfer the batter into a container and keep it covered for overnight for fermentation
Heat the tawa, wipe it with a wet clothe, pour the fermented batter, do not spread it, smear some oil on it and allow it to cook
Cook on both the sides and remove from the tawa
Serve it with coconut chutney & Potato sagu/Aloo subji