27 October, 2017
POTATO-POMEGRANATE CURRY/KANDHARI ALOO SUBJI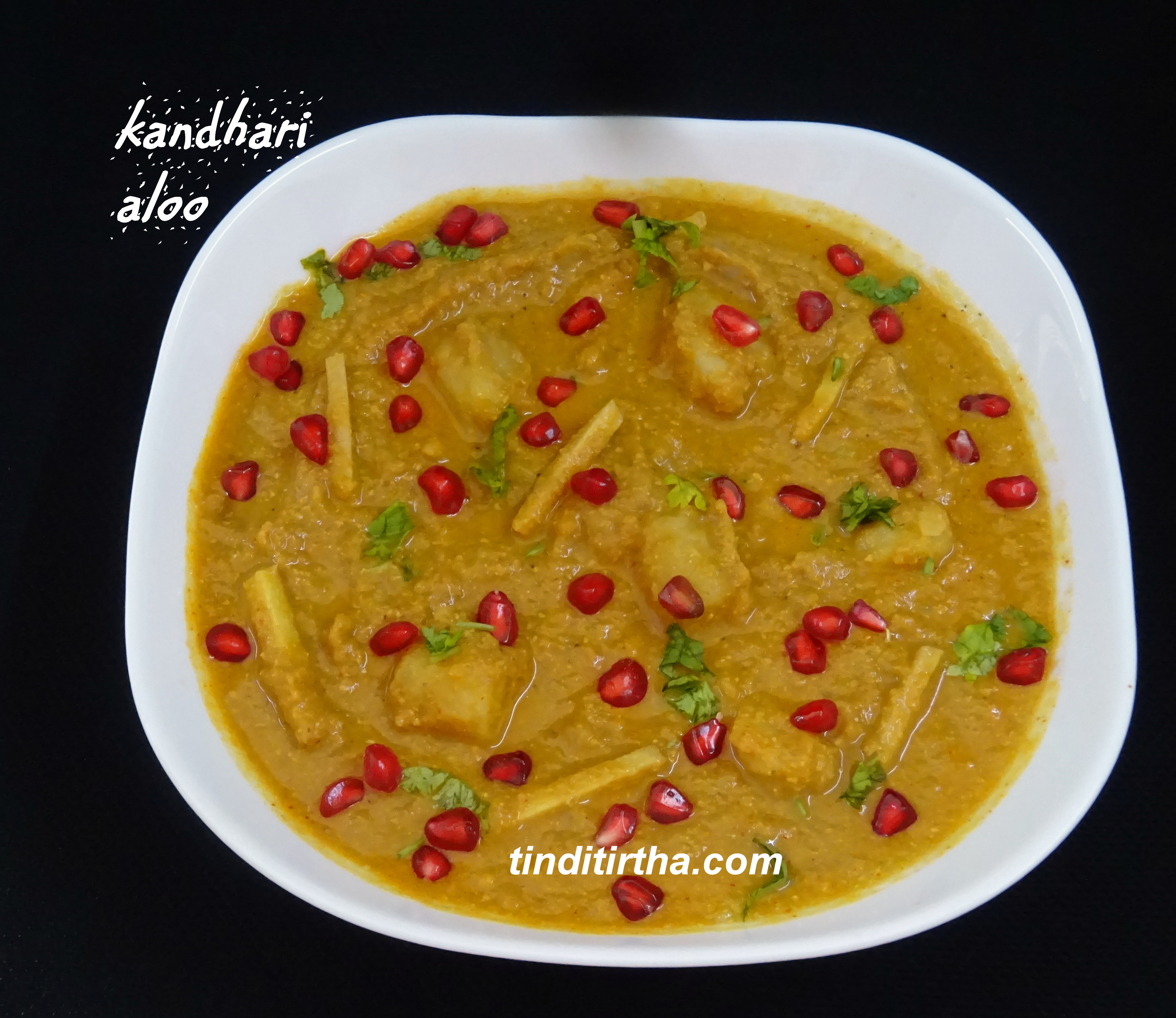 Posted in :
BREAKFAST RECIPES
,
HULI / CURRY / VEGETABLE CURRY / GOJJU / TANGY CURRY / DAL / TOVVE / VEGETABLE KOOTU / SAGU
on
by :
Divya Suresh
Tags:
POMEGRANATE/POTATO
Today I'm going to write the recipe of very colorful, flavorful Kandhari aloo curry/subji, which I prepare very often. I learnt this curry/subji from one of Ms. Nita Mehta's cook book. It is a zero oil recipe. I have moderated it to some extent. Goes very well with any kind of roti, Phulka, chapati, dosa/dosay.
Afghanistan could be considered as the country of the pomegranate fruit, not only because of the traditional cultivation of this fruit, but also because of the excellent quality of the land races grown in the main production area of Kandahar Province. Afghanistan produces exceptionally high quality fruits, which have been traditionally Afghanistan's main food exports …and Pomegranate is definitely one among them. It is said that… Afghanistan produce pomegranate with no other variety can match that taste, color, size, shape etc, and Kandhari Anar is probably the best pomegranate you'll ever taste !
You may also like to check – aloo-gobhi-matar , fresh grapes curry , Kootu curry (Kerala) , mixed vegetable curry , watermelon curry , raw & ripe mango curd curry , Potato-tomato curry , Paneer curry , white pumpkin curd curry , steamed dumplings curry , Potato curry/subji/sagu , chayote squash/seemebadane/chow chow curry/sagu
Other recipes using pomegranate – corn-pomegranate usli , Beetroot-Pomegranate raita , chana-corn-pomegranate salad , Bread-Pomegranate masala rice , Pomegranate salt lassy  
Ingredients :
Potatoes – 2 big (diced and boiled) or you can also use baby Potatoes
Pomegranate – 2 cups and 1/2 cup for garnishing
Tomato – 1 big (grind and make puree)
Ginger – juliennes for garnishing
Red chilli powder – 1/2 tsp
Turmeric powder – 1/4 tsp
Kasoori methi (dried fenugreek leaves) – 1 tsp
Salt to taste
Coriander leaves – 2 tbsp
For grinding :
Grated fresh coconut – 2 tbsp
Almonds – 8 nos.,
Rice flour – 1 tbsp
Green chilli – 4 nos.,
Ginger – 1 tbsp
PROCEDURE :
Grind 2 cups of pomegranate seeds. I never like to strain the pureed pomegranate, but like to add it as such, but if you wish you can strain it
Grind together all the ingredients listed under the heading 'for grinding' into a fine paste using little water,
Heat a kadai/pan and add in the ground paste and fry until dry
Now add in pureed tomato and saute well, now add in some water to the desired consistency and boil the mixture well till it becomes little thick
Put boiled potato cubes, red chilli powder, turmeric powder, kasoori methi and salt, combine everything and add in pureed pomegranate
Cook till everything gets blended well, remove from the fire
Garnish with ginger juliennes, pomegranate seeds and coriander leaves