17 November, 2017
PANEER TIKKA MASALA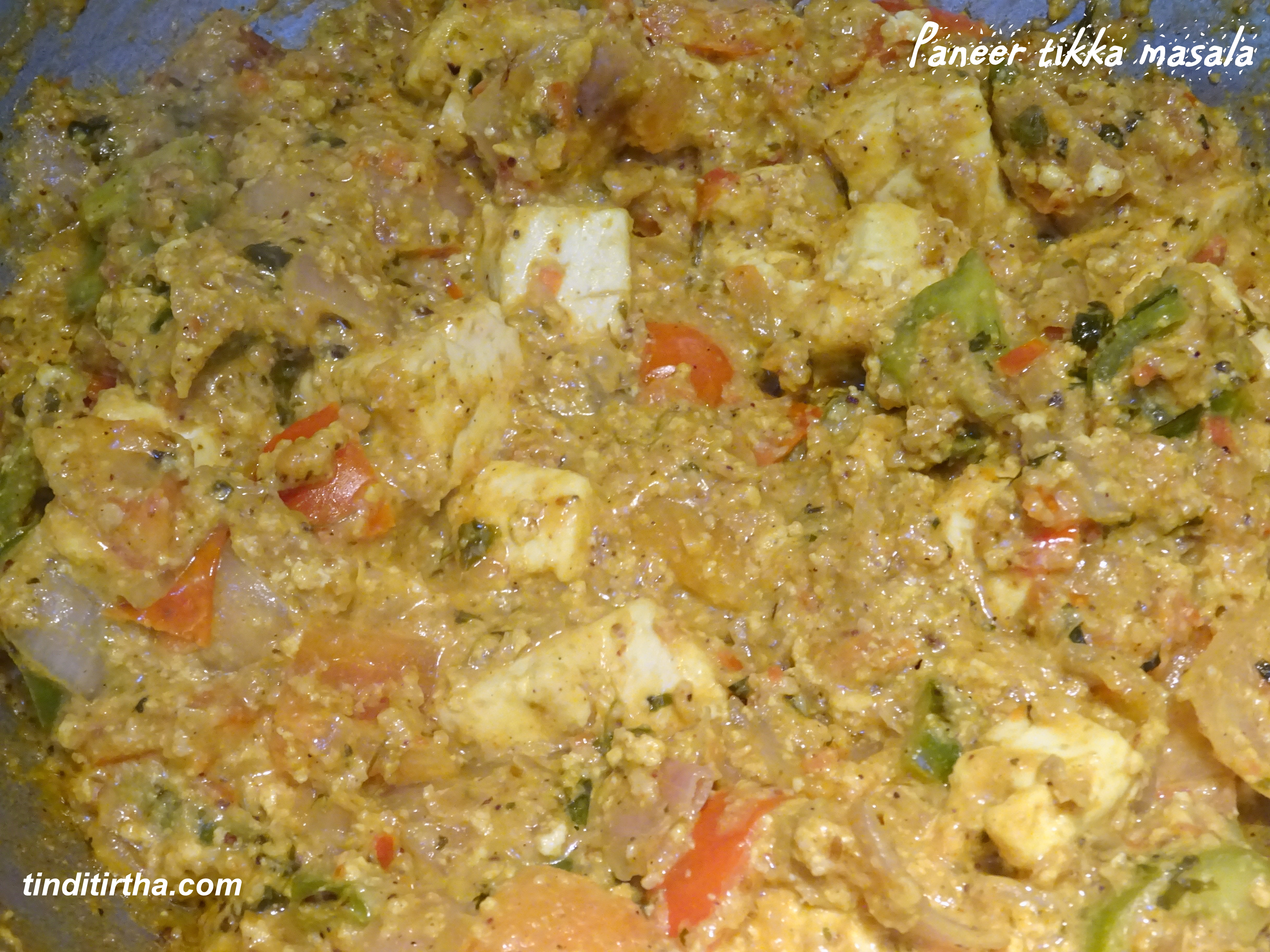 Posted in :
BREAKFAST RECIPES
,
HULI / CURRY / VEGETABLE CURRY / GOJJU / TANGY CURRY / DAL / TOVVE / VEGETABLE KOOTU / SAGU
,
PALYA / SOOKHA SUBJI / USLI / SALAD
on
by :
Divya Suresh
Tags:
TIKKA
Paneer tikka masala with Phulka was today's special at our place for breakfast. Recently I came across this recipe written and posted by Mr. Arpan Shobhana Naayak, in one of the food groups and he learnt it from one of the dhaba I believe. Since long it was in my to do list and his post minded me of that. I made it in my own way, I have used very minimum oil ie… total 3 & 1/2 tsp, and it turned out to be superbly fantastic. So sharing the recipe of the same.
Ingredients :
Paneer – 250 gms
Onion – 2 big
Tomatoes – 3 big
Capsicum – 1 big
Oil – 2 tsp
Cashew nuts/melon seeds/Almonds – 12 to 15 nos.,
To marinate :
Hung curd – 1 cup (I used homemade)
Oil – 1/2 tsp
Garam masala powder – 1/2 tsp
Red chilli powder – 1/4 tsp
Cumin powder – 1/4 tsp
Turmeric powder – 1/4 tsp
Kasoori methi – 1 tsp
Salt to taste
Other masala :
Oil – 1 tsp
C D E powder – 1/2 tsp (CDE is equal amount of cloves, dalchini & green elaichi powdered together, I always keep it handy and use the same in many dishes)
Ginger paste – 1 tbsp
Green chilli – 1 (finely chopped)
Garam masala powder – 1 tsp
Black pepper powder – 1/4 tsp
Red chilli powder – 1/4 tsp
Cumin powder – 1/2 tsp
Dhaniya powder – 1 tsp
Turmeric powder – 1/4 tsp
Kasoori methi – 1 tsp
PROCEDURE :
Cut Paneer, 1 onion, 1&1/2 tomato & 1 capsicum into cubes
Here what I did is, sauteed each vegetable cubes and paneer cube in 1/2 tsp oil (for each, ie… total 2 tsp) till little soft on high flame, but kept it crunchy (forgot to click this procedure pic)
Now take hung curd in a container and add in all the ingredients listed under the heading 'to marinate', mix everything (I used hand beater) and also add in sauteed vegetables and paneer,  and keep it covered for half an hour to get it marinated
After half an hour, here again what I did is heated a non stick pan and poured the marinated mixture into that and stirred everything  lightly for 2 minutes (it releases water)
Now finely chop remaining 1 onion & 1&1/2 tomato
Grind cashew nuts/melon seeds/almonds into fine paste using 1/4 cup of water
Heat 1 tsp oil, add in CDE powder, ginger paste, green chilli, chopped onion and saute for a while and then add in chopped tomato and saute till soft and then add in remaining masalas listed under the heading 'other masala' , combine everything well and add in 1/3 cup of water and let the mixture get cooked and turns out dry and leaves the edges of the kadhai
Now add in prepared cashew/melon/almond paste and combine everything well while stirring continuously so that it won't stick to the kadhai
Now add in marinated, stirred vegetables & paneer (along with its water) mixture to the gravy, mix well lightly and cook it further for 5 minutes on medium high flame or till all the water is evaporated
Paneer tikka masala is ready to serve
How to make Paneer at home ⇓