20 November, 2017
TANDOORI MASALA POWDER…….. homemade……..how to make ?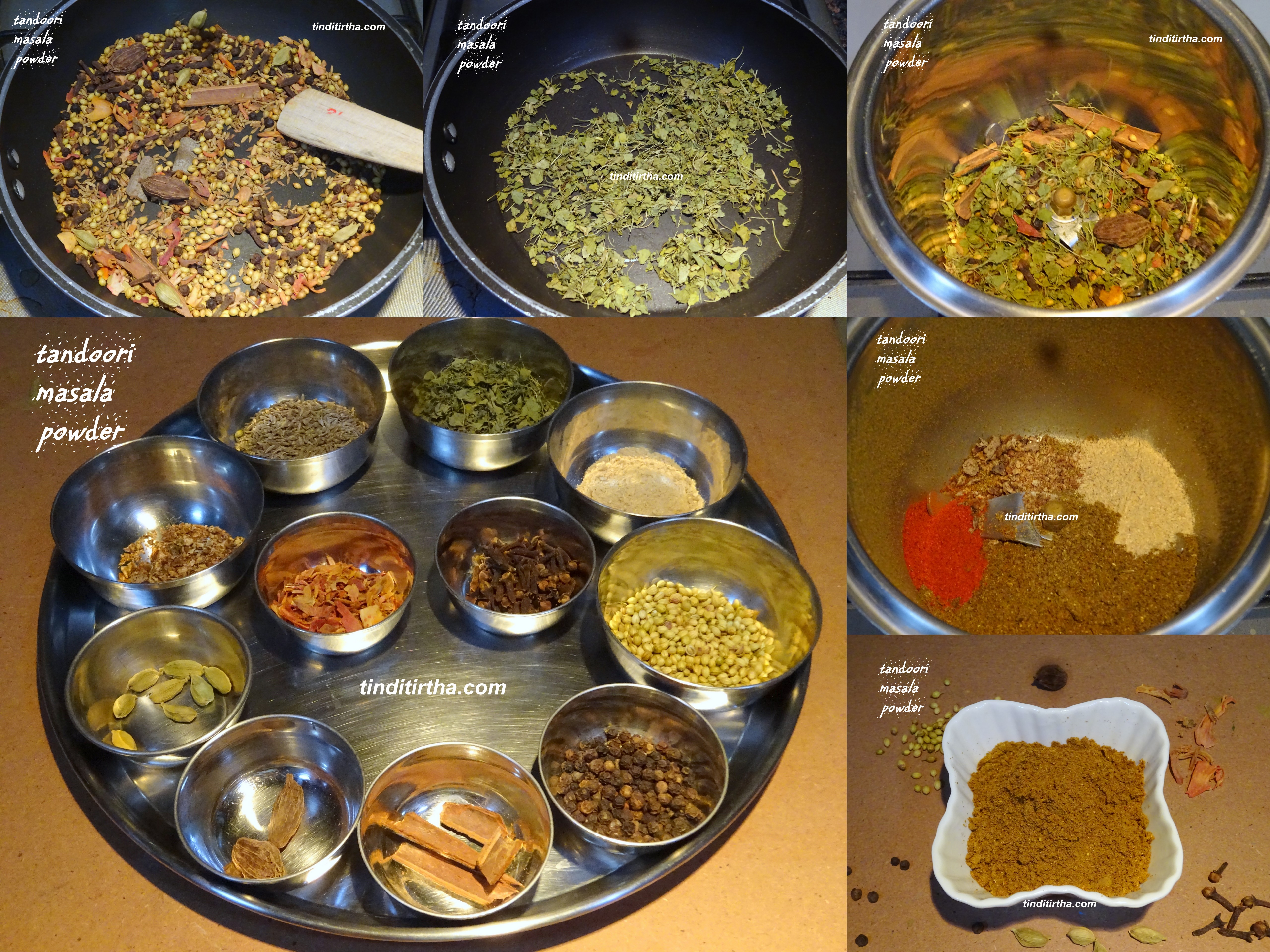 Posted in :
PUDIGALU/HOME MADE SPICE POWDER/MASALA POWDER/KARNATAKA (BENGALURU) STYLE
on
by :
Divya Suresh
Tags:
TANDOORI
Wow !! anything I mean… any masala powder, which is homemade is full of fragrance, aroma and freshness. And I always like to use any/every kind of masala powders made at home. Today I just finished making tandoori masala powder, which I'm going to use in a dish, which I'm planning to make tomorrow, for breakfast to go with rotis/chapati/phulka. Recipe source Mrs. Tarla dalal.
Please do check other masala powders here ⇒    Huli/sambar powder , Saaru/Rasam Powder , Palyada Pudi , Gojjina pudi/tangy curry masala powder , authentic chutney powder , Huruli chutney powder , curry leaves chutney powder , black sesame chutney powder , kharabath powder , Bisibelebath powder , menthyada hittu
Ingredients :
Coriander seeds – 1&1/2 tbsp
Cumin seeds – 1&1/2 tbsp
Cinnamon/dalchini – 1&1/2 inch piece
Cloves – 2 tsp
Black peppercorns – 2 tsp
Black cardamom- 2
Green cardamoms – 8
Mace/Japatre – 1 tbsp
Kasoori methi -3 tbsp
Ginger powder – 2 tsp
Nutmeg/Jakayi powder – 1 tsp
Red chilli powder – 1 tsp (actually everybody use red food color, but I have used degi mirch powder, which gives very good color and is very less spicy)
Garlic users can use 2 tsp of dried garlic powder, but I haven't used
PROCEDURE :
Gather together all the whole spices, except kasoori methi in a pan and dry roast on slow flame till warm, while stirring continuously
Turn off the flame and add in kasoori methi to the same hot pan and fry for a while/till warm
Allow it to cool and put everything in a mixie jar and grind to fine powder
Now add in remaining three powders ie… ginger powder, nutmeg powder, red chilli powder/red food color and run the mixie for a while, just to get everything mixed well
Actually I have Sujata dynamix mixer grinder, so it grinds everything (wet/dry) very finely, so I don't sieve the powder, but if you feel it is not ground very finely, then sieve the powder and discard the left over coarse powder
Transfer it to a air tight container and use as and when needed