2 December, 2017
INDIAN GOOSEBERRY/AMLA/BETTADA NELLIKAYI PICKLE…… dry/instant pickle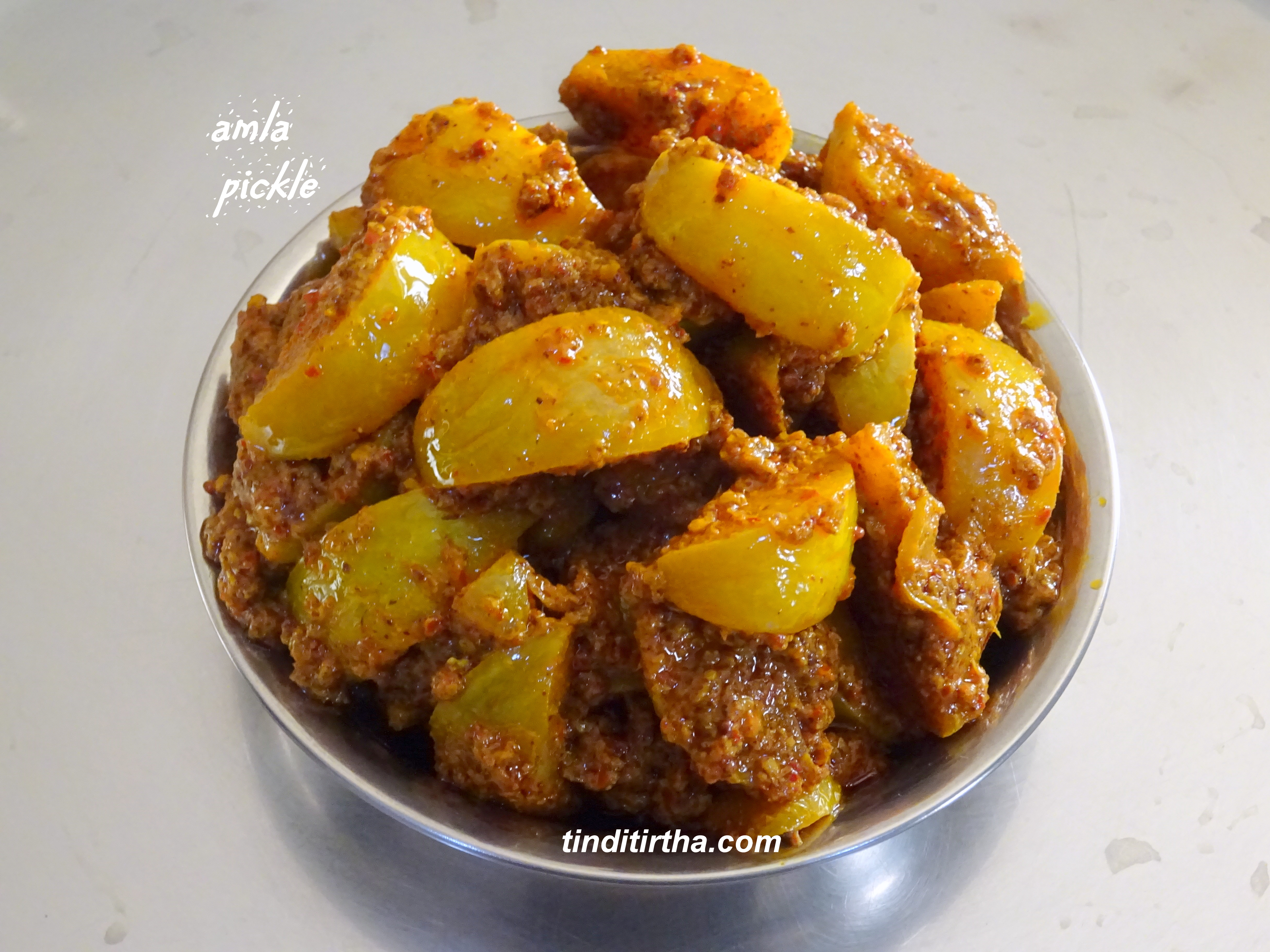 Posted in :
PICKLE
on
by :
Divya Suresh
Tags:
AMLA/INDIAN GOOSEBERRY
This is the dry/instant (bisi uppinakayi) version of pickle using Indian gooseberry/amla/bettada nellikayi. I use almost the same set of ingredients, which I use for the wet version of amla pickle. The procedure is different and instant we can say, as it can be consumed from the very next day. Everyday 1 or 2 slice of amla pickle, which is good for health and serves the purpose of an accompaniment with rice, roti etc. If not consuming it everyday then it would be ideal to refrigerate it and use as & when needed.
The other amla recipes in my blog are –  achari amla subji , amla pickle , amla pickle/tokku , and various types of chutneys like amla chutney , dhaniya-amla chutney , Pudina-amla chutney , amla curd chutney .
Ingredients :
Amla/Gooseberry (medium sized) – 25 nos., or 3 cups sliced
Mustard seeds – 1&1/2 tbsp
Red chilli powder – 2&1/2 tbsp
Fenugreek seeds – 1/2 tbsp
Turmeric powder – 1 tsp
Asafoetida/Hing – 1/4 tsp
Salt – 2&1/2 to 3 tbsp (I normally use 3 tbsp)
For tempering :
Oil – 2 tbsp (adjust)
Mustard seeds –1/2 tsp
Hing – 1/8 tsp
PROCEDURE :
Dry roast mustard seeds & fenugreek seeds separately and allow it to cool
Gather roasted mustard seeds, fenugreek seeds, red chilli powder, turmeric powder, hing and salt in a mixie jar and grind it into a fine powder
Heat oil in the pan, add in 1/2 tsp mustard seeds, when it splutter add 1/8 tsp hing and sliced amla, saute everything well for 2 minutes continuously on high flame
Simmer the flame and now add in ground powder, combine everything well and remove from the fire, but allow it to stay the pan only (do not cover the pan) till it gets cooled completely
Transfer it to a jar/container and let it sit for a day
After that it is ready to consume