10 December, 2017
AVAREKALU/HYACINTH BEANS BISIBELEBATH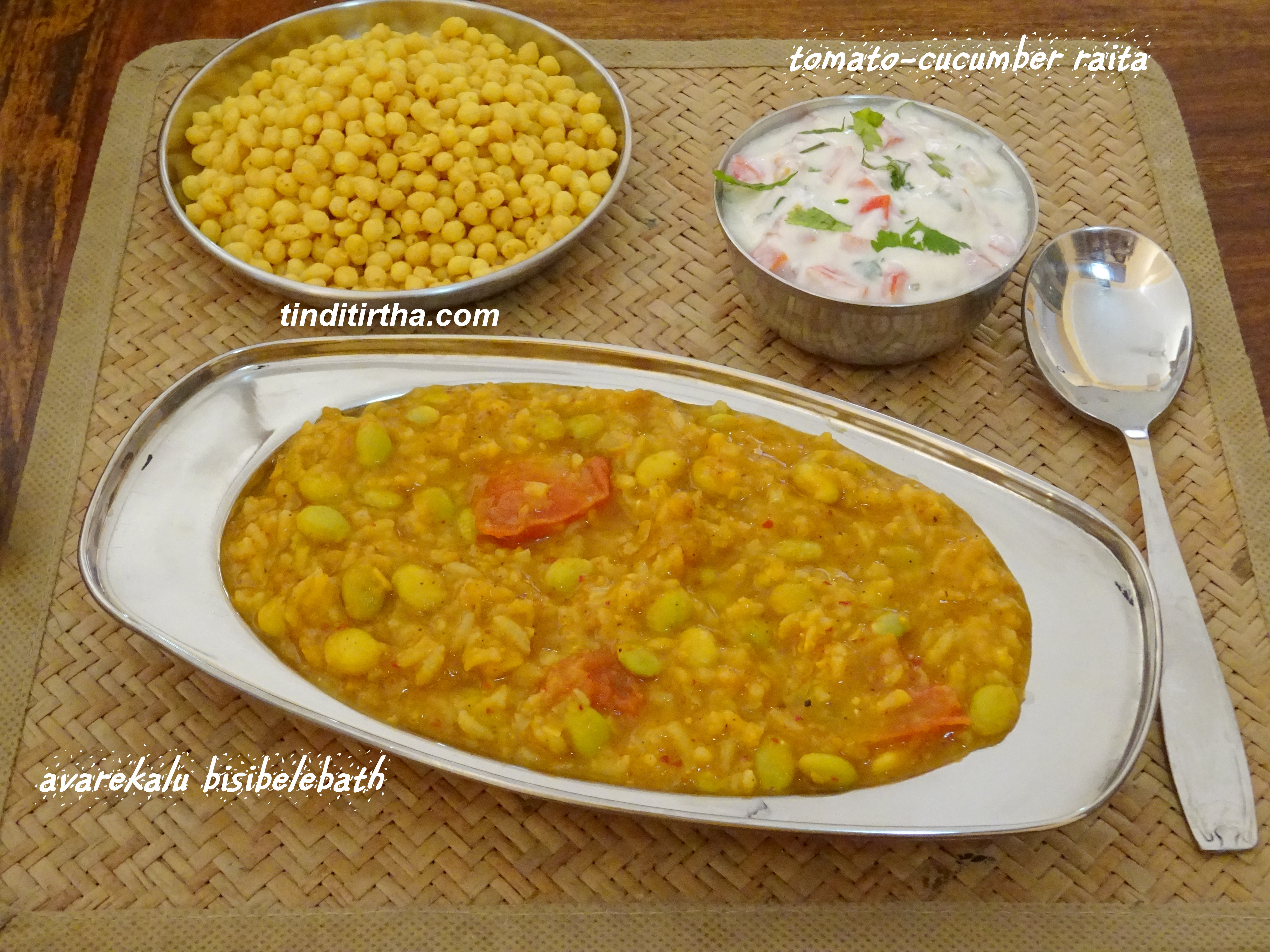 Posted in :
BREAKFAST RECIPES
,
RICE ITEMS - PULAV / MASALA BATH / BISIBELE BATH / CHITRANNA
on
by :
Divya Suresh
One of our most favourite, one pot meal, which is very filling as well as healthy too. We … the people of Karnataka probably prepare this awesome dish at least once or twice a month I guess. And as I said earlier, during winter we get plenty of hyacinth beans/avarekalu and it is being used generously in an assortment of dishes. Generally bisibelebath consists of mixed vegetables, but during winter I personally like to prepare this dish using only hyacinth beans/avarekalu. I have already posted the recipe of many variations for bisibelebath and this is also the similar recipe except for the usage of avarekalu.
Do check similar bisibelebath recipes here — bisibelebath powder , bisibelebath , Little millet bisibelebath , semolina/sooji/rave bisibelebath , vermicelli/shyavige bisibelebath , broken wheat bisibelebath , bisibelebath-functions/marriages One more very common/regular bisibelebath recipe, which uses beaten rice/Poha/Avalakki, which is made very  often but I don't know how I have missed posting it here !! wondering!!. I shall post it asap.
Ingredients :
Rice  – 1 cup
Pigeon pea/toor dal – 1 heaped cup
Avarekalu – 3 to 4 cups (adjust)
Tomato – 3 big
Water – 6 to 7 cups
Thick tamarind juice – 3 to 4 tbsp (adjust)
Salt to taste
For masala powder :
Coriander seeds – 3/4 tbsp
Bengal gram – 1 tbsp
Cumin seeds – 1 tsp
Black pepper corns – 1 tsp
Fenugreek seeds – 1/2 tsp
Cinnamon – 1&1/2 inch stick
Whole red chillies – 10 to 12 nos., for color & 4 nos., for spicyness
Grated dry coconut – 1/4 cup
Curry leaves – 1 or 2 strings
Hing – 1/4 tsp
Turmeric powder – 1/2 tsp
For tempering :
Ghee – 2 tbsp
Mustard seeds – 1 tsp
PROCEDURE :
Roast all the ingredients under the heading 'for masala powder' and grind into a fine powder
Make puree using 1&1/2 tomato and cut the remaining 1& 1/2 tomato into cubes
Heat 7 cups of water in a pressure cooker, when it is boiling add in rinsed rice & toor dal and allow it to boil again
Now add in hyacinth beans/avarekalu and tomato cubes and again allow it to boil
Now add in salt and when it is boiling add in the masala powder stirred in water (to avoid lumps formation) and pureed tomato
Now add in tamarind juice and stir well again and close the lid and give it one whistle
Prepare tempering, Once the pressure is released pour the tempering over it and mix well
Serve with any kind of raita/boondi/mixture/Potato wafers etc